BUY ➛ Hardcover ➛ Paperback  ➛ Kindle  ➛ Libro.fm  ➛ Audible

Hood: Trailblazer of the Genomics Age
Lee Hood did that rarest of things. He enabled scientists to see things they couldn't see before and do things they hadn't dreamed of doing. Scientists can now sequence complete human genomes in a day, setting in motion a revolution that is personalizing medicine.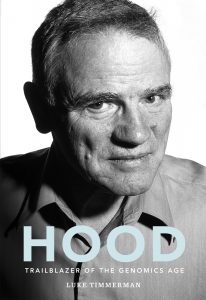 Hood, a son of the American West, was an unlikely candidate to transform biology. But with ferocious drive, he led a team at Caltech that developed the automated DNA sequencer, the tool that paved the way for the Human Genome Project. He captivated scientists with his almost religious fervor for the new biology enabled by the machines.
Hood's brilliance, rebellion, enthusiasm, and ego earned him detractors as well as admirers. His management style, once described as "creative anarchy," alienated many. Some of his collaborators seethed, claiming he took too much credit. Fellow Caltech biologists charged that his empire building was out of control and ousted him as their chairman. A fraud in his lab made him consider, for a moment, quitting science.
Wooed by money from Bill Gates, Hood started over at the University of Washington, creating the world's first Department of Molecular Biotechnology. Seven years later, his impatience for rules drove him to depart. He left at age sixty-one to start his own Institute for Systems Biology. Would he finally achieve the ultimate application of the genome project—personalized medicine?
In Hood: Trailblazer of the Genomics Age, journalist Luke Timmerman zeroes in on a charismatic, controversial personality. Never-before-reported details are drawn from the scientist's confidential files, public records, and more than 150 interviews with Hood and his family, friends, collaborators, and detractors. The result is not just a revealing portrait of one of the most influential biologists of our time, but a deeply human look at science itself.

BUY ➛ Hardcover ➛ Paperback  ➛ Kindle  ➛ Libro.fm  ➛ Audible
Where I've Done Book Talks & Signings
Genentech
Illumina
MIT
Caltech
Stanford
UCLA
UC Berkeley
UC San Francisco
UC San Diego
Xencor
Nanostring Technologies
10X Genomics
DNAnexus
Messenger RNA Therapeutics Conference–Boston
Mass Innovation Labs
Biopharm America
Biotech Showcase
BMC/Trout reception at JP Morgan Healthcare Conference
Convergence Forum
American Society of Human Genetics
University of Washington Husky Bookstore
Science on Tap at Ravenna Third Place Books
Lake Union Rotary
Elkhorn (WI) High School
Alexandria Real Estate Equities, 1616 Eastlake
Fenwick & West BIO reception
Neurocrine Biosciences
TR East Coast Anniversary at Alnylam Pharmaceuticals
TR West Coast Anniversary at Adaptive Biotechnologies
What Readers are Saying:
"Excellent…a window into the birth of personalized medicine. Read it!"
– Siddhartha Mukherjee, Pulitzer Prize-winning author of The Emperor of All Maladies and The Gene
"A must-read popular science book."
– Forbes
"Timmerman captures the glory and clay feet of a great scientist, like Jim Watson did for himself in The Double Helix."
– Phillip A. Sharp, Institute Professor at MIT, Nobel Prize-winning biologist
"What a terrific book about a great scientist who has changed the world we live in, and the personal and technical challenges he faced. Luke Timmerman has done a remarkable job, through numerous interviews, of capturing all aspects of Lee Hood's amazing life story."
– Robert Langer, Institute Professor at MIT, winner of the National Medal of Science and National Medal of Technology
"A terrific portrait, not just of Hood but science itself, both of them human, flawed, complicated and ultimately triumphant."
– Deborah Blum, Pulitzer Prize-winning science journalist, author of The Poisoner's Handbook
"Lee Hood is an extraordinary man of many ideas, many talents, and many slide projectors. Luke Timmerman fully captures this Willy Wonka of molecular biology and all of his complications in an utterly riveting narrative."
– Misha Angrist, associate professor of the practice, Social Science Research Institute, Duke University; editor-in-chief, Genome magazine
"A great book, with great insight and reporting. If there is one lesson I hope we all learn from the book, it is that Lee saw a future no one else saw, and the many fruits that come from his vision include the lives saved of patients who don't even know his name."
– Irving Weissman, director of the Stanford Institute for Stem Cell Biology and Regenerative Medicine; Virginia & D.K. Ludwig professor for clinical investigation in cancer research, and professor of developmental biology, Stanford University
"Lee Hood's life story provides rich subject material for a biography. His experience reveals much to us about the character of those who drive progress, and science itself. Luke Timmerman has captured Lee's complexity and laid it out for the world to appreciate. Enjoy your encounter with this deep personality carried along by a fine biographer."."
– David Baltimore, Nobel Prize-winning biologist, Robert Andrews Millikan Professor of Biology, Caltech
"I couldn't put this book down."
– Atul Butte, director, Institute for Computational Health Sciences, University of California-San Francisco
"A tour de force of biography, the kind you rarely see done on a living scientist. Anyone curious about the biotech revolution we're living in today should read this."
– Thong Le, CEO, Accelerator Corp.
"Anyone seeking to grasp the heart of the genomics revolution needs to read Timmerman's fast-moving, powerful, lucid narrative of Lee Hood, who has never stopped leading the quest for the best tools."
– Victor King McElheny, author of "Watson & DNA: Making a Scientific Revolution."
"A fascinating human account of the life of a person who truly has changed the world, persevering in the face of consistent establishment skepticism to achieve his visions."
– Ed Lazowska, Bill & Melinda Gates chair of computer science and engineering, University of Washington
"More than any scientist I know, Lee Hood can see a picture of the future that hasn't been invented yet and figure out how to get there."
– Robert T. Nelsen, managing director, Arch Venture Partners
"I devoured Hood. This book provides an intimate window into one person's life, contributions, personality, and relationships. As someone who has dedicated a career to helping speed up drug discovery, and remove barriers that get in the way of scientific progress, I found this book to be profoundly illuminating."
– Margaret Anderson, executive director, FasterCures, a Center of the Milken Institute
"A compelling, deeply human read about one of our country's most inventive scientists – and an unobstructed view into the egos and drama of modern high-stakes research."
– David A. Shaywitz, chief medical officer, DNAnexus
"Scientific discovery and technological innovation don't just happen; they are the product of relentless personalities charging through inertia to realize seemingly quixotic ambitions. Hood meticulously and entertainingly chronicles Lee Hood's path to greatness, and in the process offers a rare glimpse into the sausage making of our most recent scientific revolution. Timmerman's prose hooked me on the first page and held me till the last."
– D.A. Wallach, Partner, Inevitable Ventures; recording artist
"Hood tells the story of a legendary scientist and very human man, but if you read carefully, it also tells the story of personalized medicine."
– Michael Pellini, chairman of the board, Foundation Medicine, Inc.
"A revealing story that should resonate beyond the biotech world."
– Todd Bishop, co-founder, GeekWire
"A thorough biography [that] never shies away from the contradictions of this forceful personality. … Hood deserves to be a household name."
– Kirkus Reviews (starred review)
"An engrossing look at the man, his times, the technology he brought into being, and the implications for humanity."
– San Diego Union-Tribune
"A thrilling ride through the life of a visionary biologist."
– Mendelspod
"A page-turner."
– Bio-IT World
BUY ➛ Hardcover ➛ Paperback  ➛ Kindle  ➛ Libro.fm  ➛ Audible
Would your company consider bringing in a visiting author as an employee benefit? Might a book talk and signing be a nice break for your people, and good for team-building? Ask me about the possibilities. luke@timmermanreport.com.