BUY ➛ Hardcover   ➛ Kindle  ➛ Libro.fm  ➛ Audible

Hood: Trailblazer of the Genomics Age
Lee Hood did that rarest of things. He enabled scientists to see things they couldn't see before and do things they hadn't dreamed of doing. Scientists can now sequence complete human genomes in a day, setting in motion a revolution that is personalizing medicine.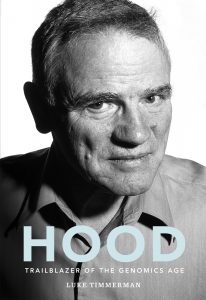 Hood, a son of the American West, was an unlikely candidate to transform biology. But with ferocious drive, he led a team at Caltech that developed the automated DNA sequencer, the tool that paved the way for the Human Genome Project. He captivated scientists with his almost religious fervor for the new biology enabled by the machines.
Hood's brilliance, rebellion, enthusiasm, and ego earned him detractors as well as admirers. His management style, once described as "creative anarchy," alienated many. Some of his collaborators seethed, claiming he took too much credit. Fellow Caltech biologists charged that his empire building was out of control and ousted him as their chairman. A fraud in his lab made him consider, for a moment, quitting science.
Wooed by money from Bill Gates, Hood started over at the University of Washington, creating the world's first Department of Molecular Biotechnology. Seven years later, his impatience for rules drove him to depart. He left at age sixty-one to start his own Institute for Systems Biology. Would he finally achieve the ultimate application of the genome project—personalized medicine?
In Hood: Trailblazer of the Genomics Age, journalist Luke Timmerman zeroes in on a charismatic, controversial personality. Never-before-reported details are drawn from the scientist's confidential files, public records, and more than 150 interviews with Hood and his family, friends, collaborators, and detractors. The result is not just a revealing portrait of one of the most influential biologists of our time, but a deeply human look at science itself.

BUY ➛ Hardcover   ➛ Kindle  ➛ Libro.fm  ➛ Audible
What Readers are Saying:
"Excellent…a window into the birth of personalized medicine. Read it!"
– Siddhartha Mukherjee, Pulitzer Prize-winning author of The Emperor of All Maladies and The Gene
"A must-read popular science book."
– Forbes
"Timmerman captures the glory and clay feet of a great scientist, like Jim Watson did for himself in The Double Helix."
– Phillip A. Sharp, Institute Professor at MIT, Nobel Prize-winning biologist
"What a terrific book about a great scientist who has changed the world we live in, and the personal and technical challenges he faced. Luke Timmerman has done a remarkable job, through numerous interviews, of capturing all aspects of Lee Hood's amazing life story."
– Robert Langer, Institute Professor at MIT, winner of the National Medal of Science and National Medal of Technology
"A terrific portrait, not just of Hood but science itself, both of them human, flawed, complicated and ultimately triumphant."
– Deborah Blum, Pulitzer Prize-winning science journalist, author of The Poisoner's Handbook
"Great insight and reporting. A great book. If there is one lesson I hope we all learn from the book, it is that Lee saw a future no one else saw, and the many fruits that come from his vision include the lives saved of patients who don't even know his name."
– Irving Weissman, director of the Stanford Institute for Stem Cell Biology and Regenerative Medicine; Virginia & D.K. Ludwig professor for clinical investigation in cancer research, and professor of developmental biology, Stanford University
"Lee Hood is a legend."
– David Baltimore, Nobel Prize-winning biologist, Robert Andrews Millikan Professor of Biology, Caltech
"I couldn't put this book down."
– Atul Butte, director, Institute for Computational Health Sciences, University of California-San Francisco
"A fascinating human account of the life of a person who truly has changed the world, persevering in the face of consistent establishment skepticism to achieve his visions."
– Ed Lazowska, Bill & Melinda Gates chair of computer science and engineering, University of Washington
"More than any scientist I know, Lee Hood can see a picture of the future that hasn't been invented yet and figure out how to get there."
– Robert T. Nelsen, managing director, Arch Venture Partners
"A compelling, deeply human read about one of our country's most inventive scientists – and an unobstructed view into the egos and drama of modern high-stakes research."
– David A. Shaywitz, chief medical officer, DNAnexus
"A revealing story that should resonate beyond the biotech world."
– Todd Bishop, co-founder, GeekWire
"A thorough biography [that] never shies away from the contradictions of this forceful personality. … Hood deserves to be a household name."
– Kirkus Reviews (starred review)
"An engrossing look at the man, his times, the technology he brought into being, and the implications for humanity."
– San Diego Union-Tribune
"A thrilling ride through the life of a visionary biologist."
– Mendelspod
"A page-turner."
– Bio-IT World
BUY ➛ Hardcover   ➛ Kindle  ➛ Libro.fm  ➛ Audible
Readers & listeners, thank you! Tell your friends about this compelling life story in science and entrepreneurship.