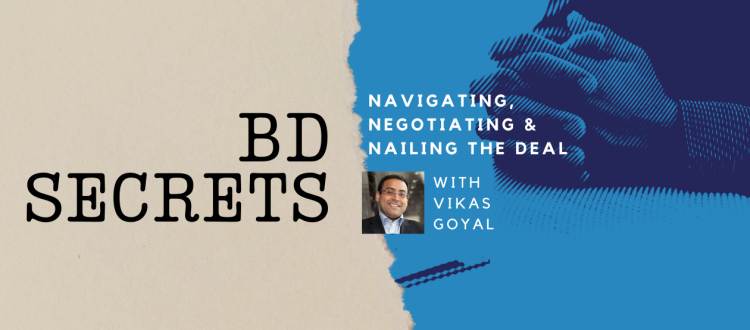 James Mutamba of Arrakis on Negotiating a Big Amgen Deal at Warp Speed
James Mutamba is the chief business officer of Waltham, Mass.-based Arrakis Therapeutics. It's a biotech developing small molecules against RNA targets.
Arrakis struck its first major pharma partnership in 2020 with Roche. During the JP Morgan Healthcare Conference this past January, Arrakis announced another multi-target collaboration with Amgen to discover and develop small molecule RNA degraders, a new drug class which Arrakis calls nucleic acid targeting chimeras (NUTACs).
Arrakis' and Amgen's research teams are now working together to jointly design and characterize these novel NUTAC bifunctional compounds. For Arrakis, the partnership provided $75 million of upfront working capital, and expanded its platform capability for making small molecules against RNA. Amgen is getting the right to nominate a set of five initial targets and it has the option to nominate more. The deal is part of a pattern for Amgen, as it underscores the priority it has placed on drugs that specifically inhibit more than one target implicated in disease biology.
Mutamba joined Arrakis on Dec. 6, 2021. Arrakis received the first draft of the agreement from Amgen that week. The deal was signed before Christmas Eve and announced two weeks later at the biggest healthcare investment and dealmaking event of the year.
Mutamba spoke with me recently about what it took to close such a broad and high-impact collaboration so quickly.
Why do partners come to Arrakis for access to your RNA platform?
Arrakis is building a broad platform that, given any RNA target, can figure out the structure of that RNA and develop a small molecule compound against that RNA. Building this kind of platform necessitates a lot of external resources, expertise, and insights. So as we build our platform, we are also out talking about our work. As folks hear about what we are doing, some have come to us and said, "Hey, we have a problem that Arrakis might be able to help with." That is really what precipitated our collaboration with Amgen, as well as our earlier collaboration with Roche.
Arrakis is developing small molecules that bind to RNA. One way to leverage this is to target RNA's intrinsic functions, and this is the focus of our partnership with Roche. This means inhibiting translation, changing splicing, modifying RNA stability, or other aspects of the RNA function. Another way is to look at extrinsic properties – can we use a binding event to force a function? One 'extrinsic' approach we are pursuing is our NUTAC platform for targeted RNA degradation. NUTACs are hetero-bifunctional small molecules – one side targets and binds RNA, the other side recruits a nuclease or other factor to eliminate the disease-causing RNA.
Why did Arrakis and Amgen want to work together?
We had done some early concepting and could keep working on NUTACs on our own. But, just like our partnership with Roche, we saw the potential to have a landmark NUTAC partnership to supercharge our efforts and more rapidly provide a foundation for us to build our capabilities. There is no better group to work with in the multispecific space than Amgen. They have deep expertise in both targeted degradation and induced-proximity degradation, as well as vast capabilities and competencies in the multispecific small molecule space. In addition to their technical expertise, they also have strategic goals and commitment to multispecific small molecules. And that's an important piece in choosing the right partner. Is your partner committed to finding a way to make the collaboration and science work? Are they willing to work through any hardships?
We recognized that Amgen has a strong interest in proximity-induced drug approaches. Our NUTAC concept is akin to a PROTAC – an area in which by the way Ray Deshaies, SVP of Global Research at Amgen, is a leading expert. There's a media interview Ray did on our deal where he explained that Amgen was looking across the RNA space seeking technologies to enable this kind of RNA degradation approach. They kicked the tires of a bunch of players in the space, and ultimately concluded that we were the right group to go with. My supposition is, again, that their decision to work with us is a testament to the breadth of our platform. At Arrakis, our proposition is 'give us any RNA target and we're able to tell you what structures are targetable and we can build binders.' Amgen was bringing the drug function with the effector piece of the hetero-bifunctional molecule. So I suspect for them the focus was on which partner could best figure out the RNA binding.
How did your discussions with Amgen start and grow into this collaboration?
While we had a goal to ultimately find a good partner on NUTACs, we were not yet actively reaching out to potential partners. This collaboration started with an informal discussion between Ray Deshaies and Arrakis' CEO Mike Gilman. Mike and Ray are both UC Berkeley alumni and were on campus together for a reunion. They started to talk and there was an alignment of vision that ultimately opened the door to this collaboration. And because of the strategic decisions we made early on to go after any RNA target, Arrakis was uniquely positioned to work on RNA degradation strategies compared to some of our peer RNA companies.
It was about a year from that initial discussion between Mike and Ray to when we executed the deal. Things really got serious when we came up with, what I like to call, our "peanut butter and jelly sandwich" concept. Arrakis is bringing the RNA binder to the table, and Amgen is bringing the effector molecule to recruit the degradation factor, and we will work together to develop those into hetero-bifunctional medicines.
Once that bifunctional concept came into view, we started putting the agreement together, including the workplan of who was responsible for which research efforts, and the budgets. We really know how to build the RNA binding piece. Amgen has the demonstrated expertise and interest in building hetero-bifunctional molecules. So a lot of the discussion was about how, working together, we and Amgen could do things sooner or faster or better than what we would have been able to do by ourselves.
This all went really quickly because we had alignment and a shared vision. From the first agreement draft to execution was three weeks. It is the fastest deal that I have ever worked on. Everyone was aligned on who would be doing what, and what was of interest to each party. There were snags here and there, which is true for most deals, but we quickly got over those because people had a very clear view of what success looked like. And we just pushed towards that.
How did you figure out the economics of the collaboration? Did you have any precedent deals or templates you could use as a starting point?
I would say there were more proxy deals we could look at, such as partnerships in the degrader space where one party brought the ubiquitination bait portion and another brought the targeting side. There were some macro guiding principles from those that we could learn from.
In parallel to working through who was going to do what part of the research plan, we also discussed how we each viewed the economics, and how we wanted to share and apportion downstream value upon successfully developing medicines.
Some of these discussions did have the risk to blow up the deal. There were 11th-hour issues that that needed to be worked through. But this is often the case during negotiations, right? Our teams at Arrakis and Amgen just had to step back and ask, "What is our larger goal here? Can we work around this issue?" And on some of the negotiation issues, both sides had to just prioritize what we actually needed to figure out how to get the technical work started and defer other issues that could be worked out in the future.
Going into your collaboration discussions with Amgen, how well did the two companies understand each other?
Both Arrakis and Amgen have done a really good job of telling the external world what we're interested in and what our expertise areas are. From Arrakis's side, we have rigorous publications speaking to the scientific community, for example on our PEARL-seq tool. There are also informal things we do. We post about our culture on social media and our website. Our CEO has a huge Twitter following and talks about everything from his guitars to our company. Our success at getting the word out has really been through utilizing a mix of the technical and informal channels available to us.
Of course, Amgen spent time under the hood to confirm we were the best partner with RNA binders. The main effort was on making sure both we and Amgen were thinking about the NUTAC application in the same way. I remember a technical discussion where both we and Amgen were presenting our proposed workplans – there were a lot of nodding heads and people bouncing ideas off of each other. And it became clear that our working together would be complementary. For our team, I think that meeting really cemented for us that Amgen was the right partner.
How did you approach your role in this BD process?
I joined Arrakis the first week of December 2021. Just a few days later, we received Amgen's first draft of the agreement. This was a high priority for Amgen. They wanted to announce the deal at JPM 2022. Both teams were aligned that we did not want to work over Christmas. So the deal was actually executed on Christmas Eve at 6 pm.
The pressure was on to get the deal done fast. We needed a quarterback to manage the deal timeline. I stepped into this role to coordinate our discussions – which conversations needed to happen, who needed to be in the room, did it get scheduled, did our people actually have the bandwidth to work on it, can I make this process more frictionless? And then ultimately making sure what we discussed made its way back to Amgen and into the contract. We were parallel processing discussions across the overall agreement, the IP terms, the technical work plan and the program management team. There was a lot to coordinate.
There were also strategic things coming up. If Amgen asked for something, I was taking the lead on analyzing how that issue might affect our interests. And as things zigged and zagged, I was keeping an eye on what we were trying to achieve overall and making sure we were landing in an optimal place.
And I was definitely the hub of the discussions with Amgen. Formally, I was the one facilitating all the communications that were happening. Informally, I was also doing the work to understand what Amgen really wanted. For example, some term would appear in a draft which, as written, might have been problematic. I was the person able to go to the lead contact at Amgen and just say, "Hey, what's the real ask? OK could we solve it like this instead?" And then I was able to come to the next drafting session with a real solution. Having those one-on-one conversations in a low-pressure way helped us get the deal over the finish line, and de-escalate issues that sometimes initially seemed like a hornet's nest. Of course, there were also some issues that we had to escalate, but we tried to keep them to a minimum.
My counterpart was Chester Wong. who led the transaction from the Amgen side. Chester and I didn't know each other before this deal and actually never met face-to-face, negotiating the entire deal by video. When we started, it felt like we were across the table from each other. By the end, after spending many late nights together, our relationship got much tighter. Discussions would veer off the deal to what we were watching on Netflix . . .
[laughs]
By the end we were all around the same table trying to figure out how to make the deal work. I remember one late night call with the IP folks from both teams, and in real time, we started writing the agreement together. There was none of the usual posturing you often get.
This was an all-hands-on-deck effort with Amgen. How did that impact everything else happening at Arrakis?
One thing is to just brutally triage what is and isn't important. Amgen was right at the top of the list of priorities. Mike and everyone on the operational side was on board with that. Plus, we didn't need to disrupt the entire organization over this. There were specific people from our senior research team who needed to weigh in with Amgen, and we just activated people from our side as and when needed. So we could keep running the business as usual. But sometimes I needed to get an hour of the research team's time to get their input on the Amgen negotiation, and the team just had to pause whatever they were doing.
I had just been through a similarly complex, time-gated IPO process, so I quickly intuited the role I needed to play on this deal. I also had people around me who wanted and supported me to play that role. When I joined Arrakis, the team was very welcoming and gave me leeway to get the deal done.
Who were all the people around the table during these discussions to hammer out all the aspects of the deal?
We had multiple sub-groups who were parallel processing the discussions. The Arrakis team was literally exchanging notes at the end of every day to keep track of what was changing.
Our overarching BD team working on the actual agreement included me, our CEO Michael Gilman, and our Head of Legal, Erik Spek. Erik has a great IP background, as well, so he was really weighing in those considerations.
On the technical side, it was our CSO Jacques Dumas and our Chief Innovation Officer Jen Petter. They were taking the lead on reviewing the targets Amgen wanted to work on, even doing some early research to validate the ideas. Amgen also had a technical lead on their BD team, Duncan Huston-Paterson who was working closely with Ryan Potts, Executive Director and Head of Amgen's Induced Proximity Platform.
And we also had our program management team, led by our SVP & Head of Operations, Heather Lounsbury. Heather's team was instrumental in putting together the budgets and the timelines for the collaboration, and really mapping out what was required to bring this science over the finish line. One of Arrakis' lessons from the Roche collaboration process was the value for coordination between the scientific and business discussions, so we also built this into the Amgen deal process.
All in all, it was an effort of working through all these facets of the collaboration and integrating all of them.
Now that you are in the collaboration, can you describe how it's helping accelerate the NUTAC approach?
One way I think Amgen might help us is by learning the requirements for hetero-bifunctional small molecules. For example, how to consider the exit vectors from the RNA piece and therefore what the linker needs to look like. Amgen has also worked on the nuclease targeting side, which should enable us to put together that "peanut butter and jelly sandwich" much faster. So now we can work in parallel on the RNA binding piece, the linker piece, and the bait molecules.
Amgen is also nominating the targets for the collaboration. They know the biologies, likely have the assays in place, and know what success on those targets looks like.
And from a resource perspective, the funding Amgen is providing helps to finance the work and hire people to do our work even faster.
Ultimately, what's also important is having a mature, seasoned, experienced partner help shape how we develop these NUTACs. We experienced this with Roche, as well. Where we are today, as a function of that partnership, is an order of magnitude difference. For example, with Roche we've industrialized our screening methods and run more than 40 high throughput screens and matured our approach to building RNA targeting molecules. So similarly with NUTACs, I think Amgen has the potential to help us mature how we think about hetero-bifunctional medicines.
How does this create more value for Arrakis?
Our collaboration with Amgen is initially focused on five targets. There's undoubtedly more than five RNA targets one would want to degrade. All of that is open to us. That goes full circle back to our strategy to have landmark partnerships that helps us mature the platform. Yes, we give up value to a well circumscribed number of targets in the space, but then everything else is available to us. So we can work beyond the Amgen collaboration to build our capabilities and still retain value that we can build on.
The collaboration also definitely brought a new visibility to Arrakis. This deal made a splash at JPM, which is exciting for a preclinical deal. People across the biotech investor and business spectrum got interested and reached out to us. We were one of the few preclinical companies to present at the JPM conference this year
Shifting gears a bit, what have you learned about BD working on deals for so long now?
First is just my disposition, in any deal, to take nothing for granted. Until the money is in the bank, anything can go wrong. So foremost is just get stuff done, keep the trains running, be aggressive on the timelines, and just keep slogging away to get the deal done.
Second is to root out any sensitivities that might exist but aren't being stated explicitly. It's always navigating people. It's what's not being said that, in some cases, is more important.
What was surprising with Amgen was how fast we did it, and also what it takes to get it done that fast. I was blocking off whole portions of my days to do calls with Amgen, and also doing these calls at weird times. In some ways it was helpful to have the West Coast, East Coast time differential. We tried to set up cycle times where one group was working while the other was sleeping.
And we also built a really good relationship with Amgen's deal team. I think that was because they were so strategically aligned with what we are trying to do and there was buy-in across the whole organization on their side. During meetings, we didn't come into the room and pontificate or grandstand. Everything was solutions focused. We were very quickly just being transparent if something really was unacceptable. All in all, none of these are all that unusual. But when you bring all these pieces together, that's the surprise. And I think because of our strategic alignment and the relationship we built, we were able to get over a lot of contract issues and other snags that otherwise could have become showstoppers.
What did I forget to ask you?
Maybe a few parting thoughts on the road ahead. At Arrakis, we have the opportunity to replicate all of the novel modalities and progress that has happened on the protein side, except with RNA. Historically small molecules bind to a protein's active site to change the behavior of that protein. That's what our intrinsic partnership with Roche represents. The NUTAC partnership is a play on PROTACs. We're now looking at irreversible inhibition or irreversible binders to RNA, which is similar to some of the covalent protein modifiers. Arrakis is sitting at the precipice of this large opportunity space, and there continues to be a desire at Arrakis to work with other partners to broaden our knowledge and enhance our scope and speed of developing new medicines. We are interested in doing more partnerships. I wouldn't be doing my job if I didn't put that plug in.