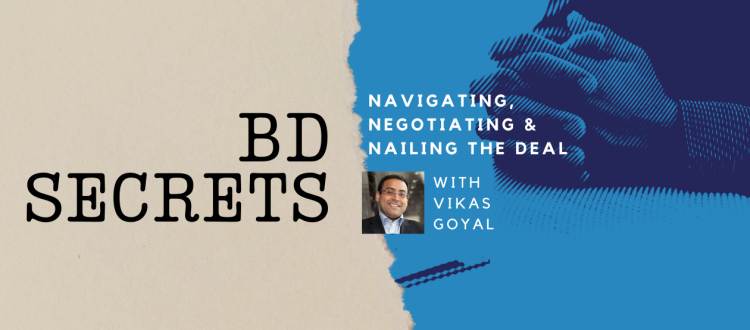 Samantha Truex on How Getting Market Feedback Turned Into M&A for Padlock
Samantha Truex is the CEO of Upstream Bio, a stealthy developer of drugs for inflammatory diseases with $200 million in backing from a syndicate led by OrbiMed.
Before her newest venture, Sam had an impressive career as a business development executive, including as the chief business officer of Cambridge, Mass.-based Padlock Therapeutics. That company, a developer of Protein/Peptidyl Arginine Deiminase (PAD) inhibitors for autoimmune diseases, was acquired by Bristol Myers Squibb in March 2016.
The deal pre-empted Padlock's trajectory as a growing start-up and provided investors with an unusually fast windfall return. Padlock secured a $150 million upfront payment, and was eligible for another $450 million in milestone payments.
The company was less than two years old, and had raised a $23 million Series A financing led by Atlas Venture.
With that deal now six years past, I asked Sam to talk about some of what happened behind the scenes.
Why were you pursuing a deal in the first place?
So the first point is that the deal didn't need to happen. At the time, Padlock was a biotech focused on small molecule inhibitors of the PAD enzymes. We had the backing of excellent investors in our Series A, including Atlas Venture.We were well underway with investor discussions around a Series B which I felt quite confident could happen. Our pipeline was making great progress towards development candidate nomination in the next several months.
Given our stage, there was a clear choice facing us — should we start to build out Padlock to take our programs into the clinic, or should we partner with a larger company who could exploit the programs further than we might have on our own?
We spent a lot of time thinking about this. I really credit our investors and our management team, especially our CEO Mike Gilman, with taking a very thoughtful approach to deciding which pathway was best for us to pursue.
We had reached out to several partners to explore a collaboration. This fortunately generated quite a bit of interest and competition for our PAD inhibitors. There aren't a lot of new and novel targets in the inflammation space and the PADs had high interest in industry. We ended up receiving term sheets from three different parties including BMS' acquisition proposal.
Why did you end up partnering with BMS?
In fact, we had gotten quite far down the path with another company, let's call it Company X, around a pretty different structure that included a meaningful upfront cash payment and equity investment, with an option to be acquired at the end of Ph1b. We really liked the team from Company X. They were thoughtful, creative, and really engaged on the potential to pursue PAD inhibitors in multiple clinical populations in parallel in Ph2 to de-risk the biology and try to benefit as many patients as possible. We had also spent a lot of time with them to work out the details of the research collaboration.
Behind the scenes, we were also having discussions with BMS.
Their approach was very different and much more transactional. They did not want to help grow Padlock, and wanted to pursue something more like a license where BMS would take the ball and run. For most of our BD process, this structure was not really that attractive to us and we were much more interested in the collaborative approach Company X was pursuing.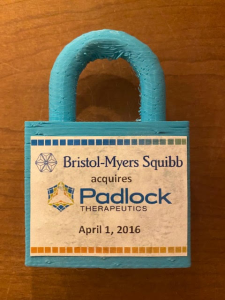 Along the way, though, we began to ask if there was some economic range whereby BMS' proposal would be acceptable. Ultimately, we negotiated BMS to a very attractive deal range including $225M near term, of which $150M was upfront, with a total of $600M including downstream payments.
We also noted that, at least as of that time, Company X did have a track record of either renegotiating their option deals during the course of the collaboration, or not executing the options at all. As the small biotech in these types of option deals, you are beholden to the bigger company's strategy shifts — do they decide to exit that research area, or do they end up partnering with a competitor program. So even if you achieve the technical milestones, you may not achieve the actual full goal of getting your medicine to patients. And in hindsight, Company X did end up having a major strategy change that might have impacted the outcome of our program.
What made Padlock's program so attractive to industry? How did you convey Padlock's innovation without giving away the "secret sauce"?
We knew that many companies had tried to develop chemical matter against the PAD enzymes and had failed. Padlock had made great progress on our chemistry and this was evident to all the parties around the table. We allowed extensive third-party chemistry diligence. We also executed an MTA with BMS so they could work with our compounds directly. This is always a little tricky to do if you have not run all of the assays the partners are going to conduct, but we felt confident that our compounds would perform well.
This was a great competitive process. How did you convey to the other parties that there was real competition?
Look I don't make stuff up, I don't lie, I don't bluff, and I take the terms of CDAs very seriously. So in this case, Company X's CDA was really broad and could be interpreted as covering even the existence of the CDA itself. So I ended up having to talk to BMS about the need for parties to move quickly, that there was a lot of energy in the process, and even sharing our decisions to focus on other strategic directions. And I could tell that several of the BMS team did not believe it was as competitive as it actually was. In fact, after the acquisition closed and I shared all of my company files, I distinctly remember exchanging emails with my BD counterparts at BMS when they finally saw this almost fully-negotiated contract with Company X.
We also made it a point of being very responsive to all of the parties involved. One thing I note that Company X did not do was ask me if everything was still on track, if Padlock had any other considerations in the process, or if any changes to the deal structure might be worth exploring. Because we were so far down the path with Company X and the potential with BMS seemed low, we didn't share that the competitive environment was changing when BMS came back to us. If Company X had asked us directly, we would have answered. Since they did not ask, we waited until we had an acceptable M&A proposal from BMS before sharing that competitive reality with Company X.
They were quite unpleasantly surprised by this news.
One can question whether we should have given them some more hints, but this was a critical business decision for Padlock with massive uncertainties along the way and two parallel confidential discussions progressing. There was no requirement for us to share our options and no exclusivity in place.
We preferred the Company X development plan, so we did give them a chance to pivot to an M&A structure with essentially the same financial investment. Ultimately, they wanted to stick with an option-based structure and didn't make an M&A proposal. We went with the BMS acquisition deal.
This kind of BD process is also a lot of work. How did you keep the Series B process going in parallel?
We just did a lot of work! This was definitely a time of a lot of work and not a lot of sleep. We kept building the company.We moved to bigger labs.We recruited additional senior team members.We scaled up manufacturing of our short-list development candidate leads.We were also talking to Series B investors.
As the BD person you're bringing the team these proposals and sort of representing the outside world to your team. How did you balance that role with your responsibility as a senior member of the team to decide what was right for Padlock?
I was intimately involved with these important considerations and decisions. I tried to be as objective as possible in trying to evaluate what was best for all of our stakeholders — our patients, the investors, and the employees of the company. I give a lot of credit to Mike Gilman for involving me in this process.
We also spent a lot of time getting the senior R&D management team involved in these decisions, and helping them understand the implications on them personally because they were going to have to live with the collaboration or acquisition decision.
For example, would the scientists want to work for BMS? Would BMS want them to become employees? And because we were a small private company, we could really engage openly in these discussions with the team.
For most of the process, we really didn't want to be bought. We turned down multiple proposals from BMS but when they came back with the economics we ultimately closed at, we were aligned it was the right deal to do. And the team was actually a little sad — we wanted to keep working together. But this was such a great return to our investors, we knew it was the right thing to do.
We also believed BMS was going to push this program aggressively. We suspected that BMS had learned a lot about the potential role of PAD inhibition in rheumatoid arthritis through their work on abatacept (Orencia). This was a company that was already set-up to immediately take the knowledge they already had and move with it. BMS was pretty different from the other companies around the table in this way.
In hindsight, would you do the deal again?
A lot of the original champions for our partnership at BMS have departed the company, presumably because of changes in strategic directions at BMS. Unfortunately, that is one of the inherent risks of transacting with a large pharma. So sometimes in retrospect I wonder if we should have kept going on our own until we got our own clinical data. And we're now several years after Padlock's acquisition closed, and BMS has still not disclosed a clinical stage PAD inhibitor.
But even knowing what I know now, I still think I would do this again.
First, I cannot honestly say that Padlock could have gotten these programs into the clinic if we had retained everything — I'm not privy to all of the data that BMS has generated since the acquisition. And frankly we got a substantial amount of value upfront and that was a great return to our investors at the time.
What did you learn from this process? What lessons would you share with your BD peers?
One thing I was really impressed with is how some of the pharmas approached us. As an example, early in our process Gilead brought multiple leaders from their R&D team all the way to the East Coast to meet with us. They talked to us about how interested they were in our work, and that they respected how we were approaching the science and wanted to hear from us how we would take the programs forward.
Second, I want to reiterate the importance of our not needing a deal.
I think it's very important to always run a program as if you are the one who is going to take it all the way to market. You should never slow things down in anticipation of a deal.
First, if you slow things down it will actually hurt the momentum of any deal process. Second, partners will assume you desperately want to do a deal if you slow things down, which could hurt your valuation. And third, a deal is never done until it's closed so you have to keep running it.
Finally, in my career, I think as interesting as the deals we do close are the deals we don't close.
I've seen a lot of deals end up not closing, even some deals that were all the way through contracts. As leaders in our companies, it's important we keep the focus on the future of the company and long-term value creation for both shareholders and patients. Even some deals with great upfronts and that would garner terrific press coverage I've ended up walking away from because they weren't the right fit with the company's goals. It's easy to get caught up in getting a deal done, yet a deal is only a good deal if it accomplishes the long-term objectives of both companies entering into it.