An Underappreciated Aspect of Power: Listening
As the summer draws to a close, I thought TR readers might enjoy a final August distraction. I've always been an avid reader, and lately, I've found myself increasingly drawn to the history and science of American politics.
On the history front, and inspired by Stanford professor Jeffrey Pfeffer (an expert on power and leadership), I've started Robert Caro's famously comprehensive multi-part biography of Lyndon Johnson. I've completed the first volume: The Path To Power (1982), which describes how the Johnson family first arrived in Texas, and takes us from Johnson's rough childhood in the unforgiving hill country, through his election as a Congressperson in 1937, and concludes with his razor-thin loss in the special Senate election of 1948.
Johnson emerges as a striking if deeply flawed individual, with indomitable ambition, a relentless work ethic, a need to be in charge, and a drive to win at all costs. A student of human nature, he cajoles those whose support he craves and dominates those beneath him, tirelessly manipulating all who he encounters.
Johnson steals a series of elections, starting in college. Ironically, his defeat in the Senate 1948 race apparently reflected not the propriety of the election, but rather the ability of his opposition to cheat more effectively.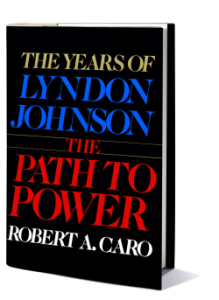 It becomes immediately apparent that ambition, narcissism, and the privileging of victory over ethics is not the sole provenance of a particular person, party, place, or time. I'm just beginning the next volume (Means of Ascent [1990]), and the author cautions in the preface that (somehow) it promises to be even darker than the first.
For those interested in a deeper understanding of the contemporary political state, the obvious must-read here is Tim Alberta's American Carnage (2019), describing the transformation of the Republican party into the party of Trump. Alberta is now the Chief Political Correspondent at Politico, and previously wrote for the conservative National Review.
Alberta brings unusually deep insight into his subject, and the sense that he's reporting about the party's current state more in sorrow than in triumph. You can get a feel for his style from his deeply perceptive recent essay about the state of the GOP, lamenting that no one really knows what the party believes in anymore.
Technology and the sophisticated use of data and social media is often said to have played a central role in Trump's 2016 victory. We're afforded an insider view of this in Targeted, Brittany Kaiser's account of her involvement with the infamous data firm Cambridge Analytica (CA), and its close relationship with the Trump campaign. Aspects of this are also covered in the Netflix documentary, "The Great Hack."
While Kaiser suggests Cambridge Analytica played a key role in Trump's victory, many others are more doubtful. Writing in The Atlantic, Ian Borogos and Alexis Madrigal dismiss the contribution from Cambridge Analytica, and emphasize the role of the Facebook algorithm itself.
Even here the impact isn't clear; Hugo Mercier, a cognitive scientist immersed in this literature, tells me that "the effects of advertising [including online ads] for political campaigns in general elections are small at best."
He adds "the effects of online ads are small and noisy, indeed, so small and noisy (as a rule) that even researchers at Google admit that it's impossible to know whether online ads bring positive ROI [return on investment]." I recently downloaded his new book, Not Born Yesterday, and look forward to his discussion of why persuasion is so difficult.
The challenge of voter persuasion in particular was highlighted by a high-profile 2017 study from two academic researchers: David Broockman, now at UC Berkeley and Joshua Kalla, at Yale. They examined data from 49 field trials, and concluded that political campaigns have essentially no detectable impact on candidate choice in general elections. Most people ultimately vote along familiar party lines, and it's apparently much more effective to mobilize your own partisans compared to trying to get partisans on the other side to switch.
It also turns out that the fraction of persuadable voters is probably also a lot less than you might think. A key research finding is that while ever-more people self-identify as "independent, if you push them, most of these acknowledge they lean left or lean right. Data suggest these leaners are at least as partisan in their ultimate voting as the voters who affiliate from the outset as either Democrat or Republican. Thus the number of true independents is comparatively small."
There's also the added challenge of how to think about this middle group, often referred to as "undecideds." This can refer to likely voters who are actively weighing who to vote for, but could also encompass voters who feel alienated from politics (and the increasingly partisan nature of politics), and opt not to vote at all; such "low frequency" voters are notoriously challenging to draw to the polls.
Two fascinating political scientists who've thoughtfully discussed aspects of these issues: Rachel Bitecofer (here) and David Shor (here).
The difficulty of changing votes meanwhile doesn't mean persuasion is entirely useless. Work from Todd Rogers applying psychology to election strategy through an iterative series of field trials has resulted in a series of ways to "nudge the vote," as Sasha Issenberg of the New York Times put it in 2010. (Issenberg subsequently wrote a book on the topic, The Victory Lab (2012), examining the science behind Obama's 2008 win).
One successful method: closing the intention/action gap by asking voters questions that force them to think through how they'll actually go about voting; this approach has been shown to increase turnout in a statistically significant fashion.
Importantly, while it can be difficult to convince voters to change their minds, research suggests that some efforts to persuade people to change their opinion – particularly outside the partisan signaling associated with a general election – can be successful. For example, Broockman and Kalla published a study in 2016 that found a small but significant number of respondents (about 10%) could be persuaded to embrace a more sympathetic view of transgender rights, a change that endured for at least three months.
The key, it turned out, was "deep canvassing," meaning the field volunteers engaged in an extended, empathetic conversation with the respondents, listening intently and asking thoughtful follow-up questions.
In these fractious times, this is a hopeful message from which we all can learn. When everyone is so busy trying to talk, there can be remarkable power in attentive listening.