Hiring Women Execs in Biotech, VC Firms is a Moneyball Play Part 1: Getting Better Returns
Leora Schiff: Kyle Serikawa and I were recently talking about the missed opportunities for biotech companies and lifescience VC firms who fail to include women among their senior leadership. Kyle's the baseball expert, so I'm going to hand off to him to explain about Moneyball.
Kyle Serikawa: The concept of Moneyball, as practiced by the Oakland A's in the early 21st century and as memorialized in Michael Lewis' book, essentially boils down to identifying and procuring undervalued assets as a way to get ahead on limited resources. With the A's, Billy Beane, the A's General Manager, and his team realized a specific skillset (high on-base-percentage guys who also often struck out a lot but hit lots of home runs) was undervalued by Major League Baseball at the time.
By picking up players that fit that mold, and also others who didn't fit into conventional ideas of what a ballplayer should be, the A's created a winning team on one of the smaller payrolls in the league. You might want to quibble that they never won or even got to the World Series, but I'm happy to have that bar argument about randomness anytime. And it doesn't detract from the extremely successful A's run of the early 2000's when they won the American League West division three times and came in second twice between 2002 and 2006.
You know, Leora, it's interesting that even in the industry where the Moneyball concept originated, this missed opportunity you're talking about still exists!
I was following a chat on Fangraphs recently, and saw the following exchange: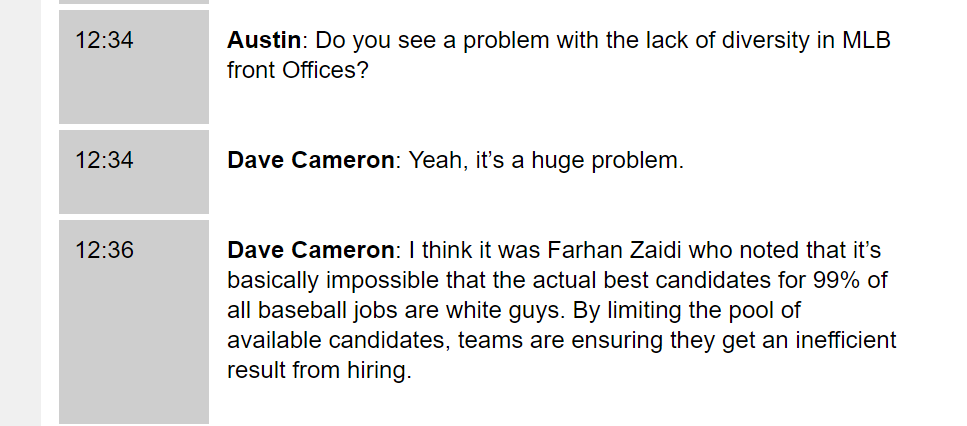 Farhan Zaidi is the General Manager of the Los Angeles Dodgers and the only Muslim-American GM in the major leagues. As for women? Forget it. The only female candidate for a General Manager position that's been talked about in the last decade is Kim Ng, and that glass ceiling remains unbroken. A recent report from the University of Central Florida's Institute for Diversity and Ethics in Sports pointed out that women make up less than 30 percent of the front office personnel. It seems like baseball still has some Moneyball opportunities in hiring.
Leora: I think this is such a great analogy for the potential opportunities for biotech companies and life science VC firms. Let me share some examples that I found on the benefits for companies that include women in their senior ranks:
Studies show greater returns from women-led companies and hedge funds: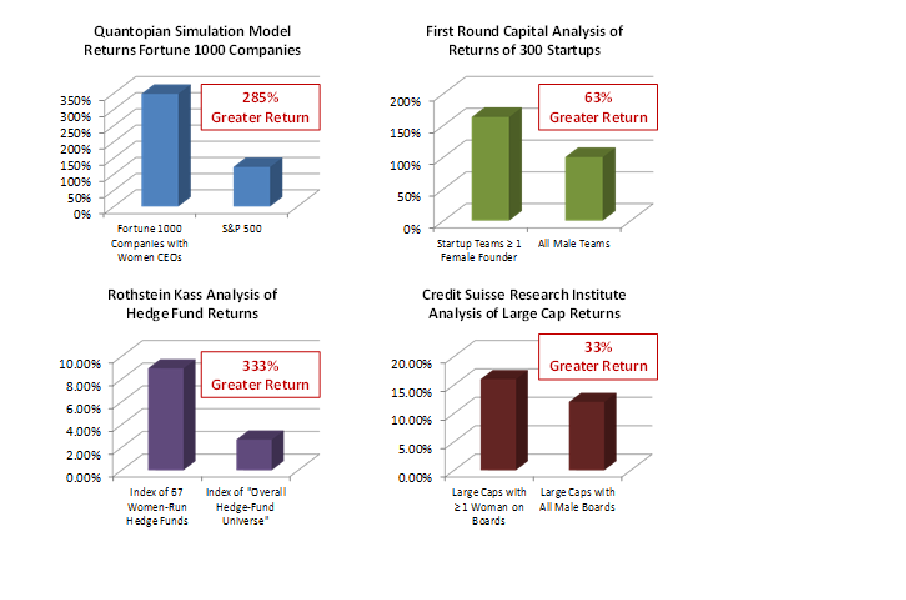 So the evidence shows that companies ranging from startups to large cap as well as hedge funds all do better when women are part of the executive teams. This is a golden opportunity for companies to improve their returns – but they are missing the boat. Only 48 percent of US biotech companies have at least one woman on their board. Overall, female board directors comprise only 9.7 percent of all board directors. The statistics are just as bad for venture capital firms. Only 9.6 percent of partners in VC firms are women; for corporate venture capital, the number is slightly better at 18.1 percent.
The sad thing is that despite outperforming their male counterparts in meaningful outcomes, in many instances women STILL are not getting paid as well as their male colleagues:
A study by the big-data analytics company Xactly found more women achieved their sales quotas than men (70% vs 67%), but that their average commission rates were lower (4.1% vs. 4.8%). Women Outperform Men In Sales But Still Earn Less.
A recent study published in JAMA Internal Medicine found that 30-day mortality rates were significantly lower for patients seeing female physicians than for male physicians. ". . . if male physicians had the same outcomes as female physicians, we'd have 32,000 fewer deaths in the Medicare population." Yet they are paid less. – Do Women Make Better Doctors Than Men?
The good news according to Liftstream's 2015 Diversifying the Outlook report is that for women that actually make it to the C-suite as CFOs/CMOs/CSOs in biotech companies, compensation is at parity with their male counterparts. Interestingly, the report did not include compensation comparisons for male and female biotech CEOs.
Kyle: One question that comes to my mind is how having women in management, ownership, and other senior positions in organizations can lead to the kind of performance you describe. What's the mechanism? Let me throw out a few hypotheses—emotional intelligence and the value of having a diversity of viewpoints.
As the world and, in specific, business grows more team oriented, multicultural and international, there's a clearer need for soft skills—collaboration, sensing and responding to relationship patterns, adaptability, and leading by consensus building. These are the kinds of skills, as Victor Lipman describes, in which women excel and often outperform men. Research is showing this more and more, especially the really important skills of emotional self-awareness and empathy. Anyone who has watched colleagues go off the rails because they don't see how they're spinning out of control knows how crucial it is to keep an eye on the internal emotional thermostat. I just finished Phil Knight's fascinating memoir, Shoe Dog, and there are several anecdotes showing how the alpha male/competition mentality almost broke Nike more than once. I couldn't help thinking about what his team, visionary though they were, might have accomplished with more emotional intelligence.
And as far as diversity goes, a key thing that women bring is a different viewpoint. Groupthink is a problem in a lot of organizations, especially hierarchical, top down ones in which the only voices heard are the voices from on high. I've been in different kinds of organizations over the years and my anecdotal experience is that the greatest creativity happens when decision-making is distributed and different voices can be heard. Research by Leigh Thompson of the Kellogg School of Management at Northwestern University has shown that allowing diversity of ideas to flourish can lead to both more and more creative ideas in organizations.
Leora: Beyond the soft skills, studies are showing that women also have the hard, "male" skills to get things done.  As reported in the Harvard Business Review, ". . . at all levels, women are rated higher in fully 12 of the 16 competencies that go into outstanding leadership. And two of the traits where women outscored men to the highest degree — taking initiative and driving for results — have long been thought of as particularly male strengths."
In addition, what I find fascinating is the difference in how men and women deal with risk, which is a critical issue for biotech and VC firms. We all know the successful, big risk-takers and the huge payouts that they've achieved. But there have also been cases of risky plays that have gone spectacularly wrong.  It looks like the overall statistics support a more rational approach to risk-taking, something that women tend to do more than men:
Kyle: With all of this data, it is surprising that more women aren't considered and tapped for senior executive positions. In the MoneyBall days, the A's were able to succeed with their approach because they listened to people who had crunched data and approached baseball not just with a scout's eye but a statistician's filter. I think back on the recent CEO changes we've heard about and GSK stands out as the rare large pharma that has chosen a woman, Emma Walmsley, to be the next CEO. This is an exciting development and I'm anxious to see how she does. But GSK is an exception in many ways, and as a company has often followed its own GPS.
And, unfairly to Ms. Walmsley (just as it's been unfair to Marissa Meyer), too many observers will generalize any failings to all women while ascribing successes to some quality unique to herself.
Let's face it, sexism is alive and, if not well, lurking in Biopharma and the VC world, just as it is across most (all?) industries. (For some cringe-worthy examples, it's worth listening to Luke Timmerman and Meg Tirrell's podcast "Sexism in biotech, from scantily clad models to how gender affects this podcast.") At times like this I always think back to a line from Neal Stephenson's Snowcrash in which the protagonist Hiro ruminates on his own flawed behavior toward a female software engineer:
"It was, of course, nothing more than sexism, the especially virulent type espoused by male techies who sincerely believe that they are too smart to be sexists."
Many males in the industry (myself included) fall too easily into stereotyping and easy judgments, the Type 2, heuristic thinking Daniel Kahneman talks about in Thinking Fast and Slow.
But that's what makes this a Moneyball play. The companies smart enough, self-aware enough, and confident enough to take the leap and hire more women to more positions of power and influence will find themselves in a great position.
In  Hiring Women Execs in Biotech, VC Firms is a Moneyball Play Part 2, we're going to take a look at some of the systemic issues that make it difficult for companies to tap women for senior positions and recent initiatives to help companies make the Moneyball play and add women senior execs to their leadership teams.