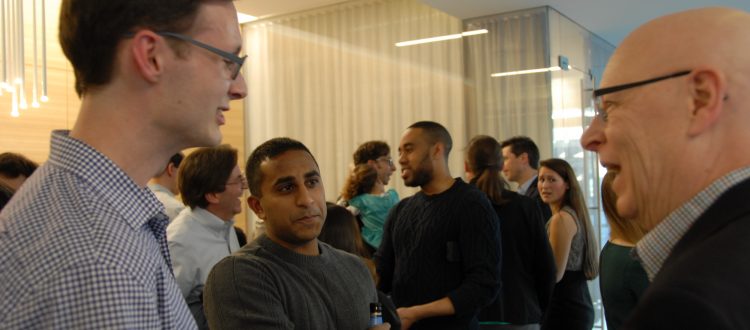 Boston Biotech: See You At The TR Anniversary Party Thursday Afternoon
More than 175 people are RSVPd for the TR 2nd Anniversary Party at 4:30 pm Thursday at Alnylam Pharmaceuticals in Kendall Square. This fun, free networking event is fast becoming a favorite tradition at Timmerman Report.
There's still a little room left, but space is limited and registration will close by 3 pm ET Wednesday, Apr. 12. So if you plan to stop by, now's the time to save a spot. No walk-ins will be allowed.
Also, be aware of some program updates:
The start time is moving back a half-hour to 4:30 pm. Special guests Phil Sharp and Abbie Celniker will be on hand to discuss impressions of the Hood biography and women's leadership issues, respectively. Hear briefly from an MIT grad student and newly minted MIT PhD with startup ideas, and from TR contributing writer Leora Schiff on the value she sees in an independent, subscriber-supported biotech publication. There will also be an opportunity to purchase signed copies of "Hood", and to get a FREE signed copy when purchasing a new group license to Timmerman Report.
Most of all, this is a great opportunity to get out and network with your biotech community peers and do it while supporting independent biotech media.
See the detailed program below. Don't miss it!
4:30 pm-6:30 pm
Apr. 13
Alnylam Pharmaceuticals
300 Third Street
Cambridge, MA
4:30 pm-5:15 pm: NETWORKING
5:15 pm: Host Welcome. (Alnylam) (2 mins)
5:17 pm: Luke Timmerman welcome. (2 mins)
5:19 pm: Discussion of "Hood: Trailblazer of the Genomics Age" with Phil Sharp (15 mins)
5:35 pm: Interview with Abbie Celniker on advancing women in biotech leadership (15 mins)
5:50 pm: Introducing TR contributor Leora Schiff (3 mins)
5:53 pm: Startup pitches (6 mins). Naveen Mehta & Daniel Dadon
5:59 pm: Luke Timmerman Final Thank Yous (1 min). Reminder of Hood book signing, opportunity to subscribe/ purchase group sharing licenses to Timmerman Report. FREE signed Hood book ($33 value) for new small group subscribers. FREE Timmerman Report New Balance workout T-shirt ($35 value) PLUS signed Hood book for larger groups.
6 pm: NETWORKING
6:30 pm: END