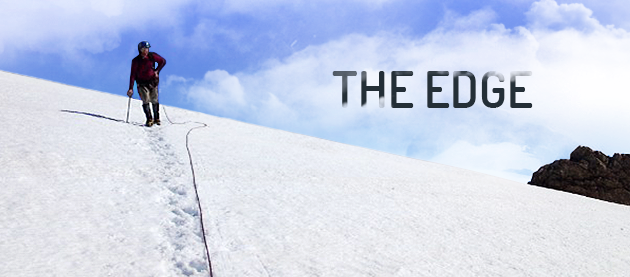 Biotech's Test: Root for a Tax Windfall Or Support the Next Generation of Scientists?
Grad students are underpaid and underappreciated. Many barely scrape by. Stagnant grant funding for science and uncertain career prospects are the norm.
Yet we all know grad students are the mitochrondria of the scientific enterprise. Without them, PIs wouldn't be looking like geniuses in Nature and Science. Biotech companies wouldn't have enough of the worker bees they need.
Now we have a tax bill moving through Congress at breakneck speed that would slash corporate income taxes, the estate tax, and allow for a sweet deal on repatriating overseas cash. Surely, there's a lot here that corporate boards like.
To achieve those objectives, the bill under consideration bashes graduate students over the head.
Dumb ideas flow like a river through my news feed every day. But this provision in the tax bill, to eliminate the tuition waiver on taxes for grad students, would kneecap one of the great competitive advantages of American industry. The way it works now, graduate students' tuition waivers — which they get for doing the real work of teaching or conducting research — are deductible. Under the bill that passed the House last month, tuition waivers would be eliminated. That would subject students to higher taxes.
Biotech leaders concerned with long-term industry self-preservation ought to stop and think.
Check out this side-by-side analysis that I came across from a grad student at MIT. This spreadsheet was developed by Kathy Shield and Vetri Velan, a second-year nuclear engineering PhD student, and a third-year physics PhD student, respectively, at UC Berkeley. This spells it out for lowly grad students in the trenches at UC Berkeley and MIT – a couple of our best public and private research institutions.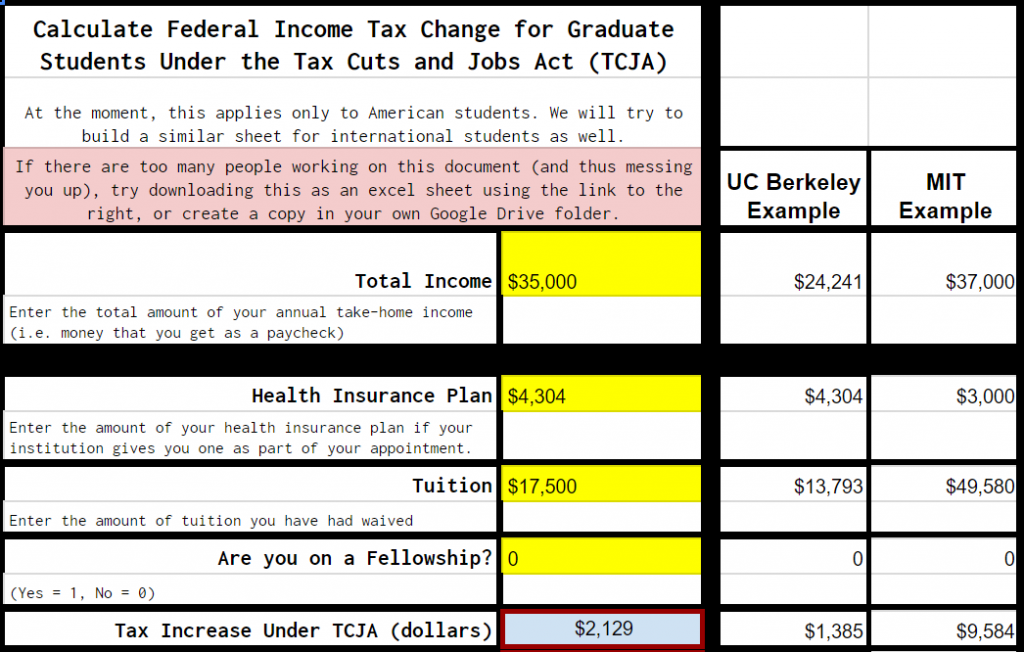 Ask yourself, do you think you could live on $35,000 or $40,000 in a high-rent district like the San Francisco Bay Area or Greater Boston, as things are today? How about if someone raised your tax bill by $1,385, or maybe $9,584?
Students around the country are scrambling to run the numbers for themselves, and thinking about their Plan B. Many are protesting around the country, no surprise. The bill is in conference committee now, where differences get hashed out between the House and Senate versions.
The rubber hits the road here.
Why should you, a biotech leader, care? I spoke last week with leading faculty, staff, and grad students at MIT, UC Berkeley and Harvard. None of these people were left-wing bomb-throwers, but all were concerned about the financial hardship about to be imposed on grad students.
Here's Phil Sharp, the Institute Professor at MIT and Nobel laureate:
MIT like other universities is at the forefront of job creation and training the next generation of leaders and workers. Taxing the tuition provided by MIT to graduate students is total nonsense and mis-directed. This will, even at MIT, reduce the number of students being trained, no matter what the leaders say. At many other universities, in addition, it will shift the demographics of graduate students to those with more family resources. There are several good aspects of what I understand are part of the tax bill, but this is certainly negative for the country and society.
Ashvin Bashyam, the president of the MIT Biotech Group and a fourth-year PhD candidate in Electrical Engineering & Computer Science at MIT advised by professor Michael Cima, said a lot of students are worried, but he has confidence that the MIT administration will find a way to soften the blow.
Bashyam said:
In the short-term, it may cause us to pay higher taxes. But long-term, MIT administration is 100 percent on our side. They'll do what they can to mitigate the effect…We at MIT are fortunate. We're a private institution, very well-funded, and our administration is awesome. They'll do what they have to do to make sure it's not overly burdensome on us. But I don't think that's the case everywhere around the country…If you look at UT Austin, where I'm from, it's a state institution where tuition is set by the state. I think [the tax change] could have a pretty big effect.
One Harvard graduate student in biology sounded nervous, but somewhat sanguine that things will work out in the end, much like Bashyam. "If it does come to it, universities could change administrative things on their ends," this student wrote. "Right now, graduate students have a large 'tuition' each year but they don't actually pay it as it is waived. So universities could theoretically just stop charging graduate students this tuition."
Maybe some universities, especially the well-endowed ones, could shuffle some paper around to soften the blow on grad students. But ultimately, someone needs to pay to keep the enterprise healthy and vibrant. And if universities can't or won't cut tuition, how will this affect students that come from less-privileged family backgrounds?
Kathy Shield of UC Berkeley said she's hearing about students having vastly different reactions to the tax bill, largely depending on their family situation.
Shield said:
We've heard from graduate students who say they'd go back to industry to pay for grad school, who wouldn't have even started if they'd known this was going to happen, and who intend to move out of the US as soon as they graduate because of cheaper costs of living for them and their families. I've also heard from students who don't expect this will change their living situation at all.
Science isn't supposed to be just a playground for children of the wealthy. We like to think it's supposed to function more like a meritocracy.
This tax bill represents a test of biotech industry values. How does the industry balance short-term objectives with long-term goals? Is it OK to pocket windfall tax benefits in the short-term, if that means forcing thousands of budding scientists into some other line of work?
If anything, we should be investing more in grad students. If institutions were willing to chip in a pittance — maybe $15,000 to $20,000 a year — for real support of graduate student associations, they'd get much more connectivity among students, and between students and their future employers. That's one low-cost/high-benefit way that any great research institution could foster more entrepreneurship, and save companies money in on-the-job training.
Formal representatives of the biotech industry, as usual, have little to say about the plight of the human capital pipeline. BIO's official statement from Nov. 2 applauded the work of House Republicans, saying "This reform is vital to maintaining American leadership in biotechnology innovation." (Full statement here).
BIO president Jim Greenwood didn't respond when I asked him Friday about BIO's position on the tax increase for grad students.
Standing with students is the right thing to do. Decades of federal investment in basic science are bearing fruit. All you need to do is read the biotech headlines of the past week. Who are the people who will keep the wheels turning, the ones who will execute on the great ideas and come up with new ones? Why would anyone want to poison this wellspring of productivity, in exchange for a quick payday?
The paydays for everyone, for decades to come, could be so much larger.
You can contact your member of Congress by clicking here.