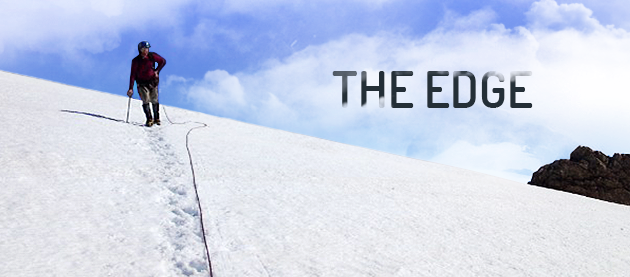 Lessons in Digging Deep (January Update: Everest Climb to Fight Cancer at Fred Hutch)
Many of you have a big dream. Many of you have your own "Everest" – a big, hairy audacious goal that will take serious time and sacrifice to achieve. I deeply admire those of you doing your best to move the needle for human health, whether it's for cancer or some other serious illness. When the going gets tough, you dig deep.
I'm practicing digging deep, mentally and physically, for my Everest climb.
The Everest Climb to Fight Cancer at Fred Hutch is rocking and rolling. Hundreds of people, and a growing group of sponsors, are joining in this quest with faith and with charitable donations: an inspiring $127,000 so far for cancer research.
Many of you have asked what I'm doing to train for such a grueling undertaking. Starting with this column, I'll write updates once a month for the next three months before I get on the plane to Nepal. The expedition goes from March 27 to June 2. (Read more FAQs here.)
What it takes is the same thing you're doing: hard work, every day. Back in October, when I formally started this campaign, running was my main workout. That month, I ran the Portland Marathon in 3:00:13. That was good enough for 4th place in my age group (men ages 40-44) and works out to 6:53 per mile splits over 26.2 miles. I thought I was in pretty good shape.
Then I hired a personal trainer.
The crew at Elite Fitness Training NW, at 1616 Eastlake Ave, puts me through circuit training for an hour. They are constantly mixing things up. Squats with a heavy-bag toss, traveling push-ups, uphill lunges with a barbell, incline sit-ups with a medicine ball, bosu-ball balancing acts with 20-pound dumbbells for military press and bicep curls. Core and upper-body strength, coming right up.
"I like having you come in," my trainer Sam said, "because I don't usually get to push people this hard." When I'm fading and whimpering for mercy at the end of the hour, I get the old Tom Brady pep talk. This is the one about the sixth-round draft pick who became the greatest NFL quarterback ever because he wanted it so bad, was willing to dig deep, and just got better with time.
While I believe in what Elite Fitness is doing to me at a physiological level – stressing underused muscle groups to make everything "wire together and fire together" – the mental workout may be most important. I know that's what you need to be near your ultimate goal and say, "OK, it's getting hard now. Time to dig deep. Push on through to the other side." On summit day, I'll probably start mentally playing some song like Cake's "The Distance," AC/DC's "Back in Black" or some other cheesy 1980s power ballad with an inspiring beat.
Sam, thank you for helping me push for that something extra.
Mental toughness, I know, comes with consistency. I've always lived by legendary Packers coach Vince Lombardi's motto, "Freedom through discipline."
Here's a typical day:
At 5:30 a.m., my alarm goes off. I put on my headlamp and gloves, then run 6.5 miles over some rolling hills in Northeast Seattle, which includes a lap around Green Lake. Then I bike 4 miles to work.
This time of year in Seattle, it seems like every day is 40 degrees Fahrenheit and rainy. I usually wear just a T-shirt and a Gore-Tex windbreaker to make sure that I'm cold and uncomfortable. This probably sounds nuts. But it's about mental conditioning: getting used to discomfort.
Mid-day, if I'm not at Elite Fitness, I'm climbing the steep Howe Street or Blaine Street Stairs near my office, hefting a backpack.
This break from work is a big bump for work productivity, I've found: I don't fade at 3 or 4 p.m.
By 5:30 pm or 6 pm, I bike home 4 miles. Yes, another 20 minutes. In the rain. This time, it's uphill. And yes, this is the fourth workout of the day.
Weekends, I go hiking. My wife and kindergartner have joined me for the beautiful views from Mount Si and Mailbox Peak (why carry books and rocks when you can carry your 42-pound kid?). Other times, I push myself for speed. This weekend, I packed half the weight, drove to Mount Si, and hoofed it up 3,150 feet of net elevation gain in 81 minutes from parking lot to summit. Then I jogged down to complete the circuit in 2:25.
Dang, that felt good.
Almost as good as knowing this campaign for cancer research is going to shatter the $175,000 fundraising goal.
It's hard to express how thankful I am to all of you who have donated to the Everest Climb to Fight Cancer at Fred Hutch. Let's rev into high gear for the next two months, before I leave on March 27, and bust this goal.
Support first-rate cancer research and the people at the scientific bench who are pursuing their own Everest.