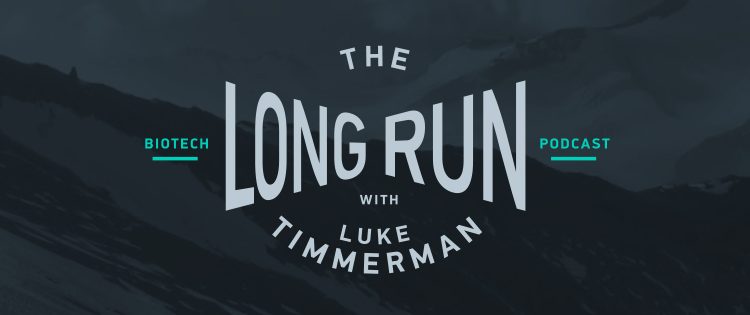 Cancer Survivor and Cancer Drug Developer: Laura Shawver on The Long Run
Today's guest on The Long Run is Laura Shawver.
Laura is the CEO of San Diego-based Synthorx. This company, based on research from The Scripps Research Institute, is using a couple of newly invented base pairs of DNA to make site-specific modifications on fully expressed proteins. This capability, Synthorx believes, could be put to practical use to craft ideal drug-like properties into recombinant proteins. The drug itself will be a protein that doesn't exist in nature, with a unnatural amino acid that serves as a hook that pegylation molecules can attach to, which improve the half-life and dosing schedules for IL-2.
Pretty cool, huh?
Science nerds, you were hooked by the new base pairs of DNA, right? For the more medically minded, the potential applications are big. Synthorx has created a modified version of Interleukin-2, the inflammatory cytokine. It's been around for a couple decades. It's known to cure a small percentage of patients with metastatic melanoma, but also to cause massive toxic side effects. Synthorx, along with a few others, including San Francisco-based Nektar Therapeutics, have been working on re-engineered versions of IL-2 that seek to exploit new understanding of the way the drug works, in order to dial up the tumor-killing capacity, while dialing down the toxic side effects.
If this works, it could open up a world of possibilities for IL-2 to be combined, more safely, with other cancer immunotherapy drugs with complementary mechanisms of action. First things first, Synthorx has to get its first clinical trial up and running in coming months and gather the first glimmers of data to test its hypothesis. It has a long road ahead.
Laura knows the drill. She's a veteran entrepreneur who has been through a few up and down cycles. She's a native of Davenport, Iowa, got her scientific training at the University of Iowa, and has been a part of West Coast biotech teams at Sugen (now part of Pfizer), Phenomix, Cleave Biosciences, and now Synthorx.
Along the way, she was diagnosed with ovarian cancer. She not only beat that diagnosis, she founded a nonprofit foundation, the Clearity Foundation. For the past decade, it has leveraged her biotech know-how and network to help other women. I found that part pretty inspiring.
Now, please join me and Laura Shawver on The Long Run.