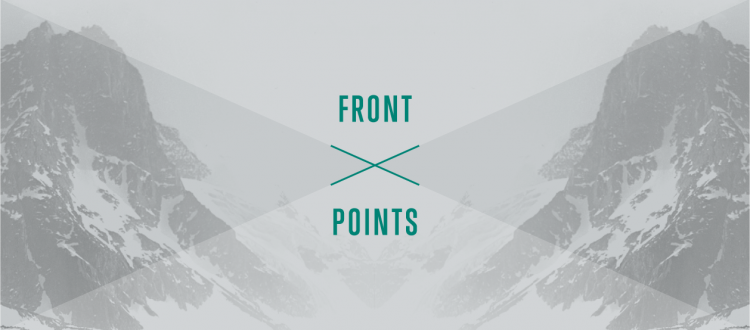 FDA Commissioners Speak Out, An Antibiotic Incentive Proposal and a Drug Price Grilling
Rummaging around in the garage can be about more than just tossing out junk.
Going through old files lately, I found a printout from the Carnegie-Knight Task Force in 1997. That was the year I graduated from college and went to work as a local newspaper reporter.
The task force, convened by the Project for Excellence in Journalism, was wrestling with the advent of 24-hour cable news. Internet news was just getting started. Many journalism old-timers worried about an erosion of traditional standards across platforms, and unholy merger of news and entertainment. The O.J. Simpson trial was fresh in people's minds.
A group of prominent journalists attempted to hash out what they called a Statement of Shared Purpose.
The first bullet point in a 9-point theory of journalism said:
Journalism's first obligation is to the truth
Democracy depends on citizens having reliable, accurate facts put in a meaningful context. Journalism does not pursue truth in an absolute or philosophical sense, but it can — and must — pursue it in a practical sense. This "journalistic truth" is a process that begins with the professional discipline of assembling and verifying facts. Then journalists try to convey a fair and reliable account of their meaning, valid for now, subject to further investigation. Journalists should be as transparent as possible about sources and methods so audiences can make their own assessment of the information. Even in a world of expanding voices, accuracy is the foundation upon which everything else is built — context, interpretation, comment, criticism, analysis and debate. The truth, over time, emerges from this forum. As citizens encounter an ever greater flow of data, they have more need — not less — for identifiable sources dedicated to verifying that information and putting it in context.
Re-reading this statement now, I think it's possible to swap in the word "science" where you see "journalism." These are very different professions, but both are important means people have used to navigate the world since the Enlightenment.
Science has held up much better than journalism in the past 20 years. In many ways, we are living in a biology Renaissance brimming with new possibility for the treatment and prevention of disease.
Science, of course, can't give us all the answers with crystal clarity. It isn't perfect, and neither are the people who work in the scientific enterprise. But science is the best available means we have for asking and answering some of the most vital questions of the day.
There's a whole lot more heat than light being emitted into our information commons at the moment, but science is the way back onto a clear path. All of us should defend it.
Now, make sure you didn't miss anything big in biotech this week. Read Frontpoints.
Trust
When seven former FDA commissioners get together to write an op-ed in the Washington Post under the headline "The Trump Administration is Undermining the Credibility of the FDA" — you know you are in uncharted territory. The authors of this piece span 30 years of leadership at the FDA, and they served in Democratic and Republican administrations. They have battle scars from political interests who tried to tip scientific decision-making one way or another. If you read one thing this week, I'd suggest it be this piece by Robert Califf, Scott Gottlieb, Margaret Hamburg, Jane Henney, David Kessler, Mark McClellan and Andy von Eschenbach.
Problem-Solving
Antibiotic development has languished for way too long. How can we get ahead of the curve, and incentivize more antibiotic development now so that we're better prepared for the next infectious disease calamity? This is not a new issue. It's a bipartisan issue. It is appropriately being treated as such by US Sens. Michael Bennet of Colorado and Todd Young of Indiana. Bennet is a Democrat and Young is a Republican. These guys will not get cable TV news air time for confronting this serious issue. But they introduced a creative bill this week to set up a subscription model to provide predictable revenue streams for antibiotic developers, along with some provisions for appropriate use of the drugs they develop. It's just a bill at this point and needs debate. But this is the kind of thing an intelligent, forward-thinking country populated by active citizens ought to debate. See the full bill language here, and a one-page summary here.
Data That Mattered
Tarrytown, NY-based Regeneron Pharmaceuticals released an interim cut of data from 275 patients who enrolled in a rolling clinical trial its therapeutic neutralizing double-antibody combo treatment for COVID-19. REGN-COV2 reduced viral loads and cut down on the time it took to recover from symptoms in non-hospitalized patients. Cutting down viral loads is a good early sign, especially with a clean safety profile. (For background, see Q&A With Regeneron SVP of global clinical development, David Weinreich, TR, June 29, 2020).
Cambridge, Mass.-based Ironwood Pharmaceuticals said it failed in a Phase III clinical trial with IW-3718, an experimental drug for gastroesophageal reflux disease (GERD). The company shut down further clinical development of the drug, and said it plans to cut 100 jobs, or about 35 percent of its workforce.
Cambridge, Mass.-based Alnylam Pharmaceuticals, the RNA interference drug developer, said its experimental treatment lumasiran passed the 18-patient, Phase III Illuminate-B study for primary hyperoxaluria Type 1 in children under the age of six. The results were consistent with the Illuminate-A study that looked at patients ages 6 and older. Alnylam said full results will be presented at a virtual meeting Oct. 22.
Vaccines
Moderna CEO Stephane Bancel said at a Financial Times conference that the company's mRNA vaccine candidate for COVID-19 won't be ready for widespread distribution until spring 2021. That should be no surprise to anyone paying close attention to the biotech sector, but it does contradict recent statements by the President.
AstraZeneca's COVID-19 vaccine candidate has been on clinical hold in the US since Sept. 6, and the FDA has now widened its inquiry into the safety data to date, according to Reuters. The trial was paused after a report of a vaccine subject coming down with transverse myelitis, an immune disorder.
Pfizer CEO Albert Bourla has attracted a ton of scrutiny, rightfully, since he has made repeated claims that the company — in a best-case scenario — might have data as soon as October that says its Phase III COVID-19 vaccine study is a success, and worthy of an Emergency Use Authorization application to the FDA. The caveats and qualifiers have largely been stripped away in our red-hot election season. When the President said at this week's debate that we are only "weeks away from a vaccine," Bourla felt compelled to write to Pfizer employees that he was "disappointed" in how vaccines were discussed in political terms. In the memo, posted on LinkedIn Thursday afternoon after reporting by Politico and others, Bourla wrote "we are approaching our goal and despite not having any political considerations with our pre-announced date, we find ourselves in the crucible of the U.S. Presidential election." He added: "We would never succumb to political pressure."
Testing
Science Features
Public Health
Our Shared Humanity
Financings
Pfizer agreed to make a $200 million equity investment in Suzhou, China-based CStone Pharmaceuticals. The companies are working together on a PD-L1 antibody for use in mainland China.
China-based InventisBio, a cancer drug developer, raised $147 million in a Series B financing led by Hillhouse affiliate GL Ventures.
Berkeley, Calif.-based Carmot Therapeutics raised $47 million in a Series C financing to advance its incretin receptor modulators through Phase II studies. Amgen joined The Column Group and other existing investors.
Switzerland-based Sophia Genetics raised $110 million in a Series F financing to scale up to meet global demand from clinical and biopharma customers for its "data-driven medicine" offerings. aMoon and Hitachi Ventures led.
New York-based Koneksa raised $16 million in a Series B financing to scale up its work on digital biomarkers for drug development. Spring Mountain Capital led, and was joined by new investors McKesson Ventures, Novartis Pharma and MBX Capital.
Miami Beach-based Vesper Healthcare Acquisition raised $400 million in an IPO. It's a blank check company intended for M&A. Brent Saunders, the former CEO of Allergan, is the CEO.
Sarissa Capital Management is forming a Specialty Acquisition Company (SPAC) or "blank check" company, seeking to raise $200 million. Sarissa CEO Alex Denner and others at the firm will " target businesses with valuations of $500 million to $1 billion that have the potential to be substantially greater over time due to their underlying business characteristics and growth opportunities as a public company," according to the S-1.
New Haven, Conn.-based Biohaven Pharmaceuticals raised $60 million to set up an Asia-Pacific subsidiary.
XtalPi, an AI for drug discovery company, raised $319 million in a Series C deal led by Softbank Vision Fund.
South San Francisco and Seattle-based Sonoma Biotherapeutics expanded its Series A financing to $70 million. The company is working on T-reg cell therapies for autoimmune diseases. Investors included Lyell Immunopharma, Arch Venture Partners, 8VC, LifeForce Capital, and Lilly Asia Ventures Biosciences. (See TR coverage, including interview with CEO Jeff Bluestone, Feb. 6. 2020)
Cambridge, Mass.-based Vedanta Biosciences secured $7.4 million upfront, and potentially another $69.5 million, from BARDA to further develop its experimental defined bacterial consortium therapy for C. difficile infections.
Kudos
Frank Bennett, the longtime chief scientific officer of Carlsbad, Calif.-based Ionis Pharmaceuticals, the antisense drug developer, won the Lifetime Achievement Award from the Oligonucleotide Therapeutics Society.
Personnel File
Regulatory Action
Plymouth Meeting, Penn.-based Inovio said its pivotal clinical trial of a COVID-19 vaccine has been placed on partial clinical hold by the FDA. The agency put the hold in place because of questions about the company's planned delivery device for the trial. The Cellectra2000 device, the company says, "provides a brief electrical pulse to reversibly open small pores in the local skin area cells resulting in more than a hundred-fold increase in product delivery providing dose sparing and consistency." Inovio shares fell 28 percent on the setback.
GSK won FDA approval to market mepolizumab (Nucala) as a treatment for Hypereosinophilic Syndrome (HES), a disease in which patients produce too many eosinophils, a type of white blood cell. The drug is an antibody directed against IL-5.
Japan-based Shionogi won FDA clearance to market cefiderocol (Fetroja) for hospital-acquired bacterial pneumonia and ventilator-associated bacterial pneumonia caused by gram-negative bugs like acinetobacter.
CSL Behring won FDA clearance to market Haegarda, (C1 esterase inhibitor Subcutaneous [Human]) to prevent attacks of hereditary angioedema in patients age 6 and older.
Cambridge, Mass.-based Solid Biosciences said the FDA lifted the clinical hold on its gene therapy for Duchenne Muscular Dystrophy. The company said it answered questions that the agency submitted in July, about manufacturing, updated safety and efficacy data, and "direction on total viral load to be administered per patient."
Brea, Calif.-based Beckman Coulter secured Emergency Use Authorization from the FDA for a fully automated test to detect IL-6 in blood or plasma of COVID-19 patients – a sign of a potentially dangerous cytokine storm in severely ill patients.
Franklin Lakes, NJ-based BD said it received a CE Mark in Europe to market a rapid point-of-care antigen test for COVID-19 that can deliver a result in 15 minutes. The test has been available in the US since July.
Sunnyvale, Calif.-based Cepheid won Emergency Use Authorization from the FDA for its Xpert Xpress that can test simultaneously for SARS-CoV-2, Flu A, Flu B, and RSV infections – which all can present with some similar symptoms. The 4-in-1 test is designed to run on Cepheid's installed base of 26,000 machines worldwide, and can deliver a result in 36 minutes.
Deals
Norway-based Vaccibody, a neoantigen cancer vaccine developer, formed a partnership with Genentech. The little company stands to collect $200 million in upfront and near-term milestones.
Belgium-based Celyad Oncology said it formed a clinical collaboration with Merck to test Celyad's non gene-edited allogeneic CAR-T cell therapy candidate in tandem with the PD-1 inhibitor pembrolizumab (Keytruda).
Stamford, Conn.-based Sema4 formed a collaboration with Janssen Pharmaceuticals to use genomic data and data analysis to stratify patients most likely to benefit in its cancer clinical trials.
Switzerland-based Covis Group agreed to acquire Waltham, Mass.-based AMAG Pharmaceuticals for $13.75 a share, or about $647 million.
Tweetworthy
At a U.S. House of Representatives committee hearing on Wednesday, Rep. Katie Porter grilled former Celgene CEO Mark Alles for the years of unjustified price increases for the cancer drug lenalidomide (Revlimid). This public flogging was sharp and succinct. She hit on the classic, and unresolved, core issue in biopharma – how are companies supposed to fairly balance the responsibility to shareholders with the responsibility to patients? (Porter didn't even get to the part where Alles did a lousy job for shareholders, as he ran Celgene into the ground, sold it to Bristol-Myers Squibb, and then personally walked away with even more money in his pocket). (Video clip, 5:04)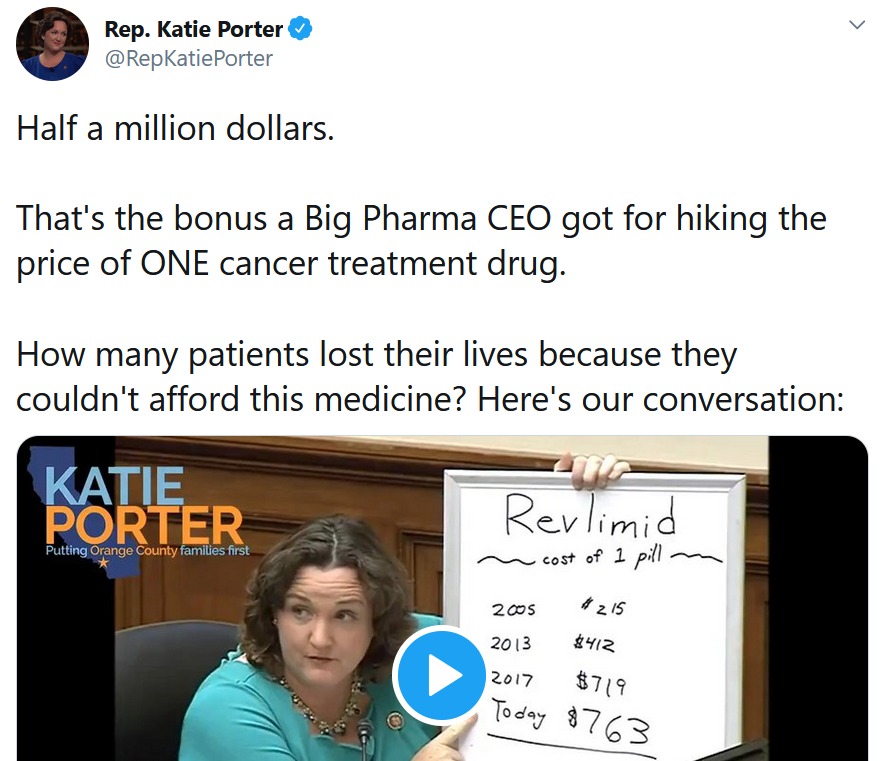 Rep. Porter had more to say about greed on the second day of hearings. This whiteboard drawing from Rep. Porter is worth keeping in mind the next time you hear a pharma CEO pat himself on the back for his company's heroics.