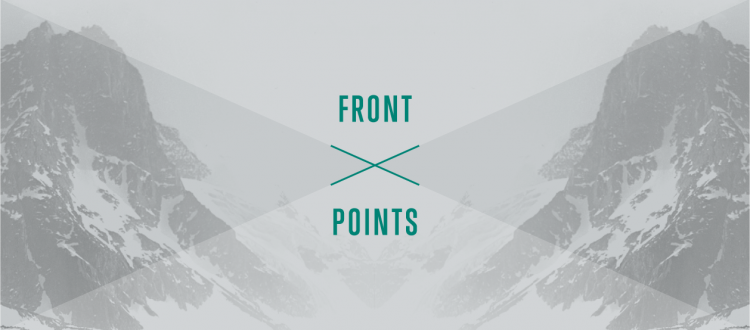 Pfizer, BioNTech's Watershed Moment, Lilly Antibody Gets EUA, & The Rebuilding Begins
First thing Monday, we all woke up to the brightest ray of light in this dark year.
Pfizer and Germany-based BioNTech reported that their vaccine candidate was found to be more than 90 percent effective at preventing COVID-19. The report was via press release, not peer-reviewed journal, but this was still a moment to celebrate.
The interim analysis wasn't based on a thin-gruel data set of 30 events. The companies enrolled 43,538 people in the pivotal study, and derived the efficacy calculation off of 94 confirmed cases of COVID-19. This is a more solid persuasive set of data than I expected, based on reading the Phase III clinical trial protocol in September. The protection number might dip when the full analysis is run on 164 confirmed cases, but still, this is meaningful.
What's more, the study wasn't just a bunch of white people. It had diverse participants. Pfizer expanded the enrollment population to make sure this trial didn't suffer from that Achilles heel.
The sheer magnitude of benefit, and the fact it was distributed across diverse populations, ought to go a long way toward allaying the fears of so many people – which we now have a popular name for (vaccine hesitancy). My worst nightmare for months has been that the scientific enterprise would deliver something important – a safe vaccine with 60-65 percent protection – but that it would be pointless because people would be afraid to take it, out of fear that it wasn't proven safe.
I don't believe that will happen now. People will likely line up to take a vaccine if they know it's 90 percent effective, that's been shown safe in more than 40,000 people, and that will — along with mask-wearing and some more social distancing — help bring this global nightmare to an end in 2021.
What's more, this is the kind of scientific validation we all needed to see for mRNA vaccines as a platform, and for our efforts at targeting the SARS-CoV-2 spike protein. The Pfizer / BioNTech news bodes especially well for Moderna, and for other vaccine candidates in the pipeline. With multiple companies going all-out on manufacturing and distribution, and with some having different refrigeration requirements, we have a good chance to achieve the vaccination coverage across the population that we need to break the chain of transmission once and for all.
Between now and that day, a lot is up to us. It's hard for people to see how seemingly innocuous individual actions, from people with no apparent symptoms, can add up to so much compound harm. But if you have family members or relatives that have any doubt, please steer them to this chilling CDC report about the ripple effect from a wedding in rural Maine in August, when people weren't wearing masks.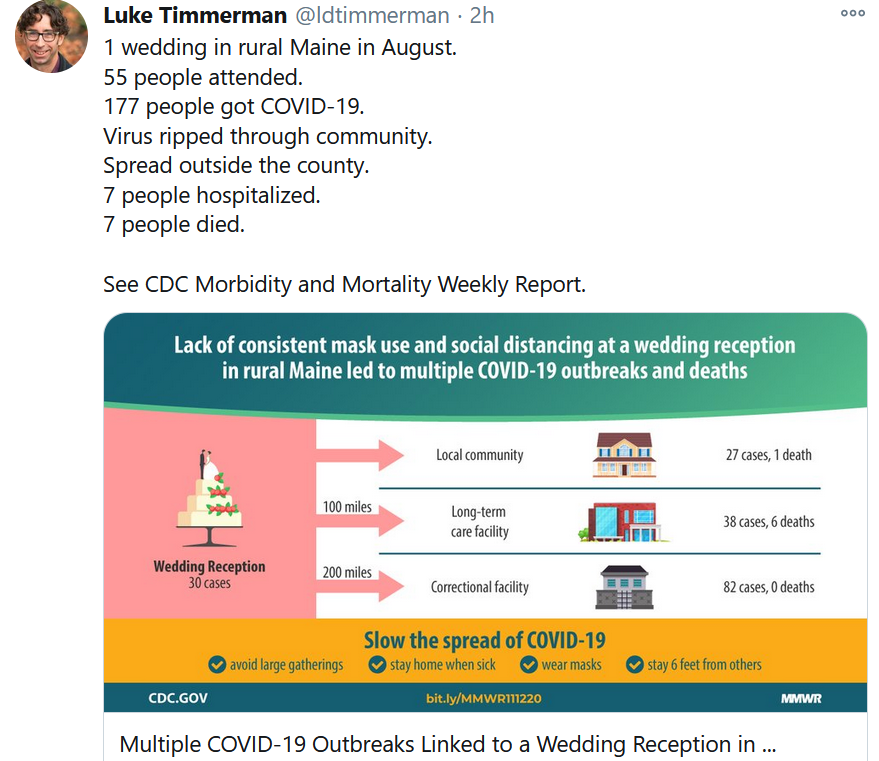 You can read the full CDC report for yourself.
This ought to make everyone stop and think about family plans for the holidays.
It's a sad thing to miss family gatherings this year. But there is hope, and good reason for us to stick it out a few months longer.
Everyone reading this publication probably doesn't need to be reminded of what works. The virus spreads through the air. Cloth masks, physical distancing, crowd avoidance, and hand-washing are still the best non-pharmaceutical interventions we have until the vaccine cavalry arrives. We have good reason to have confidence in the neutralizing antibody therapies for patients who get mild to moderate illness.
Our country has been deeply damaged by pernicious efforts to undermine science and truth itself. Millions of people have been told repeatedly, that COVID-19 was a hoax, that it was magically going away, and it was cooked up by the media and Democrats to undermine the President in an election year.
That's, of course, a lie. We had 150,000 new cases reported yesterday, and 66,000 people hospitalized. This is uncontained national spread, not just a cluster here or there. More than 1,000 people are dying every day, and estimates are 100,000-150,000 will die before Inauguration Day.
A huge amount of suffering and death could have been avoided, if the pernicious lies hadn't been told over and over and over.
The result is that we now have to sift through the ashes to build a new society where people can talk to each other again like rational adults. If we can start there, maybe we can begin to listen to each other, find toeholds of common ground, and begin to cobble together some more of the social glue we call trust.
The election of Nov. 3 was a clear and convincing start down that path toward a better world. Now, if people of good faith are willing to do the work, with eyes on the North Star of creating a better world for ourselves and for future generations, then we have a chance to wake up to some more bright mornings like we did when Pfizer and BioNTech surprised us on Nov. 9.
Therapeutics
Eli Lilly got an Emergency Use Authorization for bamlanivimab as a therapeutic neutralizing antibody for newly diagnosed patients with mild-to-moderate COVID-19. Now we'll see if Lilly can make enough of the antibody to help patients who are rapidly filling up hospitals.
Regulatory Action
AstraZeneca won FDA clearance for ticagrelor (Brilinta) to reduce the risk of stroke. The twice-daily medication also comes with a slightly elevated risk of bleeding.
An FDA advisory committee voted against approval of Biogen's aducanumab for Alzheimer's disease. The agency's advisors were clearly unimpressed with the application, despite a rather unusually rosy appraisal of the drug by the FDA staff. The agency has a Mar. 7, 2021 deadline to complete its review and make a decision.
Foundation Medicine won FDA clearance for its FoundationOne Liquid CDx as a companion diagnostic for olaparib (Lynparza), a treatment for BRCA1/2 mutated prostate cancer.
Science
Epidemiology
Long COVID

Public Health
Strategy
Features
Our Shared Humanity
Trust
Policy Responses
Financings
Boston-based Decibel Therapeutics, the developer of gene therapies for hearing loss, raised $82.2 million in a Series D financing. OrbiMed led.
Cambridge, Mass. and Suzhou, China-based Kira Pharmaceuticals said it raised $46 million to advance work on complement-targeted therapies to treat immune-mediated diseases. Quan Capital led. Frederick Beddingfield was named CEO.
Emeryville, Calif. and Germany-based Metagenomi raised $65 million in a Series A financing to do CRISPR-based gene editing of microorganisms. Leaps by Bayer and Humboldt Fund co-led.
Bedford, Mass.-based Homology Medicines, a genetic medicines company, raised $60 million in an equity investment from Pfizer. The big drugmaker bought 5 million shares at $12.
Shanghai-based Immagene Biopharmaceuticals, an immunology-based drug developer, closed a $21 million Series B financing led by Vertex Ventures China.
Personnel File
South San Francisco-based Graphite Bio hired Katherine Vega Stultz as chief operating officer and Philip P. Gutry as chief business officer and head of finance & investor relations. (See TR coverage of Graphite Bio's $45 million Series A, September 2020).
Vancouver, BC and Seattle-based Chinook Therapeutics, the developer of precision kidney medicines, hired Eric Bjerkholt as Chief Financial Officer.
Cambridge, Mass.-based Foghorn Therapeutics hired Michael LaCascia as chief legal officer.
Seattle-based Qiming Venture Partners USA said it promoted Anna French and Colin Walsh from principals to partners. French is in the Boston office and Walsh is in the San Francisco office.
Cambridge, Mass.-based Magenta Therapeutics hired Steve Mahoney as chief financial and chief operating officer.
Data That Mattered
San Diego-based Arena Pharmaceuticals failed to hit the primary endpoint in a Phase II trial with its once-daily, oral sphingosine 1-phosphate (S1P) receptor modulator, etrasimod, for moderate to severe atopic dermatitis. The primary endpoint was Eczema Area and Severity Index (EASI), evaluated for the drug and placebo groups at 12 weeks. The company, however, slapped a positive headline on its press release, saying the drug did better on the validated Investigator Global Assessment (vIGA). Despite missing the primary endpoint in Phase II, the company said it will advance the drug into Phase III anyway. Shares fell.
South San Francisco-based Five Prime Therapeutics showed in a randomized, placebo-controlled Phase II trial that bemarituzumab in combination with mFOLFOX6 chemotherapy was able to improve progression-free survival, and overall survival time, for patients with front-line advanced gastric and gastroesophageal cancer. The drug is designed to block activation of fibroblast growth factor receptor 2b. Five Prime stock boomed from $5.34 a share before the news to $22.43 in the two days after. It announced plans to strike while the iron is hot, doing a new offering of 5 million shares to raise cash.
AstraZeneca and Amgen reported positive results from a Phase III trial of patients with severe asthma. The drug, Tezepelumab, is designed to inhibit TSLP, a cytokine in epithelial cells that is thought to play a key role in multiple inflammatory cascades that cause airways to inflame. The drug showed an ability to reduce asthma exacerbations over 52 weeks. Data will be presented at a medical meeting.
ViiV Healthcare, the HIV drug developer established by GSK and Pfizer, said its every-other-month injectable treatment for HIV, cabotegravir, beat Gilead's emtricitabine/tenofovir disoproxil fumarate (Truvada) in a head-to-head study. Researchers with the HIV Prevention Trials Network found the injectable medicine was 89 percent more effective than the once-daily oral regimen at prevention women from getting HIV.
Deals
Vifor Pharma agreed to pay $30 million upfront, another $30 million equity investment, and $20 million in clinical study milestone payments to Angion Biomedica. The deal is part of a collaboration to deveop a small-molecule hepatocyte growth factor (HGF) mimetic to treat acute kidney injuries.