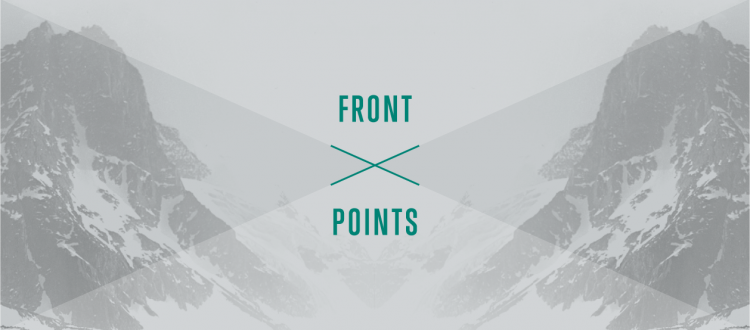 AZ Tells Us Its Vaccine is OK. Rebuilding Trust Will Take a While
Credibility can be lost in a heartbeat.
It can take years to rebuild.
That maxim kept running through the back of my mind when reading the press release on the AstraZeneca Phase III clinical trial conducted with 32,449 participants in the US, Peru and Chile, in partnership with the NIH's COVID-19 Prevention Network.
The top line was encouraging — 79 percent efficacy at preventing COVID-19 and 100 percent efficacy at preventing severe illness and hospitalization.
The company, following a rough couple weeks of rumors and innuendo, said independent data monitors found no increased risk of blood clots in people who got the vaccine.
"I'm thrilled," said Ashish Jha, dean of Brown University's School of Public Health, in reacting to the breaking news in Science. "This is the vaccine that I had always assumed would vaccinate a large chunk of the world."
It's a view rooted in practical reality. AZ's is an adenoviral vector vaccine, given in two doses four weeks apart (or potentially further apart, according to UK officials). It's manufacturable at global scale, easy to ship in refrigerators, and cheap — $2 to $6 a dose.
So far, so good.
I hope that everything in the company statement is right, and that there are no serious flies in the ointment. But despite our yearning for positive vaccine news, we have reason to withhold judgment until we get a good, hard look at the data.
This company has shot itself in the foot multiple times, damaging its credibility in the past year.
Consider the sequence of vaccine events:
May 21—company says it's getting $1 billion from the Biomedical Advanced Research and Development Authority (BARDA) to develop, produce and deliver its COVID-19 vaccine in the US. Plan is to run a 30,000-participant Phase III trial, and deliver at least 400 million doses in 2020 and 2021. This was an assuring sign of a major league pharma company with a major league academic partner (Oxford), getting a major league vote of confidence from the richest and most scientifically powerful country in the world. At a time when mRNA was still seen as fairly speculative, this looked like a safe bet.
Sept. 6—company receives a report of an adverse event — transverse myelitis, an inflammation of the spine — in a vaccine participant in Britain. The company halts enrollment while investigating the adverse event, looking to see if its vaccine might have played a causative role.
Sept. 8—company has conference call with FDA officials, seeking clarity on what's necessary for US regulatory approval. Company neglects to mention the transverse myelitis adverse event in the UK, and the decision to halt trial enrollment. The FDA was blindsided a few hours later when it heard about the revelations on the news. (The only reason we know this is because of a New York Times report from four months later). This confirms the absolute worst impressions critics have of the pharmaceutical industry. Not only that, but if you were working for the FDA and in the room that day, wouldn't you be fuming that the company didn't disclose the event, and didn't discuss how to get to the bottom of the issue in partnership?
Sept. 9—As reports of the adverse event swirl, AstraZeneca CEO Pascal Soriot goes into a private conference call organized by J.P. Morgan for clients of the investment bank. From this well-controlled safe space, he assures everyone that the woman who suffered the severe spinal inflammation was improving and likely to be discharged from the hospital soon. We only learned this because STAT broke the story that day. Again, this was news of international biomedical significance, given in private to wealthy clients of JP Morgan — before the public.
Sept. 9—All AstraZeneca COVID-19 vaccine trials go on clinical hold as researchers seek to suss out what happened with the woman who got transverse myelitis.
Sept. 12—AstraZeneca vaccine trial resumes enrollment in the UK. Importantly, the big 30,000-participant study in the US, the one designed to yield the most rigorous evidence, remains on hold.
Oct. 23—the US FDA lifts the clinical hold, allowing AZ to resume enrollment of the 30,000-participant vaccine study. The clinical hold lasted more than six weeks – an eternity in a fast-moving pandemic. Pfizer/BioNTech, Moderna and J&J leaped ahead.
Nov. 23—AZ reports on a pooled analysis of 23,000 participants who got the vaccine in the UK and Brazil. Because of a dosing screw-up, a half-dose appeared to be 90 percent effective in a subpopulation of 2,100 subjects, while the full dose appeared to be 62 percent effective. The dataset, on its own, was a mess. Regulators here, in the best-resourced drug regulatory agency, already had good reason to be suspicious at the company for hiding a crucial piece of information. Now AZ is telling the world that its trial was bungled? There was no realistic path forward for the company to seek FDA Emergency Use Authorization on the basis of this unconvincing dataset.
Dec. 8—The NYT publishes its expose on AstraZeneca's failure to disclose the adverse event to the FDA in September. Days later, the FDA approved the first two COVID-19 vaccines – one from Pfizer/BioNTech, the other from Moderna.
Feb. 8.—South Africa health officials halt administration of the AZ vaccine, saying it was offering "minimal protection" against the B.1.351 variant of SARS-CoV-2 that was in wide circulation by then.
Feb.15—the World Health Organization authorizes the AZ vaccine for use in low and middle-income countries.
Mar. 15—European countries temporarily halt administration of the AZ vaccine amid anecdotal scary reports of blood clots in people who received the vaccine. Despite no compelling evidence to point to the vaccine causing those adverse events, health authorities in multiple countries, fearing the worst, shut down mass vaccinations with the AZ product, partly to allay public fears.
Mar. 22—AZ reports the long-awaited results from the US, Peru and Chile, in 32,000 participants. The top-line efficacy of 79 percent looks solid, if not spectacular. Some public health experts, like Ashish Jha at Brown University, cheer this development as a step toward vaccinating the world.
For sure, 79 percent is solid efficacy. The more vaccines we have, the better. But before getting too excited, I want to see some more details on how the vaccine is performing against the variants and in subpopulations and what the immunogenicity data look like.
Part of me really prefers to withhold judgment for now, wondering if there's another shoe to drop. Given the track record, it makes sense to wait and see for what the FDA staff come up with when they comb through the dataset with a kind of rigor that makes peer-review look like a stroll in the park.
Not only is the FDA rigorous, it has a long institutional memory. It can really put the screws to companies behind the scenes in multiple ways.
That's one of the important lessons I learned many years ago in an FDA law class at Harvard Law School taught by Peter Barton Hutt, the attorney at Covington and a legendary former FDA counsel. (I'm not a Harvard Law graduate, but was able to audit classes at MIT and Harvard during the 2005-2006 academic year via the Knight Science Journalism Fellowship at MIT).
I practically heard shades of Peter Barton Hutt and FDA staff sharpening their pencils this morning when I watched a TV appearance by Anthony Fauci.
"The FDA is going to very, very carefully go over all of these data," Fauci said, "You can rest assured, that the FDA will apply a great deal of scrutiny in every aspect of these data."
Fauci is surely aware that while the US public may have forgotten some of AZ's missteps, the FDA has not.
Even if the company turns in a thorough and squeaky-clean application and regulators agree that it deserves an Emergency Use Authorization (the most likely outcome), that will be just one step in building back public trust.
Yesterday morning, on cue with the company press release, the NYT published an op-ed from Heidi Larson, the preeminent voice on vaccine hesitancy.
There's a lot of work to do in building vaccine trust, she wrote.
Indeed.
[Update 6:45 am PT, Mar. 23: After this column was published, the National Institute of Allergy and Infectious Disease issued the following statement: "AstraZeneca may have included outdated information from that trial, which may have provided an incomplete view of the efficacy data. We urge the company to work with the DSMB to review the efficacy data and ensure the most accurate, up-to-date efficacy data be made public as quickly as possible." AstraZeneca responded with its own statement, saying it would provide more updated data within 48 hours.

Financings
Taicang, China and San Diego-based Connect Biopharma raised $191 million in an IPO at $17 a share. The company is working on T-cell driven inflammatory diseases. Qiming Venture Partners, RA Capital Management, and Advantech Capital were among the principal shareholders heading into the liquidity event. Shares inched up to $18.61 at yesterday's close.
Dallas, Texas-based Instil Bio, the developer of T-infiltrating lymphocyte therapies for cancer, raised $320 million in an IPO at $20 a share. It climbed to $26.80 at yesterday's close, with a market valuation of $3.3 billion. CEO Bronson Crouch controls the Curative Ventures entity that holds 29.7 percent ownership in the company after the IPO. The other big stakeholders in the company include Venrock, CPMG and Vivo Capital.
Somerville, Mass.-based Finch Therapeutics, a microbiome therapeutics developer, raised $128 million in an IPO at $17 a share. A member of the Walton family, heirs to the Walmart fortune, is among the big winners in this IPO. Shares traded up to $19.15 at yesterday's close.
Boston Immune Technologies and Therapeutics (BITT) said it completed a $10 million Series A/A1 financing to develop novel antibodies against members of the TNF superfamily. BeiGene participated, along with Hatteras Venture Partners and EGP Investments.
Malvern, Penn.-based Xylocor Therapeutics said it completed a $41.9 million Series A round to advance its gene therapy for coronary artery disease. Fountain Healthcare Partners led and was joined by new investors Longwood Fund and Lumira Ventures.
Seattle-based Dexcare, a new digital health startup, said it raised $20 million in investment led by Define Ventures. The round included Frist Cressey Ventures, Kaiser Permanente Ventures, SpringRock Ventures and Providence Ventures. DexCare describes itself in a statement as "an intelligent digital care operating system that manages health system capacity and demand across all lines of care." It was developed internally at Providence, a large hospital chain on the West Coast, in 2016 and is now being spun out aas a business with a half-dozen customers.
Cambridge, Mass.-based Aura Biosciences said it raised $80 million in financing to advance virus-like drug conjugate therapies for cancer. Matrix Capital Management and Surveyor Capital led.
Legal Corner
The SEC brought charges against uBiome for allegedly defrauding investors out of $60 million. The complaint was brought in the US District Court in Northern California.
Science Policy
Science of SARS-CoV-2
Data That Mattered
Roche/Genentech said its PD-L1 directed antibody atezolizumab (Tecentriq), hit the primary endpoint of extending disease-free survival in the Phase III Impower010 study. The trial looked at patients getting adjuvant therapy after surgery and chemotherapy for Stage II-IIIA populations with non-small cell lung cancer. Participants were randomized to the drug group, or best supportive care. The company said the magnitude of disease-free survival benefit "was particularly pronounced in the PD-L1-positive population." The company said it doesn't yet have mature data on Overall Survival.
Roche/Genentech also said it shut down a Phase III clinical trial for tominersen, an antisense oligonucleotide for Huntington's disease in-licensed from Ionis Pharmaceuticals. The drug was designed to reduce production of huntingtin protein (HTT), including its mutated variant, mHTT. An independent data monitoring committee made the recommendation. See Sek Kathiresan's succinct summary of this head-scratcher below. (Phase I results in NEJM, 2019).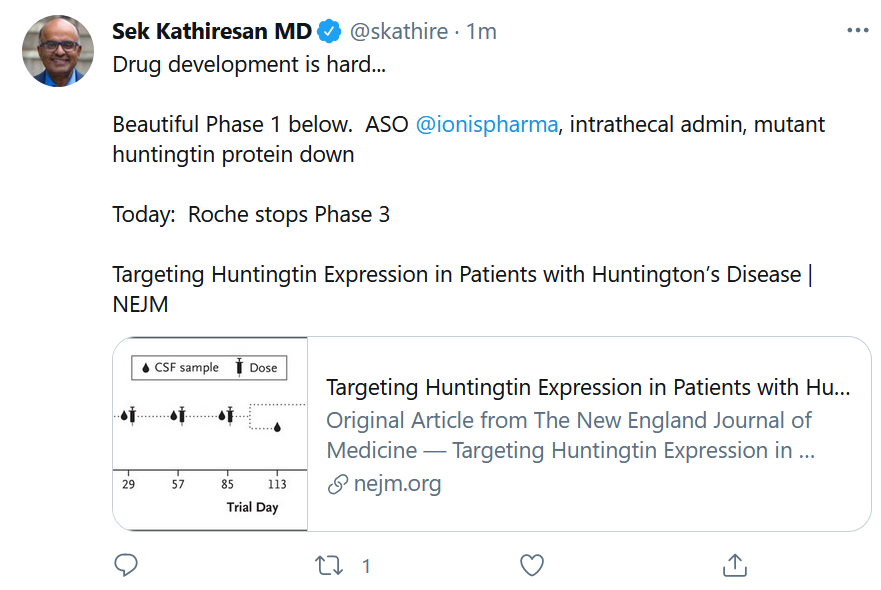 Exton, Penn.-based Idera Pharmaceuticals failed in a pivotal trial of tilsotolimod in combination with ipilimumab versus ipilimumab alone in patients with anti-PD-1 refractory advanced melanoma. The drug is a Toll-like receptor 9 agonist, being combined with the CTLA-4 inhibitor in this case. Shares lost two-thirds of their value.
Our Broken US Healthcare System
Major donors to South Florida hospital foundation got early vaccine access. Politico. Mar. 19. (Arek Sarkissian and Matt Dixon)
RIP
Jose Baselga, the prominent cancer researcher and leader of oncology R&D at AstraZeneca, died at age 61. (STAT obituary).
Personnel File
Diana Brainard was hired as CEO at Cambridge, Mass.-based AlloVir, a cell therapy company focused on viral diseases patients with weakened immune systems. She starts May 17. Brainard is currently senior vice president of virology therapeutics at Gilead Sciences. She oversaw teams that developed curative therapies for hepatitis C and remdesivir for COVID-19, among other areas. She replaces David Hallal, who is moving upstairs to be executive chairman. Hallal is also CEO of ElevateBio, the largest shareholder in AlloVir. (Disclosure: Brainard is married to TR healthtech columnist David Shaywitz.)
Jean-Frédéric Viret was hired as chief financial officer at South San Francisco-based Blade Therapeutics, a developer of treatments for fibrotic diseases. He was previously CFO at Coherus Biosciences.
South San Francisco-based Sutro Biopharma, the developer of treatments for cancer and autoimmunity, promoted David Pauling to General Counsel and Robert Kiss was promoted to senior vice president of process and analytical development.
South San Francisco-based Veracyte, a molecular diagnostics company, added Muna Bhanji to its board of directors.
Chart of the Day
The data out of Brazil are a concern.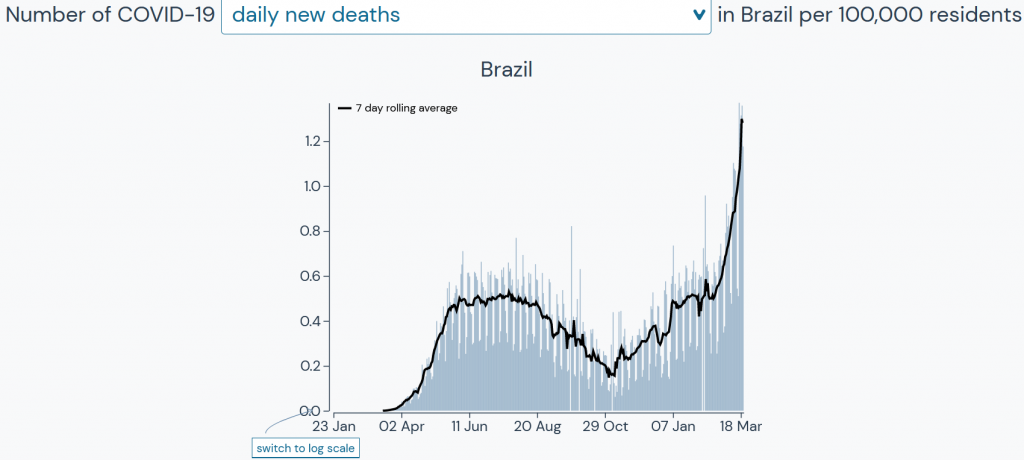 Source: Outbreak.info, based on data from Johns Hopkins University Center for Systems Science and Engineering, New York Times, COVID Tracking Project, GISAID Initiative