The Long Run Mentality for Diversity and Inclusion in Biotech
I can never forget the video of George Floyd, a black man, being suffocated to death under the knee of a white police officer.
My worldview was changed by it.
As the CEO of a mid-sized public biotech company, I supported equal rights and opportunities. In my day job, it mainly meant hiring and promoting a diverse team, and supporting industry initiatives to promote diversity in employment and in clinical trials. As a citizen, I tried to do things consistent with these values – donating to charities, voting, treating others with respect and decency.
Watching that video and hearing the cries of protest that followed led me to the realization that more needed to be done.
George Floyd's murder resonated because it cast a spotlight on police brutality that has been going on for so long, against so many of our fellow Black Americans. Too many of us just hadn't been able to see it, to fully reckon with it, until that video made it impossible to miss.
It changed the way I think about race in America, and how I think about what to do about it within my own sphere of influence as a corporate leader.
The recent spotlight on hate crimes against Asian Americans has further broadened my perspective. I have come to the inescapable conclusion that simply trying to be color blind is no longer enough.
So, I started a personal change process last summer. I sought to be more proactive, to use my role as a leader to do more to recognize and actively work to tackle systemic racism.
As I discussed this with good friends, one challenged me and others following a similar path.
Could we truly sustain this newly energized engagement for the many years it would take?
To me, the answer is yes. This is the biopharma industry. We need to have a long run mentality to be successful in our work. We can channel that same mentality toward diversity and inclusion in our industry.
Listening & Self-Reflection
Last June at an all hands meeting to discuss George Floyd's murder and systemic racism, I said this:
I am a 62-year-old well-to-do white male – my life experience is limited in so many ways and even though I like to think I have led a good life where I do not judge anyone by the color of their skin or for any other difference they may have from me – have I? Have I? I have many questions to ask myself about how I have behaved in the past and how I behave today. These are not easy questions to ask oneself, let alone answer.
Since then, I have found that, while self-reflection is valuable, I also needed new and different inputs. So I have started to learn more about systemic racism, to listen more to different voices, perspectives and histories and to engage in discussions about racism. I can recommend the works of Ibram X. Kendi, including "How to be an Antiracist," to start.
If you are interested in diving deeper, our Sutro team has suggested some additional resources on our website (see our Diversity, Inclusion & Social Justice web page).
By continuing to read and learn more about systemic racism, I hope to avoid complacency and to sustain efforts to dismantle it.
Active Engagement & Empowering Others
While not being a racist is important, that alone will never get our society to equality and justice. I believe we should heed Kendi's call that we should do more, we should be antiracists. That word requires taking actions and engaging actively.
As a company leader, taking actions and engaging actively are part of my DNA. I have been directly involved in diversity issues on the relevant committees at both BIO and California Life Sciences Association (CLSA), our national and state trade associations.
The Sutro senior leadership team includes six women. Our 17-person senior team also includes two LGBTQ individuals, three Latinx and three Asian members. Our Board is well on its way to California's AB 979 compliance with two women directors, one of whom is Board Chair, both of whom are also people of color.
As our company evolves, I am committed to fostering even more diversity across the staff over time.
If one individual can effect change, then how much more impactful is it if many individuals are actively committed to change?
Leaders of companies can empower others to be change agents as well. We can start by setting policy, and channeling it through the organization with the tone and example we set.
For example, as we planned our 2021 summer internship program, our team has again set the objective to have a diverse group of interns, including those from economically disadvantaged backgrounds. We intend to have a group of 12 interns, and our diversity goal is 75%.
These interns will work in person where possible, and remotely when necessary, with our staff of approximately 200 employees dedicated to targeted therapies for cancer. It's a valuable real-life drug development experience for the interns, and an on-ramp for their careers. It's also an opportunity for us to learn a few things from a younger generation.
We are also working to encourage young people to think about the future possibilities in biotech. Our team has promoted and supported our employees' participation as volunteers in South San Francisco STEM education.
We have committed funding to a variety of industry-based initiatives, including CLSA's Racial & Social Equity Initiative – We Commit to Change. We have supported and sponsored employees to attend educational experiences that broaden their knowledge of systemic racism and healthcare inequalities, such as programming from Impact Experience.
The Importance of Leading Publicly
Is it enough to lean in personally and support efforts by your employees to lean in themselves? I would argue it is not. I believe it is in a company's best interest, and in society's best interest, for leaders to be vocal and demonstrate leadership on issues of equality.
Historically, few leaders have been willing to do so. It seemed disconnected from pure business interests.
Merck CEO Ken Frazier has rejected the notion that equality is not a matter for business leaders to address. He has set an example for us all in recent years. Last summer, he said businesses have to "go beyond just statements" and that "businesses have to use every instrument at their disposal to reduce these barriers that existed."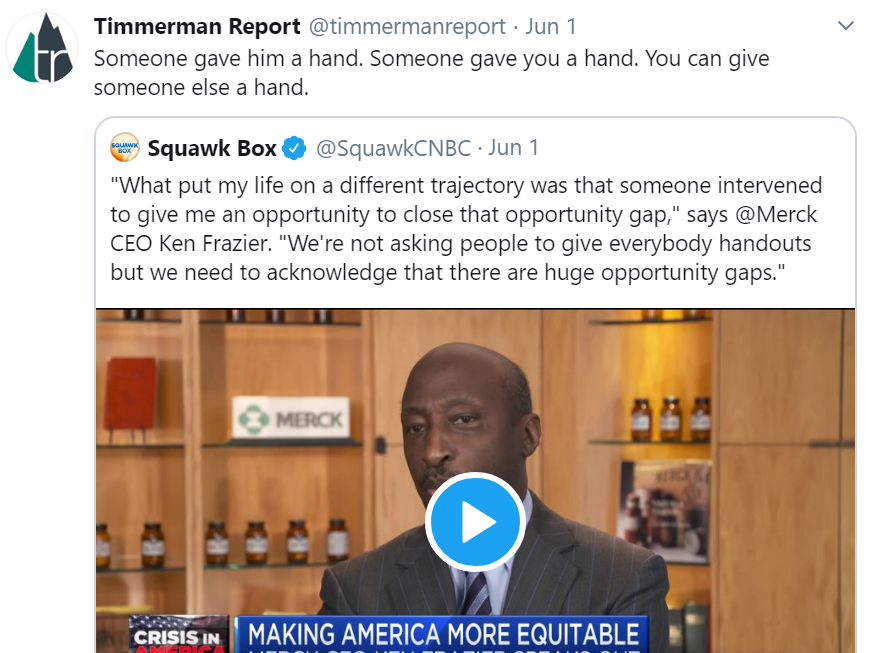 I agree. I have begun to use my and Sutro's social media platform to reflect and advocate for equality and to denounce inequality.
Some investors may be uncomfortable seeing that sort of visible leadership. Shouldn't we keep our heads down? I hope they will come to embrace the wave of environmental, social and governance (ESG) awareness that is growing in the investment community. All of us should be leaning into that wave.
The Long Run & Accountability
There is no simple fix that will end systemic racism. Its roots run deep and are pervasive. Even when we believe we have made progress, as recent events have shown, back sliding happens too easily and too rapidly.
We need to acknowledge that being antiracist is to be on a long run. We need to acknowledge there will always be more to do. That may seem daunting and occasionally discouraging. Even so, I believe our industry's long run mentality will serve us well as we strive for equality.
How do I plan to ensure that my efforts at Sutro are sustainable? I believe commitments and accountability are at the core of sustainability.
At Sutro, we have made our commitments public. In coming months, we will add a process of transparency and accountability that will also be public.
We will aspire. We will measure and we will report. We will do so for all to see.
We are far from perfect. But we are committed to continuous learning and improvement. Progress may come slowly but we are used to that in our industry.
Let's remember Lao Tzu: "The journey of a thousand miles begins with a single step."
Bill Newell is CEO of South San Francisco-based Sutro Biopharma.