Meet the Climb to Fight Cancer Postdoctoral Fellow: Aleena Arakaki
I'm excited to announce that the first Climb to Fight Cancer postdoctoral fellow has been selected. This is a position designed to advance the careers of young scientists from traditionally underrepresented minority groups.
Aleena Arakaki is the first recipient of this postdoctoral award. She is a Kanaka Maoli (Native Hawaiian) woman.
Before describing Arakaki's background and research, here's what the program is about. This fellowship was created by generous donations in February, by the alumni of the 2019 Kilimanjaro Climb to Fight Cancer expedition that I organized as a volunteer for Fred Hutch.
That campaign raised $1.6 million for cancer research. That awesome group of 27 biotech professionals formed close bonds on a trip to Africa's highest mountain. They stayed in touch.
When the racial justice protests swept the country last year, they wanted to do more to uplift people from underrepresented minority groups in science.
Together, we raised more than $135,000 to create this program with Fred Hutch.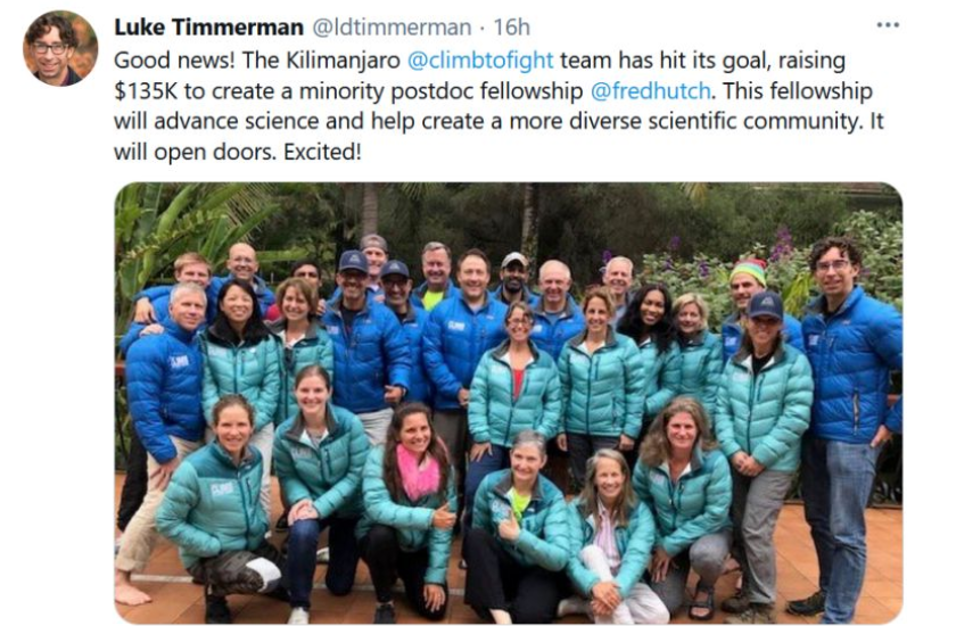 This program provides funding to support a postdoc position, with an added bonus. The recipient can join one of the future Climb to Fight Cancer expeditions that I organize for the biotech community.
It's designed to be a great way for a young scientist to advance his or her research, while also building an exceptional industry network.
Arakaki received her bachelor's in science in Cellular and Molecular Biology, with honors, from Seattle University in 2014. She went on to get her PhD at UCSD, working in the lab of Dr. Joann Trejo. Aleena's graduate work focused on the regulation and molecular mechanisms of GPCR activation of the Hippo pathway in metastatic breast cancer.
You can read her June 2018 publication in the International Journal of Molecular Sciences, titled "GPCRs in Cancer: Protease-Activated Receptors, Endocytic Adaptors and Signaling." And this April 2021 paper in The Journal of Cell Sciences on "α-Arrestin ARRDC3 tumor suppressor function is linked to GPCR-induced TAZ activation and breast cancer metastasis."
Arakaki received a prestigious HHMI Gilliam Fellowship as a grad student, and is now working as a postdoc in the Gujral Lab at Fred Hutch. She was selected by the Office of Diversity, Equity and Inclusion as a Presidential Postdoc Fellow at Fred Hutch, and her research is partially supported by the Translational Adult Glioma Grant Award from The Ben and Catherine Ivy Foundation.
Her research proposal is focused on ependymomas — cancers of the central nervous system. She's specifically looking at YAP1 gene fusions, and whether they can be targeted with existing kinase inhibitors, including verteporfin and sorafenib combination treatment.
I'm excited to see where the research leads, and whether it will light the way for her to discover a useful new treatment for patients.