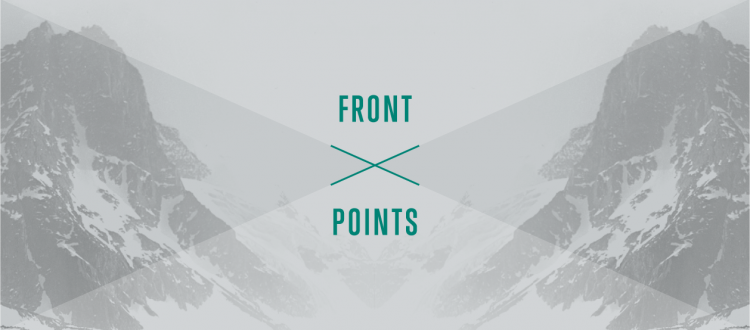 Regeneron Buys Checkmate, Bivalent Vaccine Progress, & a Fitting Acronym
Clinical trialists are always trying to come up with catchy study titles. I'm not a big fan of these acronyms, and try to avoid using them. They're often forgettable.
But this week I saw one that stood out as especially meaningful. Yale University researchers are running a new Long COVID study. It's called – LISTEN.
It stands for Listen to Immune, Symptom and Treatment Experiences Now.
There's certainly interest in what's happening biologically with so many people — potentially millions — who are reporting some symptoms of Long COVID. Lead investigators Akiko Iwasaki and Harlan Krumholz appear to have a solid plan to collect data on the many potential contributing factors to this mysterious ailment — demographic, clinical, social, and environmental factors associated with health status.
They're collecting blood and saliva samples, and incorporating use of a health app called Kindred that is supposed to connect patients to each other's experiences, to their own data, and to other potentially helpful studies.
This study, and others like it, could help point the way toward more effective prevention and treatment.
Equally important, though, is the sentiment around rebuilding public trust in science. We need to do a better job of listening to accomplish this goal.
It's important that the research participants feel like they're being listened to, that they're being treated respectfully, and that they are part of helping solve the medical mystery. Studies like this point the way toward how to conduct rigorous scientific investigations with the kind of respectful, two-way street of engagement that participants want and deserve. We need studies like this to encourage more people to participate, and then to foster more confidence in the knowledge that results.
Many millions of people don't trust what the scientific community has learned the past couple years about the pandemic. Especially during moments of maximum uncertainty, way too many people have turned to charlatans and other peddlers of misinformation for answers. Many people are vulnerable to these appeals because they feel like outsiders, like they're not being listened to by The Establishment.
Some of this feeling is understandable, especially among people suffering from Long COVID, who haven't been taken seriously enough by policymakers and the scientific community.
A little more careful listening could go a long way.
We might learn about the virus. We might also learn a bit about how to repair some of that torn social fabric. We need to do both of these things to get the scientific enterprise on a more sustainable footing, and to be better prepared for the next big thing.
This Week in Drug Pricing
How much do hospitals mark up the prices of cancer drugs they administer via infusion? How much do these prices vary from place to place? How often do they follow new federal rules on price transparency? Most people have no idea, and they would be shocked to learn the answers. Read about the eye-popping markups – between 120 percent and 630 percent — in in JAMA Internal Medicine.
Financings
Boston-based Sionna Therapeutics said it raised a $111 million Series B financing led by OrbiMed. The company is working on small molecules to fully restore function of the CFTR protein in cystic fibrosis patients. RA Capital, Atlas Venture and the CF Foundation also participated in the financing. Read RA Capital partner Josh Resnick's piece on the opportunity to go beyond what Vertex has done in the past decade to transform the treatment of CF.
Somerville, Mass.-based Tessera Therapeutics said it raised more than $300 million in a Series C financing to advance its gene writing technology for drug discovery. Abu Dhabi Investment Authority; Alaska Permanent Fund Corporation; Altitude Life Science Ventures; ARTIS Ventures; Cormorant Asset Management and Tessera's founder, Flagship Pioneering were among the investors.
Cambridge, Mass.-based Satellite Bio came out of stealth, saying it has raised $110 million in seed and Series A funds to make programmable cell therapies. aMoon Growth led the A round. Other investors include seed co-lead Lightspeed, aMoon Velocity, Polaris Partners and Polaris Innovation Fund. New Series A investors included Section 32, Catalio Capital Management and Waterman Ventures.
San Francisco-based Unlearn raised $50 million in a Series B financing. The company is working on a machine learning platform to help companies run randomized controlled trials with a higher probability of success, and with enrolling fewer patients. Insight Partners led with participation from new investor Radical Ventures, as well as all of the company's existing investors including 8VC, DCVC, DCVC Bio and Mubadala Capital Ventures.
Denver-based Pathware raised $7 million to develop hardware and software for digital pathology, so it can go from the central lab to the point of care. UnityPoint Health Ventures and Level Eight Ventures co-led.
Emeryville, Calif.-based Octant said it raised $80 million in a Series B financing led by Catalio Capital Management. It's using synthetic biology and chemistry to develop precision medicines. The company said it also established a Deep Mutational Scanning partnership with Bristol Myers Squibb, and hired Dean "Rick" Artis as its first Chief Scientific Officer. Feng Zhang also joined the Scientific Advisory Board.
Framingham, Mass.-based Alzheon, an Alzheimer's drug developer, raised $50 million in a Series D financing.
Personnel File
Cambridge, Mass.-based eGenesis, an organ transplantation company, promoted Michael Curtis to CEO. He's been president of R&D since 2020. Outgoing CEO Paul Sekhri will remain on the board of directors.
South San Francisco-based Twist Bioscience, the DNA synthesis company, promoted Tracey Mullen to senior vice president of operations, and Nimisha Srivastava to senior vice president of R&D. Patrick Weiss is stepping down as chief operating officer.
Cambridge, Mass.-based Evelo Biosciences, the developer of single-strain microbial therapies that can be given orally for inflammatory diseases, said it added John Maraganore and Tassos Gianakakos as strategic advisors. Maraganore is the former CEO of Alnylam Pharmaceuticals and Gianakakos is the former CEO of Myokardia.
Somerville, Mass.-based Finch Therapeutics, a developer of microbiome-based therapies, said it's cutting its workforce by 20 percent.
Deals
Tarrytown, NY-based Regeneron Pharmaceuticals agreed to acquire Checkmate Pharmaceuticals, a cancer drug developer, for $10.50 a share, or $250 million. Checkmate is the developer of vidutolimod, a CpG-A oligodeoxynucleotide Toll-like receptor 9 (TLR9) agonist delivered in a virus-like particle to stimulate the innate immune system against cancer. Some market observers hoped that the acquisition might lift the biotech stock markets out of the doldrums, providing hope to the roughly 150 public companies that are now considered by investors to be essentially worthless. (See @bradloncar tweet).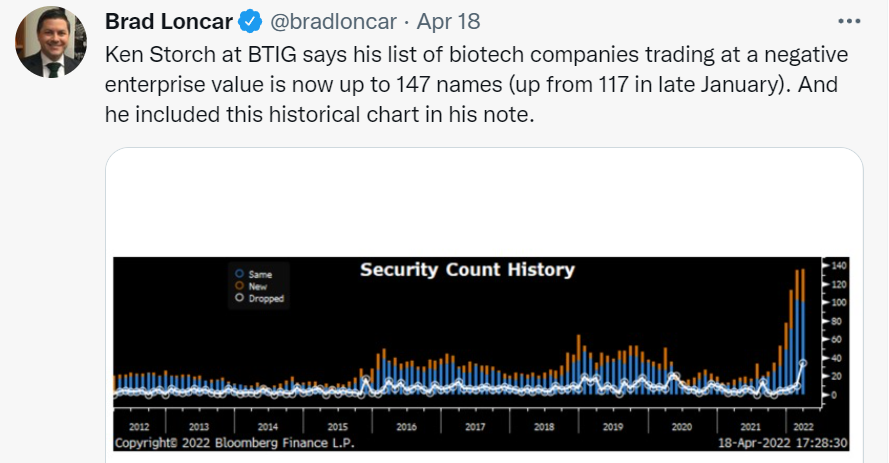 New York-based Terran Biosciences said it licensed a pair of late-stage programs for Sanofi, and plans to develop them for neurological and psychiatric diseases. The assets weren't disclosed, and neither were the financial terms.
AbbVie terminated its partnership with Sweden-based BioArctic. The companies had been working together since 2016 on antibodies directed against alpha-synuclein for Parkinson's disease.
Waltham, Mass.-based Dragonfly Therapeutics said it expanded its research collaboration with AbbVie to work on immune-mediated diseases. AbbVie is getting the option to license multiple new candidates that use Dragonfly's tri-specific NK cell engaging technology. Terms weren't disclosed.
Data That Mattered
Amgen said it passed a Phase III trial with a biosimilar version of J&J's ustekinumab (Stelara), an IL-23 antagonist for moderate to severe plaque psoriasis.
Moderna said its bivalent COVID vaccine candidate, designed to stimulate the immune system against mutations found in the Beta variant of concern, was able to elicit higher levels of neutralizing antibodies than the original vaccine formulation. The bivalent vaccine candidate appeared superior to the original against the Beta, Delta and Omicron variants one month after administration, the company said.
San Diego-based Arcturus Therapeutics said its self-amplifying mRNA vaccine candidate against COVID-19 delivered 55 percent vaccine efficacy against symptomatic COVID, and 95 percent efficacy against severe disease or death, in a study of 19,000 adults in Vietnam. Adverse events were similar between the vaccine and placebo groups, the company said. Arcturus said it's planning a pivotal study of the vaccine candidate as a booster.
Ponte Vedra, Florida-based Orasis Pharmaceuticals said it met the primary and secondary endpoints of a Phase III trial that evaluated its eye drop for presbyopia – the loss of the ability to see items up close, a natural part of aging. The company said it plans to submit a New Drug Application to the FDA in the second half of 2022.
Science Policy
Strategy
Annals of Manufacturing
Bothell, Wash.-based Seagen, the developer of antibody-drug conjugates for cancer, officially announced its plans to open a 270,000-square foot manufacturing facility in Everett, Wash. The company said the new facility will give it "greater control and flexibility over the production of its medicines to treat cancer." I consider this to be a shrewd move for several reasons. (See my Frontpoints column, Feb. 2022, "Biotech's Future Off the Beaten Path.")
Novocure said it's breaking ground on a new facility in Portsmouth, NH, which will house "a training and development center where partners from around the world can come to learn about Novocure's Tumor Treating Fields (TTFields) cancer therapy." NH Gov. Chris Sununu attended the ceremony.
Santa Monica, Calif.-based Kite Pharma received FDA clearance for a new cell therapy manufacturing facility in Frederick, Maryland. The company said it now has facilities in southern California, Amsterdam and Maryland. Kite said in a statement it has "the largest, dedicated in-house cell therapy manufacturing network in the world, spanning process development, vector manufacturing, clinical trial production and commercial product manufacturing."
Science
Science of SARS-CoV-2
Science Features
A Word on Climb to Fight Cancer
Many of you saw social media announcements about my latest Climb to Fight Cancer campaign for the Fred Hutch Cancer Center.
I want to say thanks to everyone who contributed to this campaign. It was a huge success.
The 18-person team of biotech leaders reached Everest Base Camp in Nepal (elev. 17,600 feet) on Apr. 4. We raised $1.3 million for cancer research.
We enjoyed spectacular scenery in the world's highest mountain range, the Himalayas.
We made new friendships on the trails.
We reveled in the culture of the Sherpa, the indigenous people of the Khumbu Valley famous for their strength at high altitude, and their generous spirit.
These trips are clearly resonating with many members of the biotech community. It was evident on the Kilimanjaro climb of 2019, on the Timmerman Traverse for Life Science Cares in 2021, and again on the Everest Base Camp trek of 2022.
I'm planning more expeditions. These trips mobilize the biotech community around good causes. I believe there's tremendous potential for good work in the biotech community. I will continue finding ways to harness it.
For today, enjoy a few photos from the Everest Base Camp trek of 2022. Click on images to view at full size.
If you are interested in participating in a future expedition, or your company is interested in sponsoring one of these campaigns for cancer research or poverty relief, see me. luke@timmermanreport.com.