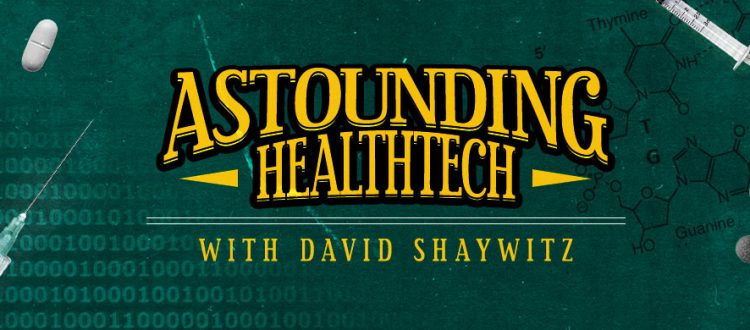 Aural Pleasures, 2019 Edition
I listen to a lot of audio, spoken word content that edifies (or at least distracts) me during daily workouts and when traveling. Traditionally in December, I like to share with readers my annual podcast recommendations. But in reflecting on my listening habits of the last year, I realized that I've probably spent at least as much time listening to audiobooks, so I'm going to include some of those recommendations as well.
For HealthTech Entrepreneurs
Podcasts
Let's get the two most obvious, and most obviously conflicted, recommendations out of the way first: Tech Tonics and The Long Run.
Tech Tonics: Since 2015, every other week, Lisa Suennen and I have shared the stories of "the people and passion at the intersection of technology and health." Our remarkable guests this year have included Susan Desmond-Hellmann, CEO of the Gates Foundation; Jerry Harrison, keyboardist and guitarist for the Talking Heads and now co-founder of the healthcare crowdfunding platform Red Crow.; impassioned physician-scientists Kari Nadeau (food allergy expert at Stanford), David Altshuler (human genetics, Vertex), Glenn Pierce (hemophilia entrepreneur, Third Rock), Allison Kurian (clinical cancer genetics, Stanford), and Calum MacRae (reinventing medicine from within, at Harvard); health care innovators Shami Feinglass (Danaher, when not BMX bike racing); Tanisha Carino (GSK, FasterCures, and now Chief Corporate Affairs, Alexion); Megan Callahan (head of healthcare at Lyft), Rebecca Kaul (chief innovation officer at MD Anderson), and Andy Coravos (CEO/co-founder of Elektra Labs) and many others – including Recursion Pharma's engaging CEO Chris Gibson, who by this point is likely well-known to readers of this column (see here, here). We also spoke with the brilliant and remarkably grounded data scientist Imran Haque, who I wrote about here; he subsequently joined Recursion.
The Long Run: In this biotech version of "Inside the Actor's Studio," Luke Timmerman, our own James Lipton, sits down with a number of different top biomedical innovators for an extended interview. I loved this podcast from the first episode in September 2017 (featuring Alnylam's John Maraganore). It remains a personal favorite. This year, I especially enjoyed the episodes featuring strategist Janelle Anderson (as I discussed here); MIT's incomparable biomedical engineer Bob Langer; and President of Novartis Institutes for Biomedical Research (NIBR), Jay Bradner.
A podcast that I discovered this year (though it's not new) carries the dubious title, Invest Like The Best. Don't be put off. The interviews, by seasoned investor Patrick O'Shaughnessy, are outstanding – thoughtful, nuanced, and engaging. I have particularly enjoyed his conversations with Benchmark's Bill Gurley, Lux's Josh Wolfe, and Blue Mountain's Michael Maubaussian – who I think of collectively as the "SFI Cabal," because outside of their (busy) day jobs, they all seem to be connected to the Sante Fe Institute, an organization focused on the study of complexity and of complex adaptive systems. (Maubaussian is also a talented writer; I discuss one of his books, The Success Equation, here.)
I've continued to enjoy many episodes of A Healthy Dose podcast, hosted by Steve Kraus of Bessemer Ventures, and Trevor Price of Oxeon Partners; I would especially recommend their discussions with physician and serial entrepreneur Tom X Lee (co-founder, ePocrates; founder, One Medical Group; now CEO of the stealth newco, Galileo), and with Kate Ryder, founder and CEO of Maven.
Venrock's venerable dynamic duo, Bryan Roberts and Bob Kocher, consistently find outstanding health policy guests for the Running Through Walls podcast. This year, I enjoyed their discussions with former Secretary of Health and Human Services and former Kansas governor Kathleen Sebelius, as well as the two-part interview with the brilliant Park brothers (here, here).
Two limited-run podcast series also merit consideration:
Moonrise, a fascinating series from the Washington Post's Lillian Cunningham discussing the history of the space program, and the role of narrative in driving technology adoption, as I wrote about here.
StartUp – This was the first podcast series from Gimlet, co-founded by Alex Blumberg and Matthew Lieber. The first season was about the process of creating Gimlet; subsequent seasons were about other startups. The latest, and last season (start here) is especially interesting because it describes what was going on at Gimlet when it was approached, and ultimately acquired, by Spotify.
Audiobooks
Range, by David Epstein – my favorite book of the year (and like several other audiobook favorites, I re-read it after I listened to it), Range focuses on the underappreciated value of integrative, lateral thinking (versus the hyperspecialization that seems especially cherished today). I've discussed this important and captivating book (for parents as well as entrepreneurs) here.
The Second Machine Age – by Erik Brynjolfsson and Andrew McAfee, this engaging book is widely regarded as the bible of the current digital revolution. The authors explore how new technologies are adopted, and what may be the impacts – mostly, but not entirely, positive – of the technologies on work, culture, and society. (McAfee's book explores how some of these themes relate to sustainability, in his conspicuously optimistic recent book, More From Less – my WSJ review here).
Elephant In The Brain – by Kevin Simler and Robin Hanson, this is an enjoyable exploration of social signaling, which turns out not only to be pervasive, but also, critical to resolving many behavioral paradoxes in the world around us.
Charlie Munger – Munger is one of American's most admired, and most quoted value investors. In this book, Tren Griffin, a business strategist perhaps best known for his thoughtful, intellectually engaging writing about leading investors, seeks to help readers better understand Munger by offering explanations of Munger's greatest hits, in a fashion reminiscent of the way ancient Talmudic scholars provide learned reflections on the Bible. You may not emerge from Griffin's book spiritually enlightened, but you will certainly have a deeper sense of the primary text, and the author behind it.
Nature of Technology – I discovered this Brian Arthur book by following a citation in The Second Machine Age. While initially somewhat academic and slow going, it gains momentum over time, as he shows how technology arises and evolves, and highlights the role of combinatorial innovation.
Additional Audio Recommendations (Not Health-Related)
Podcasts
My regular podcasts (i.e. I listen to most every episode) include:
The Sub-Beacon — Squarely in the "middle-aged dudes chatting" genre (hard to understand the appeal, I know), this enjoyable weekly podcast featuring DC-area dads Jonathan V. Last, Sonny Bunch, and Victorino Matus is ostensibly focused on film reviews, but with long, delightful, detours into parenting, bourbon, steak, and The Gout.
The Bulwark – A centrist daily podcast offering thoughtful political discussion, with guests from across political spectrum; hosted by Charlie Sykes.
The Secret Podcast – This is an irregular, supplementary podcast associated with The Bulwark, available with a minimal payment; similar in content but slightly rawer and more intimate, co-hosted by Jonathan V. Last and Sarah Longwell.
Commentary — A center/right, twice weekly podcast offering thoughtful cultural and political discussion led by Commentary editor John Podhoretz, who instills the program with a bit of a McLaughlin-Group vibe.
I'd also recommend these podcasts:
While I'm not quite interested in detailed legal analysis to sustain an interest in The Lawfare Podcast in general, I was captivated by a special multi-part series they put together, called "The Report" – essentially, a surprisingly successful effort to make Mueller Report more accessible and digestible. You'll need to dig the individual episodes out from within the Lawfare feed (start here), but it's worth it.
Unorthodox – eclectic, hamish, Jewish-themed podcasts with excellent and often unexpected guests, some Jewish (like writers Bari Weiss and Andrew Marantz, and reporter Jodi Kantor), others not (eg pastor Henry Brinton, chef Edward Lee, reporter Clare Malone, and writer Sarah Blake).
99% Invisible – consistently delightful, engaging podcast about underappreciated aspects of design impacting the world around us; the show is a long-time favorite of mine, and more recently, my favorite podcast to listen to with my kids.
Audiobooks:
Age of Wonder – Richard Holmes takes us on a highly enjoyable romp through British science of the late 1700s, sharing the excitement of botanist Joseph Banks' voyage with Captain Cook to Tahiti, astronomers William and Caroline Hershel's revealing exploration of the heavens, and chemist Humphrey Davy's discovery of laughing gas, among many other highlights.
The Compatibility Gene – This is a story (really, a collection of stories) about the history of the discovery of the major histocompatibility complex, or MHC, a critical concept in immunology. It's told in an engaging and scientifically rigorous fashion by British immunologist Daniel J. Davis. Davis is also the author of The Beautiful Cure, about immunotherapy, which I reviewed for the Wall Street Journal last year).
Deep Work – A worthwhile self-help book by Cal Newport about the value of avoiding distractions, it was a significant influence in successfully extracting me from Twitter, as I discussed in Timmerman Report, here.
Dreamland – This account by California journalist Sam Quinones is the best book about the opioid crisis I've read; it's moving, captivating, horrifying, astonishing – yet also (in a welcome contrast) nuanced, and not overly reductive in describing the historical context and potential solutions.
Factfulness – When you look at the data, it turns out that everything doesn't actually suck. That's the point of this Hans Rosling book, which joins an expanding "positivist" subgenre also featuring Steven Pinker (The Better Angels of Our Nature), Andrew MacAfee (More From Less – see above), and others.
How To Fight Anti-Semitism (read by the author) – Motivated to write this heartfelt and brilliant book by the horrific October 2018 terror attack at the Tree of Life synagogue in Squirrel Hill, PA, where she was bat mitzvahed, New York Times columnist Bari Weiss characterizes the different sources of contemporary anti-semitism, and emphasizes the importance of recognizing and repelling such odious sentiment.
Antisocial (also read by the author) – This captivating account by New Yorker writer Andrew Marantz focuses on one of the sources of hate Weiss identifies: far right extremism, and takes readers insiders this movement, highlighting along the way the enabling role technology has played (see this excerpt).
American Carnage – This comprehensive, engaging, and deeply disturbing book by Politico's chief political correspondent Tim Alberta takes us inside the 2016 campaign and documents the astonishing transformation of one of America's major political parties.
The Secret Life of the American Theater – My guilty secret might well be my lifelong affection for musical theater, despite finding myself so bereft of talent that I failed to land even a chorus role in a high school production of Grease, where everyone was ostensibly guaranteed a part. Growing up, I was fortunate enough to see a number of classic shows on Broadway, including The King and I, Camelot, Annie, City of Angels, and many others. Similarly, the many Saturday mornings I spent working in the lab during my training were tolerable, if not enjoyable, due to the weekly airing of "Standing Room Only" on Emerson Radio's WERS. About a year ago, I was delighted to hear about producer Jack Viertel's book on American theater, and was even more delighted to listen to it (expertly read by noted actor David Pittu). In The Secret Life of the American Theater, Viertel breaks down the canonical musical into its core elements, and discusses how classic shows fulfill these elements (sometimes with remarkable creativity), or fail to (sometimes disastrously). You can see how fixing a single, critical element can save a show – like the last-minute introduction of the "Comedy Tonight" number to establish the perfect tone for A Funny Thing Happened On The Way To The Forum. The entire book is a treat, from start to finish – encore!
Astounding – The title of my column is a tribute to the pioneering science fiction magazine, Astounding Stories. The real-life stories of the editor (John W. Campbell) and writers for Astounding (like Isaac Asimov, L. Ron Hubbard, Robert Heinlein, and others) turn out to be nearly as fantastic as the fiction they published, as Alec Nevala-Lee reveals in this deeply-reported account. You'll never be able to think of Asimov or Hubbard the same way again.