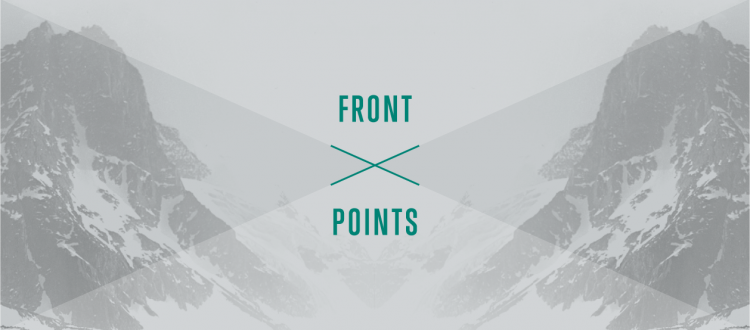 A Sad Week of Reckless Leadership
The first US death from COVID-19 was reported on Feb. 29.
Today, Apr. 24, the US death toll exceeds 50,000.
That's more than Italy and Spain combined. Even though we had early warning. It's tragic.
There's also a reason why the death toll hasn't been higher. It's because of large-scale physical distancing in this expansive country of 330 million people.
After a few weeks, people are understandably getting restless. Tens of millions are unemployed and fearful for their livelihoods. The federal government has thrown up its hands in many respects, passing the buck of leadership to state and local governments. Now we're seeing a mishmash of local decisions.
The state of Georgia – a place with 10.6 million people, more than 20,000 confirmed infections, and the busiest airport in the country – is led by a Governor that is opening up large swaths of the economy today, relaxing the physical distancing restrictions there. He's doing that even though his state hasn't complied with the federal guidelines that say reopening can begin in phases after new infections go through a 14-day decline.
Local decisions like these will determine just how ferocious the second wave of infections will be across the entire country this summer and fall.
"It's like peeing in one end of the pool. It doesn't just stay there," said Jeff Duchin, the leader of Seattle and King County's public health agency, on a webinar I moderated yesterday for Life Science Washington, the local trade association.
Duchin called the decision of Georgia Gov. Brian Kemp "reckless." Given the latest models he's been reviewing, Duchin said he believes the second wave of infection this fall could be two to three times larger in magnitude than what we're seeing now in Seattle and King County.
Meanwhile, the CDC – once the gold-standard agency in public health — is still AWOL when it comes to coordinating a national testing program. We are nowhere near the number of tests (20 million a day at peak according to one Harvard estimate) we need to be doing to gain the knowledge necessary to suppress the virus with targeted quarantines. Without knowledge from tests, it's hard to imagine a safe and responsible reopening of the economy.
Still, without any clear idea of where the virus is, we have protestors agitating in state capitols to lift the physical distancing orders. Some people who are sick are even being urged to show up, to exercise their rights as Americans to travel freely. They revel in thumbing their noses at the experts. They're good at provoking all of us to gape in amazement and horror, good at distracting us from what's important.
Yesterday, the President suggested that people might want to try ingesting bleach to fend off the coronavirus. Or maybe ultraviolet light.
Talented journalists who could otherwise be investigating breakdowns in our national testing system and kicking the bureaucracy in the rear end are now writing about why it's a bad idea to drink bleach.
How did we get ourselves into this tragedy? This farce?
How do we get out?
I don't know all the answers. But I do know that people with education, drive, and good faith – that's you – need to do constructive things to be part of the solution. That extends beyond this pandemic, and goes into repairing the social fabric, investing in science and education, and helping vulnerable populations. It's a heavy topic, rethinking citizenship, rethinking what our responsibilities are to our fellow human beings. This will take time to sort out. I believe we can come out the other side better.
Be safe. Be strong.
To borrow a quote from my late father-in-law:
"Be Good to Each Other."
Science
Testing
Treatments & Vaccines
Policy
Models
Worth Watching
Policy
Humanity at Its Best and Worst
TR Coverage
Personnel File
Rick Bright, the head of the US government's Biomedical Advanced Research and Development Authority (BARDA), a key unit for vaccine development, abruptly left his post. He later filed a whistleblower complaint, saying he was being sidelined by the administration because of his unwillingness to promote unproven therapies. See his statement.
Greg Guyer was hired as chief technical officer and EVP of global manufacturing and technical operations at BioMarin Pharmaceutical. He was formerly SVP of operations at Bristol-Myers Squibb. He takes over from company veteran Robert Baffi.
Investing
Financings
Cambridge, Mass.-based Affinivax, a vaccine developer with a lead program for pneumococcal infections, raised $120 million in a Series B, led by Viking Global.
South San Francisco-based ORIC Therapeutics, a company working on cancer resistance, raised $120 million in an IPO of 7.5 million shares at $16 apiece.
Lexington, Mass.-based Accent Therapeutics, a cancer drug developer focused on RNA-modifying proteins, raised $63 million in a Series B financing. EcoR1 led.
San Diego-based Arcturus Therapeutics, an RNA-based medicine developer, raised $80 million in a stock offering of 4.7 million shares at $17 apiece.
San Francisco-based Nitrome Biosciences raised $38 million in a Series A financing co-led by Sofinnova Partners (the European-based venture group) and AbbVie Ventures. The company is working on Parkinson's disease.
Bethesda, Maryland-based Aledade raised $64 million in a Series C financing to continue expanding its network of physician-led Accountable Care Organizations. OMERS Growth Equity led.
San Francisco-based Unlearn.AI, a company that creates 'digital twins' to serve in clinical trial control arms, raised $12 million in a Series A. 8VC led.
Deals
Ann Arbor, Mich.-based Esperion Therapeutics pocketed $60 million upfront from Otsuka Pharmaceuticals as part of a deal to commercialize its two new cholesterol-lowering products in Japan.
Gilead Sciences struck a three-year collaboration with oNKo-innate to work on engineered Natural Killer cell therapies for cancer.
Veracyte announced an exclusive license from Yale University to develop the first genomic test for idiopathic pulmonary fibrosis, based on a 52-gene signature.
Regulatory Action
The FDA gave the green light to Incyte to start marketing pemigatinib (Pemazyre) for patients with locally advanced or metastatic cholangiocarcinoma. The drug is made to target fibroblast growth factor receptor 2 (FGFR2) fusions, which are detected by the FoundationOne CDx test.
Sanofi got FDA clearance for a new quadrivalent meningococcal vaccine.
Data That Mattered
Exelixis and Bristol-Myers Squibb reported that they hit the primary endpoint in a clinical trial of patients getting their first round of treatment for renal cell carcinoma. Patients got the combo of nivolumab (Opdivo) and cabozantinib (Cabometyx), and were evaluated for progression-free survival, overall survival, and overall response rate. Details to come at a medical meeting.
AstraZeneca and Merck's PARP inhibitor, olaparib (Lynparza), passed a Phase III trial for men with advanced metastatic, chemical castration-resistant prostate cancer. The study looked at men with homologous recombination repair gene mutation (HRRm). Data to come at a medical meeting.
Tweetworthy
Someone we all need a little gallows humor.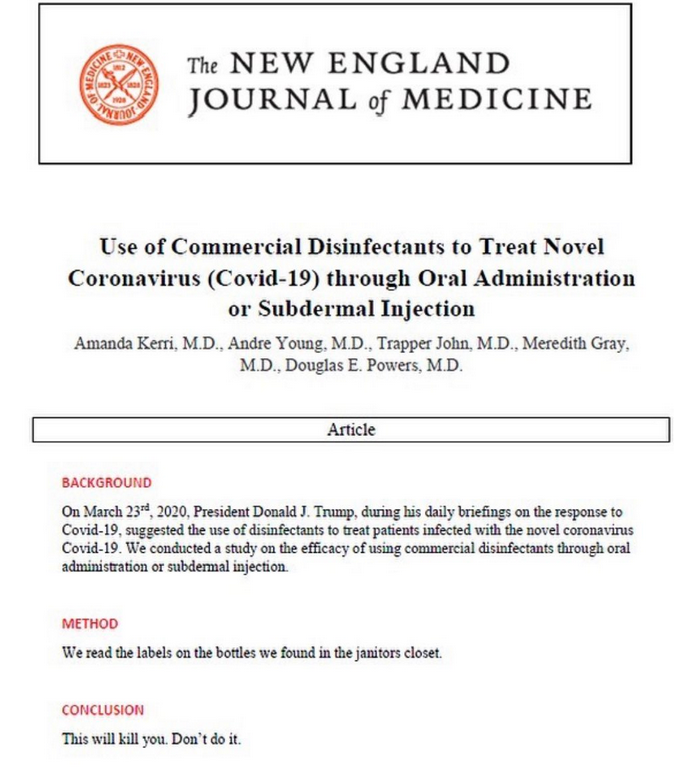 Sometime you laugh, sometimes you cry. Sometimes you just have to slap your forehead.
"Some experts say" it's bad to drink bleach. Golly, you don't say?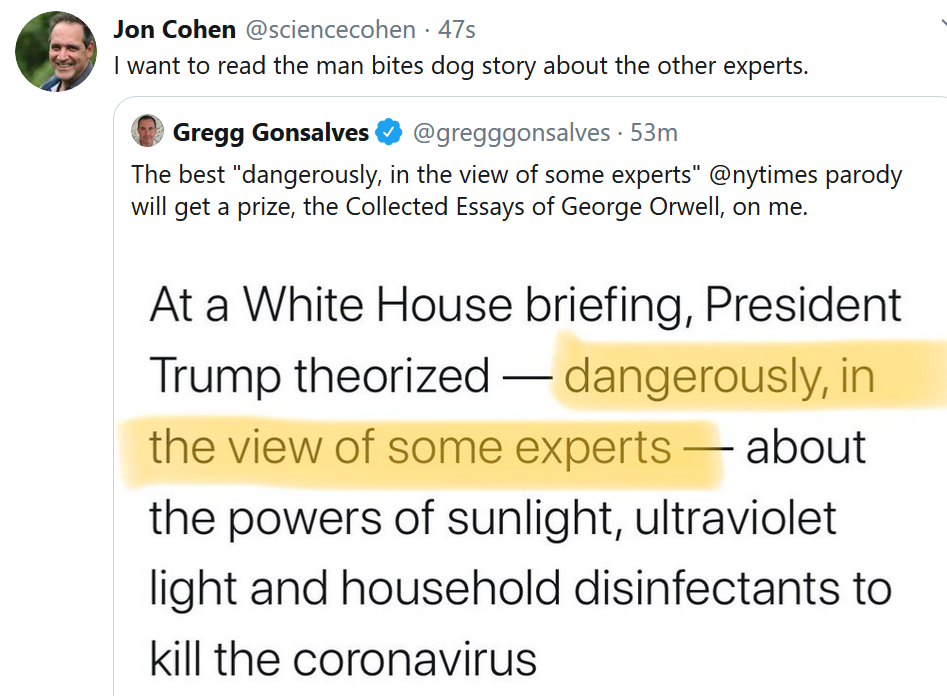 And sometimes members of the evidence-based, reality-based community decide they have to get involved in the debate, however messy and ugly it can sometimes be.