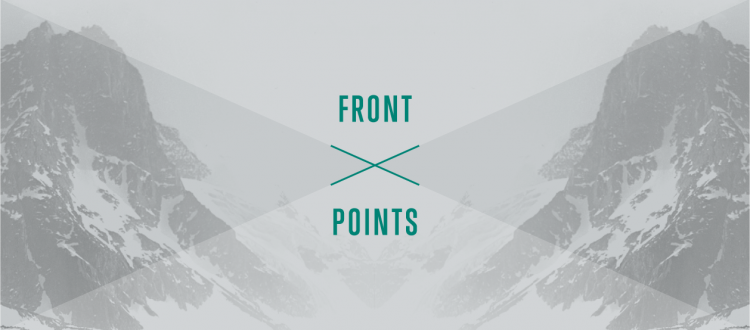 Remdesivir's FDA Approval, Moderna Fully Enrolls & FDA Wrestles With Trust
Catch up on the main events of the week in biotech with Frontpoints.
The FDA issued a surprising approval – not another watered-down Emergency Use Authorization – to Gilead Sciences for remdesivir (Veklury) its antiviral against COVID-19. The antiviral, designed to stop the SARS-CoV-2 virus from copying itself, is now the first treatment fully approved by the FDA against this particularly nefarious virus. Gilead's approval is for hospitalized patients. The company added that it can manufacture enough of the drug to make it widely available at US hospitals.
The main piece of evidence in favor of approval is the ACTT-1 trial, conducted with the National Institute of Allergy and Infectious Disease, which showed that remdesivir could reduce hospitalization time by a median of five days in the overall patient population, and by seven days in patients who were given supplemental oxygen at baseline.
No rigorous randomized study has yet shown that remdesivir can increase the chances that patients with survive.
With that rather large caveat, I'll call this a piece of good news.
Not everyone agrees.
Immediately, skeptics pointed to the Solidarity study results from the WHO, which came out last week. That trial didn't show a survival benefit for remdesivir. But for those who look closely at the protocol and conduct of the study, it looks like a hot mess. Patient subgroups weren't adequately characterized. WHO researchers weren't able to answer basic questions, like whether remdesivir worked better for patients with mild disease on low-flow oxygen than for more severely ill patients with overactive immune reactions. Local protocols were all over the place, creating inconsistent data collection across 30 countries. There's also a curious decision to use 99 percent Confidence Intervals in the meta-analysis (Fig. 4), when it would be standard practice to use 95 percent Confidence Intervals.
Why move to that high of a bar? It's odd – and to me – a largely inconclusive study that represents frantic, panicked efforts by doctors to do their best in an emergency, but ultimately arriving at a sloppy result at best.
You can see some of the Twitter chatter below, from Eric Topol and Peter Bach, who are expressing skepticism, but really come down in the "inconclusive" camp on remdesivir. It is curious to see the FDA give the green light without more evidence. But under the circumstances, I think there's good reason to prescribe remdesivir. I know I'd demand it right now if I had a family member hospitalized (while also fighting to get into a clinical trial of a neutralizing antibody from Regeneron, Lilly or VIR).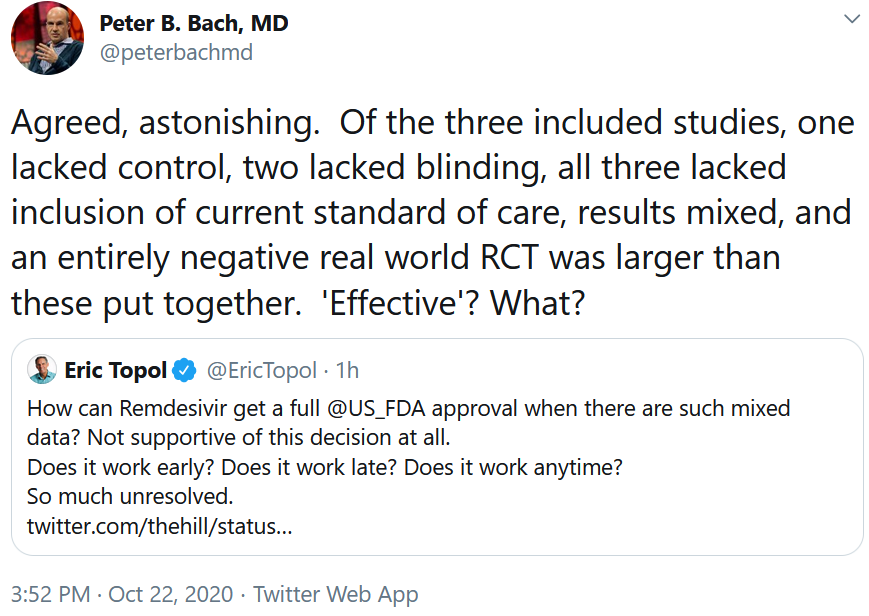 A Word on Trust
Yesterday, I listened to most of the FDA advisory committee evaluating COVID19 vaccines. The most striking moment of the day came during a presentation by representatives from the Reagan-Udall Foundation for the FDA. They surveyed public opinion on the COVID19 vaccine race. Their findings were sad. So sad, for all of us who care about science as a method for seeking the truth.
Take a look at their key slides below.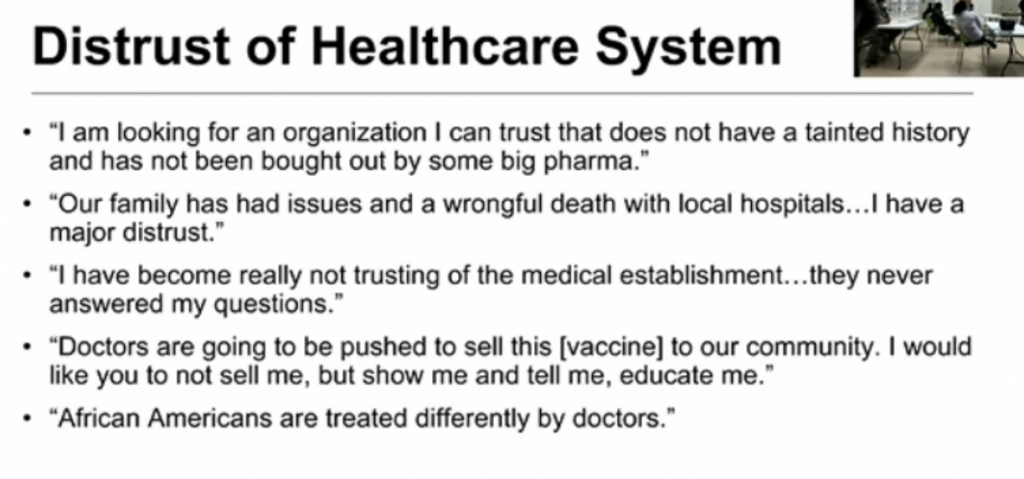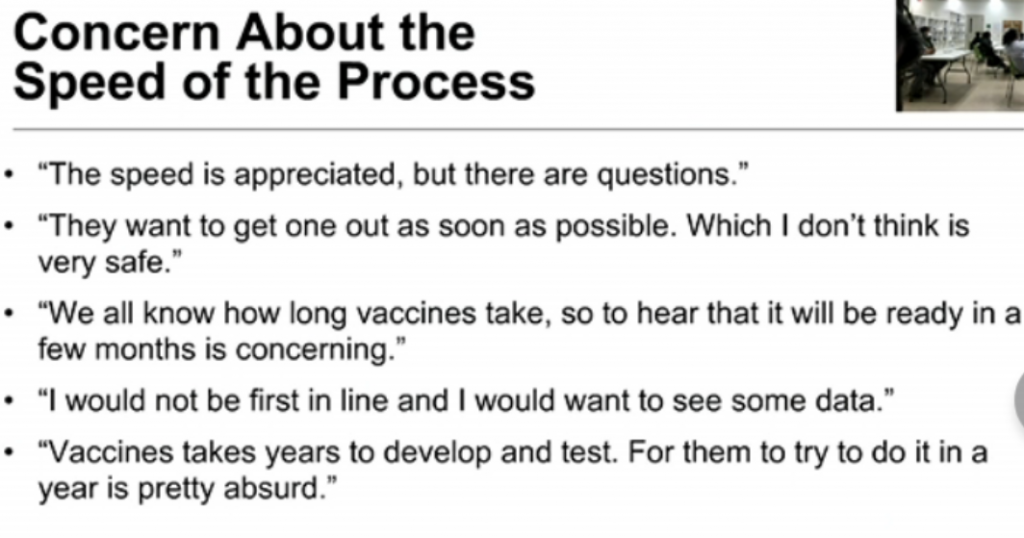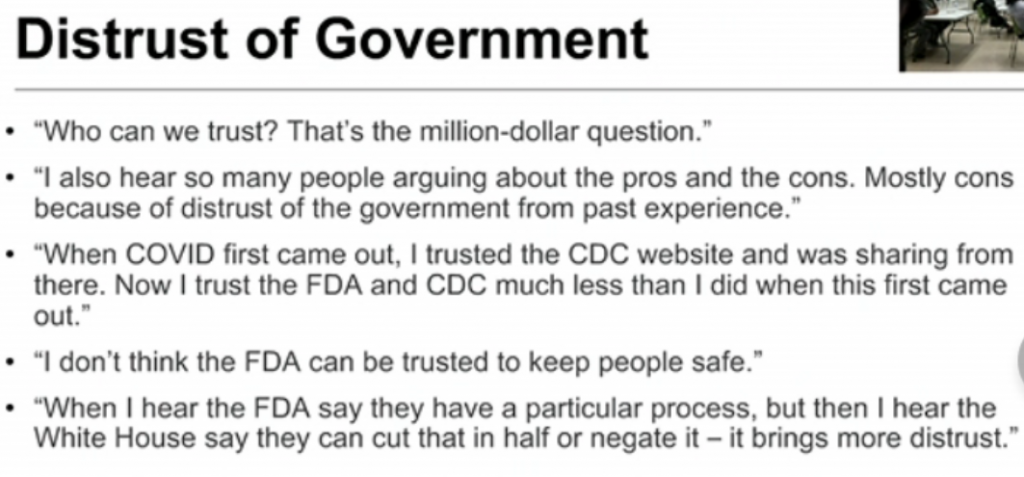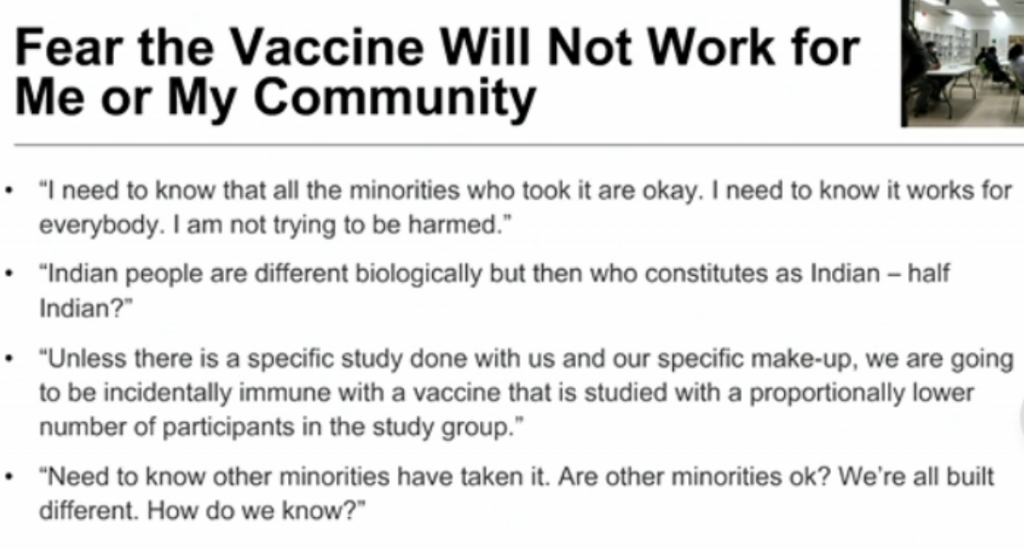 Now let that sink in for a second. And as a card-carrying member of the scientific enterprise, ask yourself:
What am I doing today, this month, and this year, to build strong relationships outside my immediate professional circles? What am I doing to foster more confidence in science in my community? What am I doing to push back against the tidal wave of cynicism and apathy in our country?
This isn't someone else's problem. This is something we all have to work on.

Vaccines
Moderna said it completed enrollment in the Phase III trial of its COVID19 mRNA vaccine candidate. The company pointed out that minority populations represent 37 percent of those enrolled. CEO Stephane Bancel said the company could receive Emergency Use Authorization as soon as December. The minority enrollment, and demographic breakout on safety and efficacy, will surely factor in the public mind as people think about whether to take any COVID19 vaccine. Especially at a time of rising skepticism, and hesitancy to take vaccines.
Pfizer CEO Albert Bourla, who previously has said it could possibly have a positive readout on its COVID19 vaccine candidate in late October, backed away from that aggressive position this week, posting a letter on the company website saying that the company could apply for an Emergency Use Authorization after a key safety milestone is achieved in the third week of November.
Brief Note on the Pandemic
We are heading now to a horrible third peak. More than 70,000 new cases a day are piling up in the US. We are back to seeing 1,000 deaths a day. More than 223,000 are officially dead from COVID19, and the excess death toll now exceeds 300,000. The trendlines look ominous this fall and winter, even though we have seen some tremendous progress has been made with therapeutics and vaccines.
Our president chooses to blame Tony Fauci "and these idiots" who people are tired of listening to.
If we as a country were willing to follow the science, and course-correct when presented with new data on what works and what doesn't — like Tony Fauci and "those idiots" — we'd be in a far better position than we are today. (See Timmerman Report July 9 editorial on Standing With Fauci)
Science
Science Features
Should COVID Be Left to Spread Among the Young and Healthy? Two Clashing Petitions. The Economist. Oct. 21.
Studies Point to a Big Drop in COVID19 Death Rates. NPR Shots. Oct. 20. (Geoff Brumfiel)
Cryo-Electron Microscopy Breaks the Atomic Resolution Barrier at Last. Science. Oct. 21. (Robert Service)
Public Health
The Pandemic Has Caused Nearly 300,000 More Deaths Than Expected in a Typical Year. Washington Post. Oct. 20. (Lenny Bernstein)
Excess Deaths Associated With COVID19 by Age, Race and Ethnicity, United States, Jan. 26-Oct. 3, 2020. CDC Morbidity and Mortality Report. Oct. 20. (Lauren Rossen et al)
Manufacturing and Patient Access
Where Do I Go to Get My COVID Antibody Cocktail? WSJ. Oct. 18. (Scott Gottlieb and Mark McClellan)
Trust, or Lack Thereof
Supporting US Public Health Experts. Nature Bioengineering. Oct. 22. (Jeremy Levin et al)
Eight Persistent COVID19 Myths and Why People Believe Them. Scientific American. Oct. 12. (Tanya Lewis)
RIP
Michael Lane, who the New York Times called "a general in the rout of smallpox," died at the age of 84. His name isn't one that kids learn in school, but he was one of the American heroes, along with Bill Foege, who oversaw the Herculean task of wiping that scourge from the face of the Earth. Maybe when we emerge from this terrible pandemic, we'll get better at recognizing some of these unsung heroes of the scientific enterprise.
Financings
RA Capital Management raised $461 million for a second venture fund to invest in biotech startups.
Menlo Ventures raised its 15th fund. This one has $500 million. Part of the focus will be on "therapeutics, particularly companies built around platform technologies and massive datasets that can produce multiple new treatments, and transformative health technologies, including applications of genomics and synthetic biology," the firm said.
Cambridge, Mass.-based Be Biopharma raised a $52 million Series A financing led by Atlas Venture and RA Capital Management. It's developing B-cell medicines, based on research from David Rawlings and Richard James at Seattle Children's Research Institute. Aleks Radovic-Moreno is the founding president.
UK-based Abcam, a biological reagents and tool marketer, raised $157 million in an IPO at $17.50 a share.
Australia-based Opthea raised $128 million in an IPO at $13.50 a share. The company is developing a VEGF inhibitor for the wet form of age-related macular degeneration.
South San Francisco-based Aligos Therapeutics raised $150 million in an IPO at $15 a share. The company is working on antiviral therapies for chronic hepatitis B and coronaviruses.
Boston-based Replimune, the developer of oncolytic virus treatments, raised $250 million in a stock offering at $40 a share.
Evanston, Ill.-based Aptinyx raised $42 million in a stock offering at $3 a share after releasing some encouraging data for
Houston-based Kiromic Biopharma raised $15 million in an IPO to advance an AI platform for immuno-oncology therapy development.
Cambridge, Mass.-based Praxis Precision Medicines raised $219 million in an IPO at $19 a share. The company is working on CNS drugs.
Irvine, Calif.-based Tarsus Pharmaceuticals raised $88 million in an IPO at $16 a share. It's working on ophthalmic drugs.
San Francisco-based InCarda Therapeutics raised $30 million in the first close of a Series C financing to develop inhalable treatments for cardiovascular disease. Innoviva led the deal, and existing investors Deerfield Management, HealthCap and Morningside Venture also joined the financing.
Boston-based Allonia, a spinout from Ginkgo Bioworks, raised $40 million in a Series A financing to make enzymes to clean up environmental contaminants.
Sarissa Capital Management raised $175 million in an IPO at $10 per unit. It's a blank check company.
Israel-based Azura Ophthalmics raised $20 million to develop a treatment for dry eye.
Paris-based SparingVision raised 44 million EUR to develop genomic medicines for ocular diseases.
Cambridge, Mass.-based Compass Therapeutics, a cancer immunotherapy company, filed a prospectus with the SEC to raise up to $50 million in an IPO.
This Week in the Opioid Crisis
Purdue Pharma agreed to plead guilty to three criminal charges for its role in fostering the opioid painkiller addiction crisis. Purdue will reportedly make a $225 million direct payment to the federal government, but it will likely not have to cough up the full $8 billion extent of the settlement, because it is now in bankruptcy. While a guilty plea on three federal counts is pretty straightforward, David Sackler told Vanity Fair "we didn't cause the crisis."
Personnel File
Cambridge, Mass.-based Seres Therapeutics, the microbiome-based therapy developer, hired David Ege as chief technology officer and Jayne Gansler as chief people officer.
BD hired Patrick Kaltenbach as chief technology officer. Dave Hickey was promoted to president of the life sciences segment of the company.
Cambridge, Mass-based Nimbus Therapeutics hired Erin Cowhig as chief people officer. She was previously VP of HR at Vertex Pharmaceuticals.
Gaithersburg, MD-based Sensei Biotherapeutics, a developer of off-the-shelf cell therapies for cancer, hired Anu Hoey as chief business officer.
Cambridge, Mass.-based Sage Therapeutics said CEO Jeff Jonas was scheduled to undergo surgery yesterday (Oct. 22), and will essentially be on a medical leave until December. "While Dr. Jonas is recuperating, he will be available as needed, and during this time, the Sage leadership team will direct business operations," the company said in a statement.
Democrats in the nation's capital, according to STAT, apparently want to fire Moncef Slaoui from Operation Warp Speed because of his pharmaceutical industry track record and network. Bad idea.
Cambridge, Mass.-based AVROBio added Gail Farfel to its board.
UK-based Vaccitech hired Margaret (Meg) Marshall as chief medical officer.
Flagship Pioneering said Tuyen Ong has joined the venture firm as a CEO-partner. He'll lead Ring Therapeutics, a gene therapy company.
Kudos
The National Academy of Medicine named 100 new members. Wendy Chung, a geneticist at Columbia University, Levi Garraway, now at Genentech, and David Liu of Harvard University, Marc Lipsitch of Harvard University, Aviv Regev of Genentech, Antoni Ribas of UCLA, Pardis Sabeti of the Broad Institute, and Bob Wachter of UCSF are members of this year's stellar cast that are well-known in the biopharma community. (Full list).
Peter Byers of the University of Washington won the 2020 Victor McKusick Leadership award from the American Society of Human Genetics.
Data That Mattered
Switzerland and Cambridge, Mass.-based CRISPR Therapeutics provided an update on a Phase I trial of CTX110, as a treatment for CD19-positive B-cell malignancies. The company reported that 2 out of 4 patients on Dose Level 3 achieved Complete Responses at 3 months. A patient on Dose Level 4 developed cytokine release syndrome, appeared to have a Complete Response at Day 25, but then took turn a for the worse and died at day 52.
Cambridge, Mass.-based Alnylam Pharmaceuticals reported on Phase III results from the Illuminate-B study of pediatric patients who got lumasiran for Primary Hyperoxaluria Type 1. The drug showed a 72 percent mean reduction in urinary oxalate. The product is a subcutaneously administered RNAi drug.
Cambridge, Mass.-based Biogen said it has discontinued development of opicinumab, the anti-LINGO antibody for multiple sclerosis.
San Francisco-based VIR Biotechnology presented data on a broadly neutralizing antibody against influenza A which showed it could bind with and potentially neutralize all major strains of the virus from the past 100 years. That was a preclinical finding. A separate Phase I study found the antibody, VIR-2482, could last long enough to be given once per flu season. Findings were presented at IDWeek.
Evanston, Ill.-based Aptinyx reported top-line data from a Phase II study in post-traumatic stress disorder (PTSD). More detail will be presented at a scientific meeting.
Merck reported positive Phase III results from two more studies of its 15-valent pneumococcal vaccine candidate. Merck also reported 3-year follow-up survival data for pembrolizumab (Keytruda) in first-line treatment of non-small cell lung cancer.
Regulatory Action
Roche won full FDA approval for venetoclax (Venclexta) for newly diagnosed acute myeloid leukemia in adults 75 years or older, or who have comorbidities that preclude use of intensive induction chemotherapy. The drug had gotten an accelerated approval in November 2018.
Deals
New York-based Nuvation Bio, a cancer drug developer, and Panacea Acqusition (a SPAC backed by EcoR1 Capital) merged in a deal that will bring $500 million in concurrent equity financings.
San Francisco-based Invitae and Menlo Park, Calif.-based PacBio agreed to a research collaboration to use whole genome sequencing to find clinically relevant molecular targets to develop diagnostic tests for kids with epilepsy.
South San Francisco-based insitro, a company using machine learning to advance drug discovery, agreed to acquire Haystack Sciences. Haystack is working on "large, diverse combinatorial chemical libraries encoded by unique DNA sequences called DNA-encoded libraries, or DELs." Terms weren't disclosed.
Genentech agreed to work on an AI for drug discovery partnership with Genesis Therapeutics, a spinout from the Pande Lab at Stanford University.
Roche agreed to work with Boston-based Atea Pharmaceuticals on a direct-acting antiviral treatment against COVID-19. Atea's AT-527 is being developed as an oral nucleotide prodrug, with potential for hospitalized and non-hospitalized patients. It has shown broad potential against human flaviviruses and coronaviruses. Roche agreed to pay $350 million.
Vifor Pharma secured US commercial rights from Cara Therapeutics to IV Korsuva as a treatment for kidney dialysis patients with pruritis (itching). Cara is getting $100 million upfront.