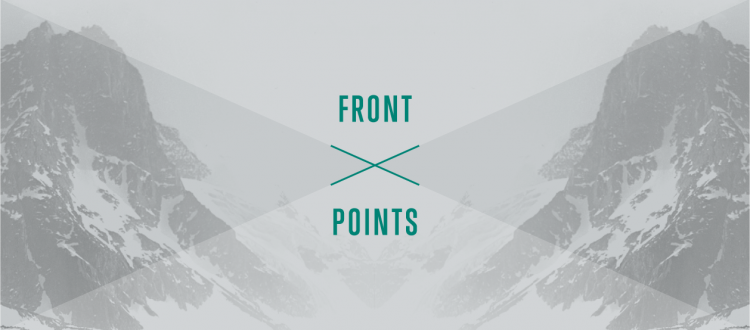 AZ's Muddy Result, Regeneron Cocktail OK'd, and Biogen, Sage Bet Big on Depression
Take two weeks between Frontpoints columns, and a lot of stuff happens.
On Monday Nov. 23, AstraZeneca presented a muddy picture from its Phase III clinical trial with a COVID-19 vaccine developed on adenovirus technology with Oxford University. It's either delivering 90 percent efficacy or 62 percent efficacy, depending on the dose. So it's either great or good, but we're not entirely sure.
Importantly, it costs less than $3 per dose and it easy to manufacture at global scale. So there's that. AZ might have to run a new trial to get a clear answer on safety and efficacy, and that will take time, and maybe be hard to conduct with actual approved vaccines on the market.
Even though AstraZeneca has done many things this year to undermine public trust in itself (no more private CEO calls to JPMorgan clients, and more transparency on adverse events, please), this generally effective third vaccine in line is still a positive development.
One week after AstraZeneca's muddy but directionally positive announcement, Moderna released its extraordinary full results from its 30,000-volunteer Phase III trial with its COVID-19 vaccine candidate. A vaccine that's 95 percent effective at preventing COVID-19, and that protected everyone from severe disease. Hot damn. That's a home run.
Then there's Pfizer. Like Moderna, they have lightning in a bottle — an awesomely 95 percent efficacious vaccine in their hands, thanks to years of innovative work by BioNtech. But it turns out Pfizer can only ship half of the 100 million doses they expected to be able to ship by the end of the year, according to the Wall Street Journal.
Messenger RNA, amazing technology that it is, has quite obviously never been manufactured at global scale before. We knew this, and should expect more hiccups in manufacturing and supply. When this happens, it's not the end of the world.
Pfizer, I'm sure, will get this fixed and deliver the goods. The whole world is watching and counting on it. A manufacturing supply issue, even with intricate lipid nanoparticles at global scale, is challenging, but solvable. The hard part is figuring out whether you have a good vaccine at all. We do know that for Pfizer and Moderna.
The Emergency Use Authorization applications are on file with the FDA. The FDA vaccine advisory committee will consider Pfizer's application on Dec. 10 and Moderna's on Dec. 17.
Priorities are being set on who should get the vaccines first, and who will have to wait until supply can meet demand. See Larry Corey's excellent summary of the vaccine scarcity challenge to come.
We have struggled with clear scientific communication about the pandemic this year — but this distribution plan is an opportunity to make that right. The stakes are as high as it gets now, when people are getting ready to get in line.
The story now is about doing everything possible to save lives through the next few months.
Most public health officials expect another surge of cases in weeks ahead, after a Thanksgiving weekend in which many Americans ignored advice and traveled to visit family.
The vaccines are on the way. Therapies that make a difference are here (Gilead, Regeneron, Lilly). Biotech has undoubtedly risen to the occasion.
But dark, dark days lay ahead. The death toll could exceed 450,000 by the end of February, according to the CDC director. We'll all be wearing masks and physical distancing for many months into 2021, until we can get a critical mass of people vaccinated. Our country, suffering from a breakdown of trust in our fellow countrymen, is going to struggle to overcome the vaccine hesitancy that's sadly become so common.
This weekend, I'm going to keep fingers crossed for Johnson & Johnson to nail its Phase III with a single-shot adenoviral vaccine. This one has been flying below the radar, but could provide a cheap, easy to manufacture, easy to distribute, effective vaccine option.
We need all the help we can get.
Biopharma, this is the time to show what it's all about.
Our Shared Humanity
Science of SARS-CoV-2
Treatments
Public Health
Vaccines
Science (Non-COVID related)
Science Features
Corrections, Brother

It's one thing to be wrong. Happens to everyone. But then there's dead wrong. John Ioannidis of Stanford University, in my view, is one of the people who fell into that unfortunate latter camp, in a very public way. He argued on Mar. 17 in STAT that public health authorities didn't have enough data on COVID-19 to order the drastic non-pharmaceutical interventions of that time. Apparently, he missed a lot of the memos on how to respond to deadly pandemic viruses that spread at exponential speed (act fast, act bold, don't wait for perfect data). Now, along comes Scientific American with a retrospective about the controversy. It only made things messier. See this doozy of an Editor's Note.
Deals
Biogen agreed to pay Cambridge, Mass.-based Sage Therapeutics $1.525 billion upfront as part of a deal to co-develop and co-commercialize zuranolone for major depressive disorder and postpartum depression, as well as SAGE-324 for essential tremor. The companies will split expenses and profits / losses 50-50 in the US. Biogen bought shares in Sage at $104.14 a share – a 40 percent premium over the company's prior 30-day trading average.
Merck & Co. divested its equity stake in Moderna, after seeing the stock surge 7-fold this year. Merck purchased a $50 million equity stake in the mRNA vaccine and therapeutics developer in January 2015.
Merck agreed to acquire Oncoimmune for $425 million upfront in cash. OncoImmune recently announced an interim analysis of a Phase 3 study with its CD24Fc directed treatment for patients with severe and critical COVID-19. Merck said that patients in the study had a 60 percent higher probability of improvement in clinical status. Details to come in a peer-reviewed medical journal.
Penn Medicine, home of gene therapy pioneer James Wilson, agreed to collaborate with Regeneron Pharmaceuticals on an AAV viral-vector based approach to prevention of COVID-19. The gene therapy approach quite obviously doesn't scale like a dirt-cheap vaccine, but scientists suspect it will provide rapid onset of antibody production, and lasting protection – features that might be useful for immunocompromised groups of patients and healthcare workers.
Janssen Pharmaceuticals acquired the rights to an experimental gene therapy for severe age-related macular degeneration from Hemera Biosciences. Terms weren't disclosed.
AbbVie agreed to pay $100 million upfront to South San Francisco-based Frontier Medicines as part of a collaboration to make small molecules against E3 ligases and other difficult targets for cancer and autoimmune disease.
Germany-based Merck KGaA agreed to pay $30 million upfront to New York-based Artios Pharma through a deal to work on precision cancer drugs focused on DNA damage repair mechanisms.
Palo Alto, Calif.-based Eiger Biopharmaceuticals sold a Priority Review Voucher to AbbVie for a $95 million lump sum payment. Eiger will split the proceeds 50-50 with The Progeria Research Foundation.
Rockville, MD-based Macrogenics collected a $25 million milestone payment from Incyte for its continuing collaborative work on an anti-PD-1 antibody. Separately, Macrogenics said it formed a partnership with Eversana to commercialize margetuximab, its Fc-optimized HER-2 directed antibody for cancer. The FDA deadline to complete its review of the drug candidate is coming up on Dec. 18.
South San Francisco-based Sunesis Pharmaceuticals agreed to merge with San Diego-based Viracta Therapeutics. The merged company will have $120 million in cash to work on viral-based cancers, including its lead program for Epstein-Barr virus-positive lymphomas.
Cambridge, Mass.-based Agios Pharmaceuticals introduced a program called Anemia ID, in which people suspected of having hereditary anemias can get genetic testing at no cost. This sort of program makes sense, because this is America, where most people live in fear of being gouged by the healthcare system. As a result, many people are thought to be suffering from undiagnosed hereditary anemias. Agios has reason to do rigorous outreach to this patient community (see below).
New York-based Schrodinger, the computational drug discovery company, struck a multi-target partnership with Bristol-Myers Squibb. Schrodinger is getting $55 million upfront. (See my in-depth interview with Schrodinger CEO Ramy Farid, Jan. 2019.)
Data That Mattered
Cambridge, Mass.-based Agios Pharmaceuticals met the primary endpoint in a pivotal study of mitapivat in adults with pyruvate kinase deficiency, a rare form of hereditary anemia, who are not regularly transfused. Regulatory filings are on deck for the US and EU in 2021.
New York-based Ovid Therapeutics failed in a Phase III clinical trial of its drug candidate for Angelman Syndrome. CEO Jeremy Levin didn't try to sugarcoat or spin the results, and demonstrated some class on a hard day for the company. I have no doubt his team will learn and move on in a productive way.

Financings
San Diego and Boston-based Resilience, a company aiming to create an more advanced biologics manufacturing ecosystem in North America, came out of stealth mode with $800 million in committed capital. ARCH Venture Partners managing director Bob Nelsen is the founder and chairman, and ARCH co-led the $750 million Series B investment round with 8VC. GV and NEA also participated.
Medfield, Mass.-based Kinaset Therapeutics raised $40 million in a Series A financing to develop an inhalable pan-JAK inhibitor for severe asthma. 5AM Ventures and Atlas Venture co-led. (Timmerman Report coverage)
Burlingame, Calif.-based Genesis Therapeutics raised $52 million in a Series A financing to further develop its AI platform for predicting the potency and bioavailability of drug candidates. Rock Springs Capital led. (Timmerman Report coverage).
Burlingame, Calif.-based Tallac Therapeutics, a company leveraging the innate and adaptive immune system against cancer, raised $62 million in a Series A. VenBio, Morningside Venture, Lightstone Ventures, Matrix Partners China, and MRL Ventures Fund participated.
San Francisco-based Spotlight Therapeutics, a company developing non-viral gene editing therapeutics for direct in vivo editing of target genes, raised $30 million in a Series A financing. GV led.
Seattle and Vancouver, BC-based Achieve Life Sciences raised $15 million in an IPO to develop cytisinicline for smoking cessation and nicotine addiction.
Personnel File
Boston-based Karuna Therapeutics named David Wheadon to its board of directors, replacing Ed Harrigan. Wheadon, a psychiatrist and former AstraZeneca executive, also serves on Karuna's scientific advisory board.
France-based Transgene, a viral immunotherapy cancer drug developer, named Hedi Ben Brahim as chairman and CEO. He replaces Philippe Archinard.
Chrissy Farr, health-tech reporter for CNBC in the San Francisco Bay Area, left to join OMERS Ventures as a principal, focused on health-tech investments. (See her Personal News column).
Arvin Yang joined Cambridge, Mass.-based Mersana Therapeutics as chief medical officer.
Shanghai-based Gannex, a unit of Ascletis Pharma dedicated to developing drugs for NASH, hired Melissa Palmer as chief medical officer. A hepatologist by training, Palmer was previously head of liver disease clinical development at Takeda Pharmaceuticals.
ASCO named a new chief medical officer. It's Julie Gralow, professor of medical oncology and director of breast medical oncology at the University of Washington, Fred Hutchinson Cancer Research Center, and the Seattle Cancer Care Alliance.
Cambridge, Mass.-based Vedanta Biosciences, the developer of microbiome-based therapies, named Troy Ignelzi to its board of directors. He's the chief financial officer of Karuna Therapeutics.
Ann Arbor, Mich.-based Penrose Therapeutics, a cancer drug developer, named Mark de Souza as CEO.
Scott Atlas resigned from his role advising the White House on coronavirus response.
Regulatory Action
Regeneron Pharmaceuticals won an Emergency Use Authorization from the FDA for its double-antibody cocktail, casirivimab and imdevimab, for mild to moderate COVID-19 in patients ages 12 and up (weighing at least 88 pounds). It's not for patients who are hospitalized or on oxygen. Now the pressure is on to see how far and wide Regeneron can manufacture and distribute this important medicine, which in all likelihood will save a lot of lives. See Meg Tirrell's Tweet on the supply timelines.

New York-based yMabs won FDA clearance to start selling naxitamab-gqgk (Danyelza) for neuroblastoma in kids age 1 and older. It's given in combo with GM-CSF. The new drug, first developed at Memorial Sloan Kettering Cancer Center, is an antibody that targets ganglioside GD2.
Tarrytown, NY-based Regeneron Pharmaceuticals won EU clearance for dupilumab (Dupixent), as a treatment for eczema (atopic dermatitis) in children ages 6-11. Nearly three-fourths of kids with this condition saw a 75 percent or greater improvement in their disease extent and severity, compared with 26 percent who did that well on placebo in a pivotal study. As a coincidence, a friend asked me recently about new treatments for two kids with this condition. I was happy to be the bearer of good news, encouraging him to look into the data, and ask his kids' doctor about it.
Palo Alto, Calif.-based Eiger Biopharmaceuticals won FDA approval for lonafarnib (Zokinvy) as a treatment for Hutchinson-Gilford Progeria Syndrome (HGPS or Progeria) and processing-deficient Progeroid Laminopathies (PL). These are ultra-rare diseases in which young kids are struck with premature aging.
Boston-based Rhythm Pharmaceuticals won FDA approval for setmelanotide (Imcivree) to treat chronic weight management in patients with certain genetic abnormalities confirmed by genetic testing.
Genentech won FDA approval for baloxavir marboxil (Xofluza) as a one-time treatment for influenza in people who have been exposed to an infected person. The approval is for patients ages 12 and up.
New York-based Kantaro Biosciences won FDA Emergency Use Authorization for an antibody test for COVID-19 that provides a quantitative readout on SARS-CoV-2 IgG antibodies.
AI for Predicting Protein Folding
This was a big deal for AI in drug discovery. Read some solid summaries of the results below.
Tweetworthy
Nobel laureate Frances Arnold of Caltech was impressed with the AlphaFold achievement, using AI to predict protein folding. But yes, there's more.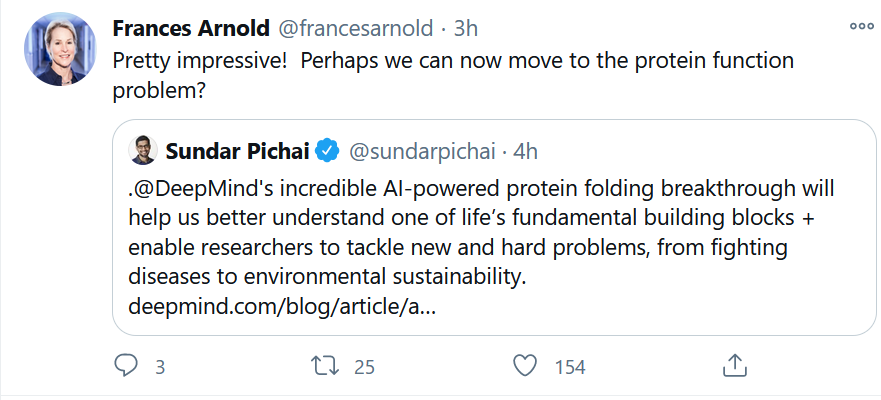 Science Communication (What Not to Do)