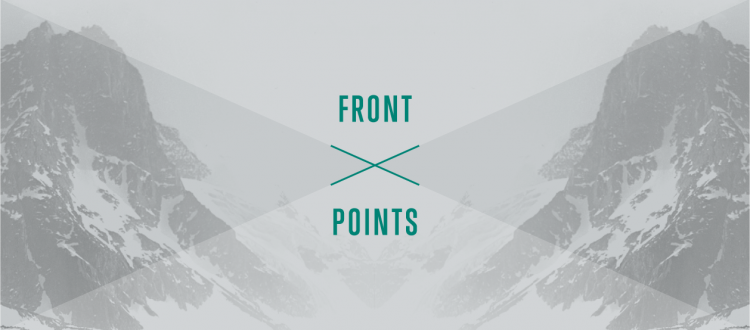 Pfizer, BioNTech Vaccine Gets FDA Advisory OK. Now Comes More Hard Work
The good news this week was really one of those good news / bad news stories.
An expert panel of FDA vaccine advisors looked at Pfizer's presentation for the mRNA COVID-19 vaccine candidate, and saw the outstanding results for what they were.
The vote was 17-4 (with one abstention) to recommend that the FDA give the go-ahead for an Emergency Use Authorization. This is the first step in the nation's biggest-ever vaccination campaign. Next week, we can expect another step when the committee reviews Moderna's application.
The bad news was that this meeting was a missed opportunity. There were technical sound glitches. Too much time was spent on picayune matters (include 16 and 17-year-olds in the label or just 18+?). Not enough time was spent on important questions (getting a careful read on potential anaphylactic reactions, vaccinations for pregnant women.).
The chairman was too fixated on sticking to the allotted time, and not fixated enough on fostering thoughtful dialogue. Panelists didn't have a chance to explain their votes — usually the most revealing part of an FDA advisory committee meeting. Little was done to advance public education, and build public trust.
This last point can't be emphasized enough. Within minutes, major media outlets and political leaders were butchering basic facts. The vaccine was not "FDA Approved!" as many headlines blared – it was a positive recommendation from an advisory committee. We all know that the FDA makes the actual decision to authorize, and its staff will craft important language in the prescribing information about safety warnings, restrictions, and what safety monitoring protocols will look like.
But just because we know it doesn't mean everyone else knows it.
Which brings me to my main point today, the one that keeps twisting my stomach in knots.
We in the scientific community, and the biopharma community, have to do a lot of listening, and a lot of very careful communicating about vaccines in the months ahead. Really hard work lies ahead.
I'm not talking about distribution – the US military and FedEx and UPS are aces at this stuff. I'm talking about the messy business of communication and fact-based rational discussion – which our country doesn't do well.
We all have work to do. Each of us can function like a trusted source, a knowledge node of sorts, for people in our circles – friends, family, neighbors, non-scientific colleagues.
My sense is that not enough people in biopharma have gotten the memo about how serious the vaccine hesitancy problem is in this country.
We are divided politically, to state the obvious. People are more than a little stir crazy being stuck at home, bombarded with endless gloomy headlines. Misinformation is everywhere.
How bad is this vaccine hesitancy you keep hearing about?
In November (AFTER the positive Phase III Pfizer and Moderna results), a Pew Research Center poll found:
About 1 out of every 5 people in this country said they would "definitely" not take a COVID-19 vaccine if it were available.
Another 1 out of every 5 people in this country said they would "probably" not take a COVID-19 vaccine if available.
That's a lot of people — 2 out of every 5 people in America — expressing something between deep skepticism, and outright contempt.
Many of you are well aware that Tony Fauci and others have said we probably need 70-75 percent of the country to get vaccinated in order to achieve herd immunity that will bring the pandemic to an end.
We know that about 20 percent of the country – people on the far left who fear Big Pharma and people on the far right who fear Big Government – will not voluntarily take a vaccine. That means you have to assume that almost everyone who says they "probably" won't take it will actually come around at some point and get the shot in their arm.
The margin for error is slim.
Now, consider this piece of data in Nursing World (h/t to TR reader Mike Kuczkowski for the pointer).
In October (BEFORE the positive Phase III vaccine results), a Pulse survey by the American Nurses Foundation was taken by 12,939 nurses across the country.
It found:
34 percent of nurses said they would voluntarily take a COVID-19 vaccine.
48 percent said they were "somewhat confident" a vaccine will be safe and effective.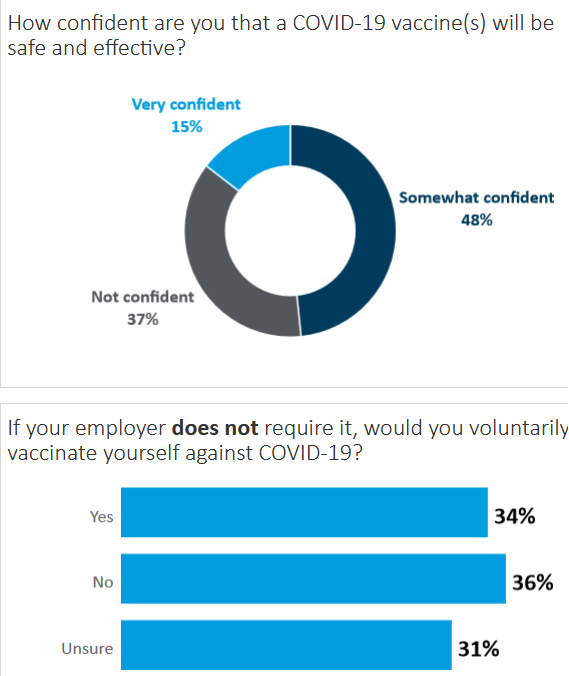 It's important to know this is a survey that doesn't use scientific random sampling. Sentiment may also have shifted a bit in November, after positive news on the vaccines.
But I'm still alarmed that nurses – an educated group of healthcare workers who have been on the frontline doing heroic work this year – have so little confidence in the vaccine cavalry.
Nurses are among the most trusted of all professionals in America. If they send doubtful vibes, or traffic in misinformation about vaccination – then we have trouble ahead in this vaccination campaign to come.
I talk to many biopharma leaders, and I don't think this is high on many agendas. Many of you are logical thinkers, like Spock. Many assume that a 95 percent effective vaccine with minor side effects is something everyone will want. Many of you aren't surrounded by crazy people. Some of you may be thinking about the past, when you could shrug off "anti-vaxxers" in Marin County as fringe actors. Maybe you just color between the lines of what regulators say you can say about medical products, and assume communication is someone else's job.
Maybe Obama, Bush, Clinton, LeBron and Ellen DeGeneres will take care of that.
Maybe these people can help to some degree. But I think this takes all of us. We are all knowledge nodes, trusted by people in our little network bubbles. We should take that responsibility seriously. Let's pick up the phones, talk with people we haven't talked with in a while, and spend more than half the conversation listening (even when cringe-worthy things are said).
But when the conversation is done, let them know you're ready to roll up your own sleeve for that shot.
I sure am.
Science
Analytical validity of nanopore sequencing for rapid SARS-CoV-2 genome analysis. Nature Communications. Dec. 9. (Rowena Bull et al)
Temporal and Spatial Heterogeneity of Host Response to SARS-CoV-2 Pulmonary Infection. Nature Communications. Dec. 9. (Niyati Desai et al)
Vaccines
Long COVID
COVID Survivors With Long-Term Symptoms Need Urgent Attention. Summary of NIH Summit. NYT. Dec. 4. (Pam Belluck)
This COVID-19 Long Hauler is Still Trying to Recover. Timmerman Report. Dec. 7. (Blair Clark-Schoeb)
Science-Industry Relations
An Opportunity to Improve Innovation. Science. Dec. 11. (Holden Thorp)
Deals
South San Francisco-based Atara Biotherapeutics secured $60 million upfront through a partnership with Bayer. The companies will work together to develop off-the-shelf and personalized T-cell therapies for mesothelin-expressing cancers.
BridgeBio Pharma and Maze Therapeutics agreed to form a joint venture, Contour Therapeutics, to develop precision medicines for cardiovascular disease.
Financings
San Diego-based RayzeBio pulled in $105 million in a Series B financing to advance its platform for making targeted radiation therapies for cancer. Venrock Healthcare Capital Partners led.
Cambridge, Mass.-based Vigil Neuroscience raised $50 million to develop microglia-targeting therapies for neurodegenerative diseases. Atlas Venture and Northpond Ventures co-led. Ivana Magovčević-Liebisch is the startup CEO.
Cambridge, Mass.-based Remix Therapeutics raised $81 million in seed and Series A financing to advance its small-molecule discovery program aimed at RNA processing targets.
Mountain View, Calif.-based DeepCell, a company using AI for cell classification and isolation research tools, raised $20 million Series A led by Bow Capital and joined by Andreesen Horowitz.
Boulder, Colo.-based Edgewise Therapeutics raised $95 million in a Series C financing to advance oral treatments for Duchenne and Becker muscular dystrophies. Viking Global Investors led.
South San Francisco-based Sutro Biopharma, the developer of targeted drugs for cancer and autoimmunity, raised $126 million in a stock offering priced at $21 a share. The company raised cash after presenting clinical data at the American Society of Hematology.
Mountain View, Calif.-based IGM Biosciences raised $200 million in a stock offering at $90 a share. The company also seized upon momentum from a positive presentation at the ASH annual meeting of its bispecific antibody directed at CD20 and CD3 for relapsed / refractory non-Hodgkin's lymphoma.
Boston and San Francisco-based Pear Therapeutics, the developer of digital therapeutics, raised an $80 million Series D financing led by SoftBank Vision Fund 2.
Our Shared Humanity
Our Fractured Political Discourse
Rick Santelli of CNBC and the Danger of Flouting COVID-19 Facts. Bloomberg News. Dec. 7. (Timothy O'Brien)
Trump and Friends Got Coronavirus Care Others Couldn't. NYT. Dec. 9. (Sheryl Gay Stolberg)
'A Scary Time': Researchers React to Agents Raiding Home of Former Florida COVID-19 Data Scientist. USA Today. Dec. 9. (Alessandro Marazzi Sassoon)
Science Features
Infected After 5 Minutes, From 20 Feet Away. South Korea Study Shows COVID-19 Spread Indoors. Los Angeles Times. Dec. 9. (Victoria Kim)
Blunders Eroded US Confidence in Early Vaccine Frontrunner. NYT. Dec. 8. (Rebecca Robbins et al)
Epidemiology
COVID-19 Mortality Among American Indian and Alaska Native Persons — 14 States, January–June 2020. CDC Morbidity and Mortality Weekly Report. Dec. 11. (Jessica Arrazola, Matthew Masiello et al)
Evidence of Long-Distance Droplet Transmission of SARS-CoV-2 by Direct Air Flow in a Restaurant in Korea. Journal of Korean Medical Science. Nov. 23. (Keun-Sang Kwon et al)
Racial Disparities in Patients with Coronavirus Disease 2019 Infection and Gynecologic Malignancy. ACS Cancer. Dec. 9. (Olivia Lara et al)
Management
Data That Mattered
South San Francisco-based Global Blood Therapeutics provided updates at the American Society of Hematology on inclacumab, an antibody directed at P-selectin, to reduce the frequency of vaso-occlusive crises (VOCs) in patients with sickle cell disease, and GBT021601, a hemoglobin S (HbS) polymerization inhibitor. GBT also said at ASH that its sickle cell disease treatment — voxelotor (Oxbryta) — was able to deliver greater than 1 gram per deciliter of improvement in hemoglobin improvement from baseline, through a 72-week study, for 90 percent of patients. The long-term follow-up is consistent with earlier presentations from 24 weeks of analysis.
South San Francisco-based Sutro Biopharma reported on its CD-74 directed antibody-drug conjugate at ASH. From 18 evaluable patients in a dose-escalation Phase I study, Sutro found the treatment to be well-tolerated, and saw no maximum tolerated dose. Of the 7 patients with diffuse large B-cell lymphoma, the company reported 1 Complete Response and 2 Partial Responses. Enrollment is continuing at a higher dose.
San Diego-based Fate Therapeutics reported at ASH on its iPSC-derived off-the-shelf engineered Natural Kill cell therapy in refractory diffuse large B-cell lymphoma. The NK cells are engineered to target CD19, the antigen where CAR-T cell therapies first found success. The company reported on a case study of a single patient who got a single dose, and achieved a Partial Response in the first dose cohort with 30 million cells. The response improved on the second dose, and no severe adverse events were reported, the company said. Shares rocketed from $60.71 a share prior to ASH to $96.85 at yesterday's close.
Mountain View, Calif.-based IGM Biosciences reported at ASH on a Phase I dose-escalation study of its bispecific antibody directed at CD20 and CD3. Of the 14 patients with relapsed, refractory non-Hodgkin's lymphoma on a variety of low doses, 9 showed evidence of tumor shrinkage, and 2 counted as Partial Responses. No severe side effects, particularly worrisome ones like cytokine release syndrome or neurotoxicity, were observed, the company said. Shares in the company boomed from $62.56 before ASH to a high of $133 a share on Wednesday, before cooling off.
Switzerland and Cambridge, Mass.-based CRISPR Therapeutics and its partner, Vertex, reported at ASH on their gene edited therapy for beta-thalassemia and sickle cell disease at ASH. All 7 patients with beta-thal – followed between 3 and 18 months after CTX-001 infusion, were able to stay off blood transfusions. All three sickle-cell disease patients, followed for 3 to 15 months, were free of vaso-occlusive crises – the painful episodes that often send sickle cell disease patients to the hospital. CRISPR Therapeutics now has a market valuation approaching $11 billion.
Cambridge, Mass.-based Evelo Biosciences reported on its orally available monoclonal microbial drug, EDP1815, from a Phase I study of 23 patients with mild to moderate atopic dermatitis (eczema). The drug showed a statistically significant improvement compared with placebo at Day 56, and improvements were observed as soon as Day 14.
Legal Corner
BIO, the California Life Sciences Association and Biocom filed suit in US District Court in Northern California against HHS and CMS over the administration's attempt at drug price controls through the "Most Favored Nations" executive order.
Regulatory Action
The United Arab Emirates approved an inactivated COVID-19 vaccine from Sinopharm, the Chinese state-owned company. The UAE regulators said the Sinopharm vaccine was 86 percent effective in preventing COVID-19 infection, and 100 percent effective at preventing moderate to severe COVID-19 disease. The UAE didn't provide a detailed breakout of the data. (See the statement). And NYT coverage.
Regulators in India declined to grant an Emergency Use Authorization to the AstraZeneca COVID-19 vaccine, asking for more safety and efficacy data, according to Reuters.
Personnel File
President-Elect Joe Biden selected Rochelle Walensky of Massachusetts General Hospital, an HIV researcher and savvy communicator, to be the new director of the Centers for Disease Control and Prevention. (STAT coverage by Helen Branswell)
San Diego-based Molecular Assemblies, an enzymatic DNA synthesis company, hired Phil Paik as VP of platform development. He was associate director of engineering at Illumina.
South San Francisco-based Global Blood Therapeutics hired Kim Smith-Whitley, M.D., the director of the Comprehensive Sickle Cell Center at Children's Hospital of Philadelphia, to be executive vice president of R&D. She starts officially in 2021.
Andrew Peterson joined Broadwing Bio as founder and CEO. Broadwing is being formed by Maze Therapeutics and Alloy Therapeutics. Broadwing will develop targeted antibody drugs for ophthalmic diseases.
Science, Non-COVID
The Role of the Microbiota in Human Genetic Adaptation. Science. Dec. 4. (Taichi Suzuki and Ruth Ley)