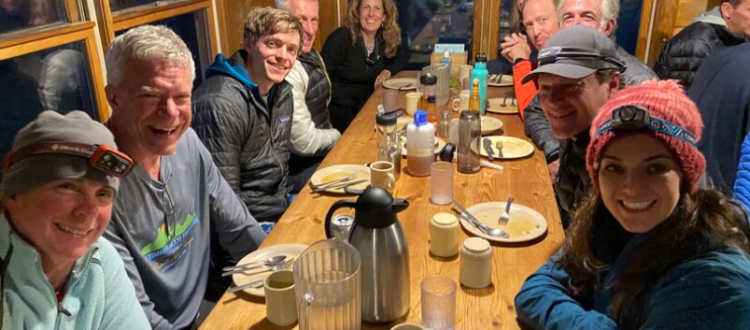 A Magical Time in the Presidential Range, Giving Back to Community
The Timmerman Traverse for Life Science Cares was everything I dreamed it would be.
Here's a quick recap:
The team of 20 raised $706,000 to fight poverty
51 sponsors participated
About 530 individuals contributed
We lucked out with the weather
For those unfamiliar, the Timmerman Traverse for Life Science Cares brought together a team of 20 biotech executives and investors to hike the Presidential Traverse in the White Mountains, Sept. 13-15, 2021.
This 20-mile trail goes up and across the most famous peaks in New England – Mt. Washington, Jefferson, Adams, and more. It's demanding, as it involves 8,800 feet of net elevation gain. Our group was composed of some experienced hikers, and some enthusiastic beginners. We spent 2.5 days together on the rugged trails, with a couple nights in Appalachian Mountain Club huts.
This team felt some brisk wind in their faces. When the clouds passed on the high ridgeline, they got to bask in the sun, marveling at Mother Nature – at long distance and close range.
They pushed themselves physically. There were a couple long, 9 to 10-hour days on the trails. There were some tired legs. There were a couple sore ankles and knees, and a few moments when people needed to extend a hand to a teammate. That was never a question. This team was imbued with a spirit of kindness, generosity, and good humor from start to finish.
Most importantly, people in this group got to know some amazing biotech entrepreneurs and investors as people on a deep, human level. Friendships were formed that will last a lifetime.
See what a few members of the team had to say:
"It was amazing to see leaders across our biotech industry come together to raise funds to help bridge the unfortunately real gap between the medicines we develop, and the patients and communities who need access to them. I'm so grateful to be part of this dream team, and hopeful that the funds we are raising for Life Science Cares will help impact and support vulnerable communities across the country." – Vineeta Agarwala, general partner, Andreesen Horowitz
"This team displayed innate motivation to help each other at those inevitable tough moments that arise for each of us along our journey. The same is true of our life science industry as we work together through Life Science Cares to help those in our community through their tough moments." – Samantha Truex, venture partner, Atlas Venture
"I've traversed the Presidential Range many times in all kinds of conditions over the years, but the Timmerman Traverse was the most fun yet: an incredible group of people raising money for an amazing cause in Life Science Cares – hope I can join you again next year!" – Art Krieg, founder and chief scientific officer, Checkmate Pharmaceuticals
"One unique thing about this group was the combination of discussing some aspect of new biology, cutting-edge drug development or drama in boardrooms while gingerly navigating the murderous talus of Mt. Adams et al." – Jens Eckstein, managing partner, Apollo Health Ventures
"The industry is at its best when we come together to solve challenges: whether that is navigating boulders on Mt. Clay, or raising money and awareness for charities like Life Science Cares; a helping hand, teamwork, and support for one another are the hallmarks of success, and this team had them in spades." — Jeb Keiper, CEO, Nimbus Therapeutics
"During dinner on Day 1, a lone hiker sat with us for dinner at the AMC hut and shared that he was on a solo trek to Georgia with hopes of arriving by Christmas. Being about 300 miles in, we asked him what his biggest learning was so far. His response was this: 'It has reminded me what really matters, you know? Family, a roof over your head, and food on the table.' His comments became a drum beat that helped us put one foot in front of the other the rest of the week…True leadership is grounded in service and I count myself as fortunate to have been able to be part of the Timmerman Traverse team – a group that has really set the standard of excellence for giving back to the community." — Katherine Andersen, head of life sciences, SVB
"We started as industry colleagues with an aligned philanthropic goal. We finished as friends, deeply connected through an experience none of us will ever forget and all of us will work to rekindle in our lives." — Reid Huber, partner, Third Rock Ventures
"On the top of Mt Clay, there are no hierarchies, job titles, favored sons, or favored daughters. You are driven by your personal grit, your fellow climbers, and the beauty and challenges in front of you. We climbed for ourselves, we climbed for each other, but most importantly we climbed for the community being served by Life Science Cares. It was a bond we will never lose." — Dave Melville, founder and CEO, The Bowdoin Group
"Not all who wander are lost. Together this team forged common ground to lift up those less fortunate, climbing new heights and supporting each other every step of the way." — Alice Pomponio, managing director, BrightEdge, American Cancer Society
This isn't a one-off thing. Since 2017, with the Everest Climb to Fight Cancer for Fred Hutch, I've been serving as a volunteer, mobilizing the biotech community to give back. Sometimes that involves giving back to the scientific community and sometimes that involves giving back to the wider community in which we all live and work.
Life Science Cares is a phenomenal organization that helps the biotech community leverage its resources – financial and human – to make a bigger impact in the fight against poverty.
I'm excited to see where this goes.
If you supported this campaign already, THANK YOU. If you are curious about getting involved in future trips, let's talk.
There's tremendous capacity for good in this industry. Let's tap into it. luke@timmermanreport.com.