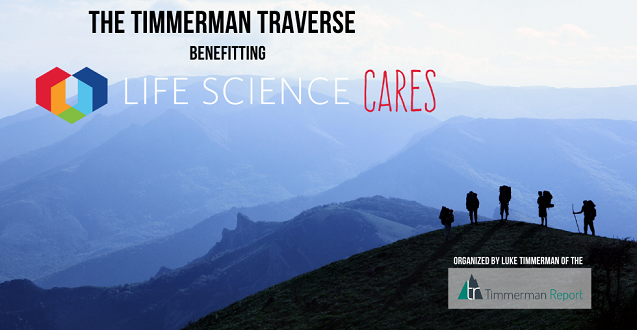 The Timmerman Traverse for Life Science Cares Is Back, Fighting Poverty
The biotech community has plenty of people willing to work to support vulnerable members of our society.
This year, I'm doing what I can to again mobilize the biotech community to fight poverty.
I'm happy to announce the Timmerman Traverse for Life Science Cares.
It's a Presidential Traverse hike set for Sept. 11-14, 2022.
This expedition builds on the success of the inaugural traverse, which raised $735,000 last year for the antipoverty work of Life Science Cares. This trip is a phenomenal way to give back, enjoy nature, and make lasting friendships.
"It was amazing to see leaders across our biotech industry come together to raise funds to help bridge the unfortunately real gap between the medicines we develop, and the patients and communities who need access to them," said Vineeta Agarwala, general partner, Andreesen Horowitz, and a veteran of the Timmerman Traverse 2021.
This year, a new group of 20 biotech leaders will hit the trails of New Hampshire. Together, we'll cover the beautiful 20-mile hike across the peaks of Mt. Washington, Mt. Adams, and Mt. Jefferson. It's a physically demanding trek with 8,000 feet of elevation gain.
Each member of the team will have to be in shape. The weather can be harsh, so they'll have to be prepared. They'll also have to dedicate themselves to fundraising. Each person is committing to raise at least $25,000. Our team's goal is $800,000.
This year, we'll be expanding from Boston to raise money for all four communities where LSC has operations – Boston, San Francisco, San Diego and Philadelphia.
For those unfamiliar, Life Science Cares brings the biotech community together to support nonprofits that uplift the most vulnerable members of our society.
This means providing immediate basics like food and shelter. And it goes beyond that. LSC's network of nonprofits also provide on-ramps to better life over the long term through education and job training.
I'm proud to support this work, and to leverage the biotech community to support it in a big way.
I've recruited a outstanding team for this mission.
Meet the Timmerman Traverse team for 2022 (and click on their name to support their Life Science Cares campaign.)
Luke Timmerman, founder & editor, Timmerman Report
Katherine Andersen, head of life sciences, SVB
Doug Fambrough, former CEO, Dicerna Pharmaceuticals
Dave Melville, founder and CEO, The Bowdoin Group
Sue Hager, chief investor relations and communications officer, Section32
Alex Harding, senior vice president, Remix Therapeutics
Bernat Olle, CEO, Vedanta Biosciences
Mark Murcko, founding CSO, Dewpoint Therapeutics
Art Krieg, founder and CSO, Checkmate Pharmaceuticals
Amanda Banks, advisor, Harbinger Health
Chip Clark, CEO, Genocea Biosciences
Julie Sunderland, managing director, Biomatics Capital
Parag Shah, CEO, K2 HealthVentures
Uciane Scarlett, principal, MPM Capital
Josh Thornton, partner, Centerview Partners
Lalo Flores, CEO, Century Therapeutics
Bonnie Anderson, co-founder, executive chairwoman, Veracyte
Deborah Palestrant, partner, 5AM Ventures; head of 4:59
Nina Kjellson, general partner, Canaan Partners
Mostafa Ronaghi, CEO, Dynamics Special Purpose Corp; former CTO, Illumina
For sponsorship opportunities of this special event, talk to me at luke@timmermanreport.com and Emily Stanford at emily@lifesciencecares.org.
Let's show what the biotech community is made of in 2022.