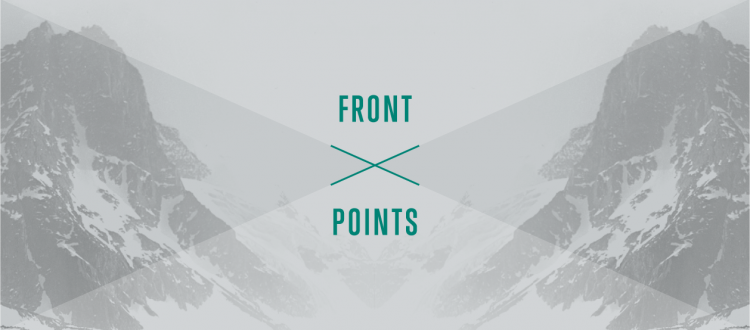 A Path Forward for More Biotech Workers
Biotech needs more workers. More people who don't have PhDs and MDs.
The industry is 40 years old, and maturing. More companies are developing commercial products. Someone needs to make these products with precision, and at scale.
Given the sophisticated nature of the products (cell therapy, gene therapy, advanced biologics, RNA medicines), the fragile global supply chains, and the importance of steady supplies for patients, there's a case to be made for manufacturing close to home. (See "Biotech's Future off the Beaten Path, Feb. 2022.")
Many companies see where this is going. One estimate by MassBio shows that 20 million square feet of lab and manufacturing space is coming online in Massachusetts by 2024. These facilities alone will create 40,000 net new jobs. That's a lot of jobs for manufacturing technicians, lab managers, clinical trial associates, quality control, facilities managers and many other jobs that don't require a PhD. There are currently about 85,000 biotech jobs in Massachusetts.
Who will do this all this extra work? Where will these people get the necessary skills and experience?
The good news: There are people who are willing and able to do this work, if companies are willing to put some skin in the game and invest in training.
Last week, I learned about a fascinating apprenticeship program run by MassBioEd, a branch of the local trade association. The early results are impressive. More on that in a minute.
The program was designed by Karla Talanian at MassBioEd, and based on models from Apprenti, a tech industry workforce development group.
Here's how the biotech program works.
People apply for a 4-month training program in biomanufacturing, or a 3-month training program to become a clinical trial associate. Students learn some fundamentals of industry.
For biomanufacturing, Northeastern University is the academic partner. Faculty teach 2 months online, and follow that up with 2 months of hands-on work at a Northeastern lab in Burlington, Mass. The clinical research track is taught online by faculty from the Association of Clinical Research Professionals — people who know how clinical trials work.
Tuition is free. When the apprentices complete their training, they are paired up with an employer for 1 year of work. Employers get to choose from a handful of graduates in an interview process. The biomanufacturing technicians start at $21 an hour, while clinical trial associates start at $27 an hour. There's an opportunity for a raise at the halfway point.
The apprentices have a boss, but they are also matched with a workplace mentor – a seasoned employee who can answer questions. Once a month, the apprentices can meet with their peers and other program participants. At the end, there's no obligation. The employer can hire the employee for a full-time permanent position, or let the employee walk away for a job elsewhere. But once a person has been trained at a company, if the person is doing well, there's a natural incentive to want to retain the person.
The initial cohort of 30 people – 19 in biomanufacturing and 11 CTAs – have completed their training and are now embedded in the workforce.
Who are they? In their previous lives, they were restaurant workers, retail cashiers, Uber and Lyft drivers. One was a math teacher. MassBioEd does targeted outreach to immigrant support groups, adult education centers, veterans groups to find candidates.
The first group of apprentices had an average age of 33.
It's a diverse group, in many ways.
60 percent people of color
63 percent female
26 percent immigrants
47 percent were unemployed
The one thing they all had in common? "None of them would have had a prayer of getting a job in the industry without this program," MassBioEd's Talanian said.
The program has been life-changing. Some of the program graduates had attended college for a while, but didn't finish for whatever reason – couldn't afford it, got pregnant, had to take care of an ailing family member. They've tried to get by, but struggle in low-wage/low-benefit/no future jobs. The idea of going to work in biotechnology is thrilling. It's an industry with good salaries, good benefits, upward mobility, interesting colleagues, and making products that help people. It changes their outlook on life.
"Many of them didn't think they'd ever have an opportunity to pursue their dreams," Talanian said. "They are so grateful and excited to have this opportunity. They dive in."
One professor from Northeastern University, with 20 years of experience, was blown away. The professor told Talanian that out of the 19 students in the initial biomanufacturing group, about 14-15 were among the most motivated, dedicated students he's ever taught.
The employers are impressed. All five of the employers that signed up for the pilot project have renewed their commitment for Year 2, agreeing to take on more apprentices, Talanian said. The group includes Pfizer, Bristol Myers Squibb, Alnylam Pharmaceuticals, MassBiologics, and Arranta Bio.
"If all five came back, it must be working well," Talanian said.
Alnylam participated in the original cohort because it was good for the community, but it was also good for the company as it scales up manufacturing in Norton, Mass.
"The level of energy and commitment to making this opportunity at a new career successful stood out the most for us," said Al Boyle, chief technical ops and quality officer for Alnylam. "We knew the talent pool would be diverse, but I think the level of diversity was even larger than we thought we'd see."
Word has gotten around the biotech community. After a couple of years working hard to persuade companies to commit to the program, Talanian now finds herself with the opposite problem. She has to shoo away some interested companies because she's maxed out capacity for Year 2. The program is expanding from 30 spots for 5 companies to 100 spots for 11 companies. (Participants listed below).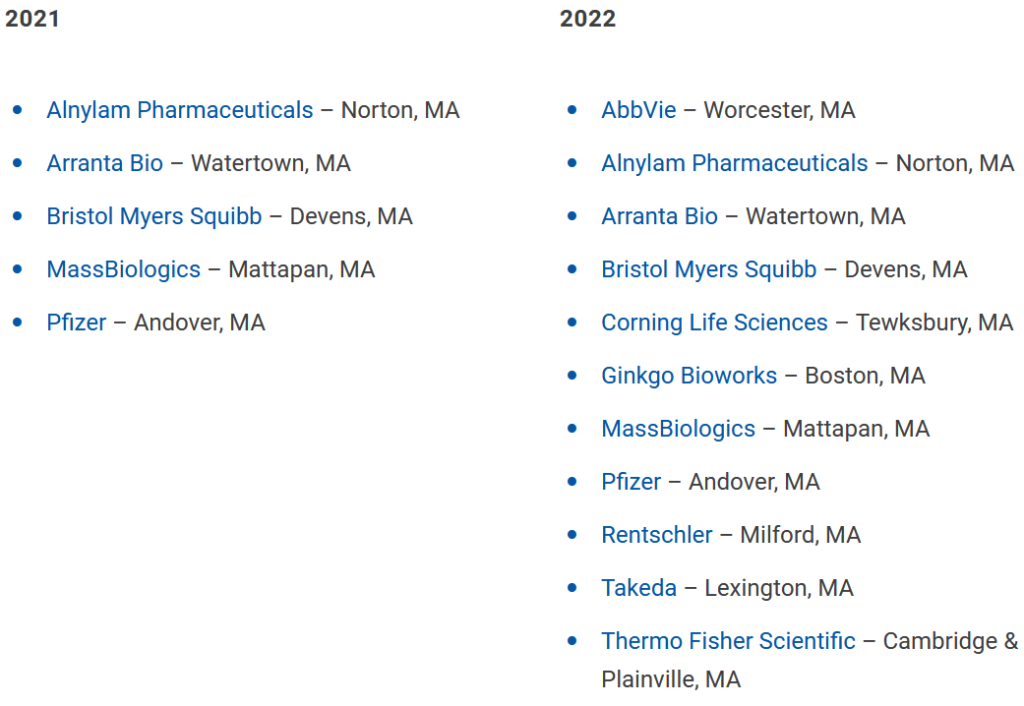 Manufacturing and clinical trial associates are obvious places to start, but there are biotech functions that could benefit from filling up the entry level pipeline.
Talanian is hearing from companies that want apprentices who can get into lab operations support. These are jobs for people who order supplies, deal with environmental health and safety regs, cleaning, lab certifications, repairs. "We want to let the scientists do science, and take all that other stuff and professionalize it. Make it a respectable position to go into," Talanian said.
Laurie Halloran, the CEO of Halloran Consulting Group, is a member of the MassBioEd board who has acted like a "godmother" to the program. Halloran told me she sees potential for similar apprenticeship programs for regulatory affairs – another area where it's hard to hire.
"We can't keep stealing each other's people. We need to grow more people," Halloran said.
There are still companies that are cautious, taking a wait-and-see approach, she said. "They don't want to be the guinea pigs."
This is a program that's graduating from the experimental phase. It looks more like a train that's leaving the station.
If the industry is serious about meeting its workforce needs, and about diversity/equity/inclusion, then it will consider programs like this one. The employees are motivated, curious, and likely to be loyal to the company that gave them their first shot.
There's a lot of talent in this country, waiting to be tapped. Biotech could be a beacon for a new generation of young people starting their careers.
If the industry is willing to take a few chances, it could reach new heights.
Science Policy
Science
Unexplained post-acute infection syndromes. Nature Medicine. May 18. (Jan Choutka et al University of Chemistry and Technology, Prague, Czech Republic)
CRISPR'd CAR-T Cells in the Clinic. In the Pipeline. May 18. (Derek Lowe)
Strategy
Our Dysfunctional Healthcare System
Seven health insurance CEOs raked in a record $283 million in compensation last year, while profits grew and patients delayed getting treatment during the pandemic. STAT. May 12. (Bob Herman)
Financings
Cambridge, Mass.-based Remix Therapeutics, a company making small molecules aimed at RNA processing targets, raised $70 million in a Series B financing. (TR coverage)
The US government's Biomedical Advanced Research & Development Authority (BARDA) and UK-based Wellcome committed another $370 million to CARB-X – a program at Boston University to fight antibiotic-resistant bacteria. The program was started with $355 million in 2016.
HealthQuest Capital raised $675 million for a growth equity fund. Garheng Kong founded the firm in 2013, and it now has $1.6 billion under management. The firm said it plans to use the new fund to back "commercial-stage companies that improve patient outcomes, or reduce cost and inefficiency in the healthcare system."
Apollo and Sofinnova Partners announced a strategic partnership, in which Apollo is acquiring a minority stake in the European-based life science venture firm. Apollo is also committing up to 1 billion Euros to facilitate the venture firm's growth.
Philadelphia-based SwanBio Therapeutics raised a $56 million Series B financing to develop gene therapy for neurological conditions. Syncona Limited and Mass General Brigham Ventures led. The lead program is an AAV gene therapy in clinical development for adrenomyeloneuropathy.
Research Triangle Park, NC-based Locus Biosciences said it raised $35 million to advance bacteriophage therapies for bacterial diseases.
Redwood City, Calif. and Research Triangle Park-based Kriya Therapeutics, a gene therapy company, raised $270 million in a Series C financing. Patient Square Capital led. Kriya plans to use the money to expand its pipeline, and scale up its engineering, manufacturing, and computational platforms.
Curie Bio, a new VC firm headed by Alexis Borisy and Zach Weinberg, has raised $250 million from a syndicate that includes GV, Casdin Capital and A16Z, according to STAT. The firm plans to "free the founders" as Borisy put it, allowing founders to hold onto a greater equity stake in startups than usual.
San Diego-based Aspen Neuroscience raised $147.5 million in a Series B financing. GV, LYFE Capital and Revelation Partners co-led. The company is developing an induced pluriopotent stem cell-derived autologous dopamine neuron replacement therapy for Parkinson's Disease.
Morrisville, NC-based Inceptor Bio raised $37 million in a Series A financing to develop CAR-T, CAR-M, and CAR-NK therapies for cancer. Kineticos Ventures led.
Deals
Pfizer agreed to pay $11.6 billion to acquire Biohaven Pharmaceuticals, which had developed and begun to successfully commercialize an anti-migraine drug.
Cambridge, Mass.-based Be Biopharma, the developer of engineered B-cell therapies, announced a partnership with Resilience. Be Bio plans to lean on Resilience to manufacture viral vectors and cell therapies with personnel dedicated to its projects. Terms weren't disclosed, but the companies described the arrangement as "a creative cost and risk-sharing model," in which "Resilience will be responsible for manufacturing costs and receive potential future milestones and royalties."
Cambridge, Mass.-based Myeloid Therapeutics formed a partnership with Acuitas to provide lipid nanoparticles for delivering the company's in vivo mRNA programming therapies for cancer.
London-based RQ Bio came out of stealth mode, announcing it has outlicensed monoclonal antibodies to SARS-CoV-2 to AstraZeneca.
Menlo Park, Calif.-based GRAIL expanded its partnership with Intermountain Healthcare, the largest private employer in Utah. The company is now offering its test, designed to detect 50 different types of cancer at an early stage, to Intermountain employees and family members.
South San Francisco-based Atara Biotherapeutics said that Bayer intends to end its partnership in Sept. 2022. Atara will get back the full rights to allogeneic and autologous CAR-T cell therapy candidates directed against mesothelin-expressing tumors.
Japan-based Otsuka Pharmaceutical is ending its partnership with Akebia Therapeutics, the developer of vadadustat for anemia from chronic kidney disease. The drug application received a Complete Response Letter from the FDA earlier this year.
Personnel File
Seagen's co-founder, chairman and CEO, Clay Siegall, is out of a job after 25 years. He resigned after being arrested and charged with 4th degree domestic assault, stemming from an incident at his home on Apr. 23. Days earlier, the company said Siegall was on a leave of absence, and that it had formed a special board committee to investigate the charges with an independent law firm. Roger Dansey, the chief medical officer, is serving as interim CEO while the board begins the search for a permanent CEO. It's a troubling and sad chapter for a company that has long been a leader in antibody-drug conjugates for cancer. Seagen is the anchor company of the Seattle biotech community, with four marketed cancer drugs, nearly 3,000 employees worldwide, and a market valuation of $26 billion. People have been speculating about Seagen as a takeover candidate for at least 15 years, and rumors are spreading again. I think Seagen still could have a bright independent future under a new leader. Antibody-drug conjugates are maturing as a technology, and they are likely to be applied to many more tumor types in the near future. I also wrote here in February about the company's shrewd bet on manufacturing in Everett, Wash. 'Biotech's Future Off the Beaten Path.'
Flagship Pioneering merged a couple of its portfolio companies, Inzen Therapeutics and Cygnal Therapeutics, into a new entity called Sonata Therapeutics. It will aim to use small molecules and genetic medicines against cancer, fibrosis and autoimmune disorders. Volker Herrmann, the former CEO of Inzen, will run the new company. Pearl Huang, the former CEO of Cygnal, is moving on to new opportunities.
Waltham, Mass.-based Xilio Therapeutics, the developer of tumor-selective immunotherapies, hired Stacey Davis as chief business officer. She comes from Novartis.
Eli Lilly said Mary Lynne Hedley is joining its board of directors. She is currently a senior scientific fellow at the Broad Institute, and previously was president and chief operating officer of Tesaro. That company was acquired by GSK.
Cambridge, Mass.-based Agios Pharmaceuticals said it's cutting up to 50 jobs in research, and that chief scientific officer Bruce Car is stepping down in July. Sarah Gheuens, the chief medical officer, will keep that role and also take responsibility as head of R&D. The company said it expects to save $40-$50 million a year.
Cambridge, Mass.-based Scholar Rock said it's cutting 25 percent of its workforce.
Switzerland and Cambridge, Mass.-based CRISPR Therapeutics hired Phuong Khanh Morrow as chief medical officer. She was previously with Amgen.
The Mark Foundation for Cancer Research, based in New York, promoted Ryan Schoenfeld to permanent CEO. He had been serving on an interim basis since August.
Waltham, Mass.-based Morphic Therapeutic, the developer of small molecule drugs against integrin targets, promoted Bruce Weber to president. He's been chief scientific officer since Jan. 2016. Morphic also hired Joanne Gibbons as senior vice president of regulatory affairs. She previously worked with Codiak Biosciences.
Dublin, Ireland and Bridgewater, NJ-based Amarin announced a boardroom shakeup. Per Wold-Olsen is the new chairman of the board, and Erin Enright and Alfonso "Chito" Zulueta are new directors. David Stack and Joe Zakrzewski are stepping down from the board. Lars Ekman will no longer be chairman, but he will stay on the board.
Boston-based Odyssey Therapeutics, the developer of precision immunomodulators and cancer therapies, named Jeff Leiden as chairman of the board.
San Diego-based Ambrx Biopharma hired Janice Lu as chief medical officer.
Cambridge, Mass.-based Glympse hired Jonathan Wilde as chief scientific officer. The company is developing diagnostics that measure protein activity. He previously worked at Veracyte.
Hayward, Calif.-based Eikon Therapeutics, the developer of super-microscopy technology for drug discovery, added Robin Washington to its board as an independent director. She was the CFO of Gilead Sciences from 2008-2019. (TR coverage of Eikon, May 2021)
Our Shared Humanity
Immigrants are about 80 percent more likely to start a business than a US-born citizen, according to a recent study in American Economic Review: Insights. "The findings suggest that immigrants act more as "job creators" than "job takers" and play outsized roles in US high-growth entrepreneurship," the authors wrote. (MIT news).
Regulatory Action
The FDA approved Eli Lilly's application to market tirzepatide (Mounjaro) for adults with type 2 diabetes. The first-in-class GLP-1 and GIP agonist is given as a subcutaneous injection once a week. The drug not only beats others in the diabetes category on hemoglobin A1c scores, but has shown a consistent ability to help patients lose more weight. It recently showed that weight loss effect in a study of obese patients who don't have type 2 diabetes. Analysts are predicting it will be a multi-billion dollar seller as it reaches its full potential in coming years. (See Apr. 2022 Frontpoints on "A Big Opportunity in Obesity.")
The FDA gave Emergency Use Authorization to Labcorp for the first direct-to-consumer RT-PCR test that can detect both SARS-CoV-2 and influenza viruses. The patient can collect the nasal swab at home and send it in to Labcorp for testing.
The FDA gave Emergency Use Authorization to Pfizer/BioNTech's COVID vaccine, in a low-dose form, as a booster for kids ages 5-11. The third shot can be given to kids at least five months after they get the first two shots. Fewer than one out of three kids in the US have gotten the vaccine at all, so demand for the booster is likely to be pretty low. The CDC's Advisory Committee on Immunization Practices reviewed the data and recommended the booster shots for kids 5-11 a couple days later. (STAT) (See also "A Missed Opportunity for Grownups," Dec. 2021). Meanwhile, parents of kids under age 5 are still waiting for any COVID vaccine to get authorized.
Cambridge, Mass.-based Foghorn Therapeutics said a Phase I study of its experimental treatment for acute myeloid leukemia and myelodysplastic syndrome was placed by the FDA on partial clinical hold. The hold was placed after a patient death, while investigators look into the cause.
The FDA lifted a clinical hold on Gilead Sciences' lenacapavir for HIV treatment and HIV pre-exposure prophylaxis. All trials for the injectable medicine can now resume.
Data That Mattered
Watertown, Mass.-based Enanta Pharmaceuticals said it failed to hit the primary endpoint of a Phase IIb clinical trial of a small molecule drug for community-acquired RSV. The study enrolled otherwise healthy adults with community-acquired RSV. It did achieve statistical significance in knocking down viral RNA counts, but that didn't translate to the desired effect on symptoms in this population. The company said it still plans to evaluate the drug, EDP-938, for high-risk patients.
Sometimes a chart is the best way to display data. See Verve Therapeutics' results with a base editing therapy for cardiovascular disease targeting both PCSK9 and ANGPTL3. Cambridge, Mass.-based Verve also said it plans to start its first clinical trial with VERVE-101, a PCSK9-only edited therapy, in New Zealand in mid-2022.