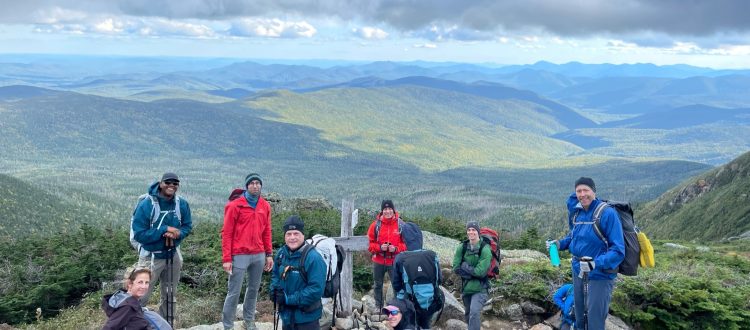 Timmerman Traverse for Life Science Cares is Back
The next biotech team adventure is here.
I'm thrilled to announce the Timmerman Traverse for Life Science Cares 2023.
We're on a mission to raise $1 million. We're giving it all back to the most vulnerable people in the communities where we live and work.
This trip involves shared sacrifice. We will cover 20+ miles and gain 8,000 feet of net elevation on the Presidential Traverse in New Hampshire. The expedition is set for Aug. 20-23, 2023.
Sweat will be involved. Legs will be tired. The weather may get rough. Teammates will need to lend each other a hand.
The difficulty is what makes it so meaningful. Over the past two years, this initiative has raised a combined $1.7 million to fight poverty.
Awareness of Life Science Cares and its outstanding network of community nonprofits is on the rise. Relationships among scientists, executives and investors have been forged on the trails. Sometimes these relationships translate into new professional and business opportunities.
Who's on the Team?
Luke Timmerman, founder & editor, Timmerman Report
Art Krieg, founder and former chief scientific officer, Checkmate Pharmaceuticals
Samantha Truex, CEO, Upstream Bio; board of directors, Life Science Cares
Lydia Meyer-Turkson, senior director, early innovation partnering, Johnson & Johnson
Ted Love, entrepreneur, former CEO, Global Blood Therapeutics
Tim Springer, Professor of Biological Chemistry and Molecular Pharmacology, Professor of Medicine, Harvard Medical School; founder, Morphic Therapeutic, Scholar Rock
Andrea van Elsas, partner, Third Rock Ventures
Lalo Flores, CEO, Century Therapeutics
David Schenkein, general partner, GV
June Lee, venture partner, 5AM Ventures
Katherine Andersen, Head of Life Science & Healthcare
Corporate Banking and Relationship Management, SVB
Ben Portney, investment partner, Andreessen Horowitz
Kaja Wasik, co-founder and chief scientific officer, Variant Bio
Yael Weiss, CEO, Mahzi Therapeutics
Heath Lukatch, managing partner, Red Tree Venture Capital
Raju Prasad, CFO, CRISPR Therapeutics
Kaye Foster, senior advisor, executive coach, BCG; venture partner, ARCH Venture Partners
Sandra Glucksmann, biotech entrepreneur, former CEO, Cedilla Therapeutics
Uciane Scarlett, principal, MPM Capital
Sheila Gujrathi, board chair, ImmPACT Bio
Hamid Ghanadan, founder and CEO, The Linus Group
The Life Science Cares network is brimming with excellent nonprofits who are entrepreneurial problem-solvers. Some provide basics like food and shelter. Others concentrate on on-ramps to a better life in the long term, through science education and job training. They are smart, caring, inspirational, resilient people.
Our resources are concentrated in biotech industry clusters — Boston, San Francisco, San Diego, Philadelphia, and New York.
Everyone who goes on this expedition must raise a minimum of $25,000. Many raise more. Each hiker has his or her personal reasons for stepping up to the challenge. I encourage you to look over their personal statements and donate to their campaigns on JustGiving.org.
Corporate sponsorship opportunities for this year's Timmerman Traverse for Life Science Cares are available. See Mathias Vialva mathias@lifesciencecares.org for more information. If you are interested in joining the hike, see me. luke@timmermanreport.com.
These trips are a wonderful way to enjoy nature, get fit, give back, and make new friends.
Biotech entrepreneurs can do amazing things when focused on a tough challenge.
Let's roll up our sleeves and fight poverty together.
Luke
See what alumni of the Timmerman Traverse have to say:
"We started as industry colleagues with an aligned philanthropic goal. We finished as friends, deeply connected through an experience none of us will ever forget and all of us will work to rekindle in our lives." — Reid Huber, partner, Third Rock Ventures
On the top of Mt Clay, there are no hierarchies, job titles, favored sons, or favored daughters. You are driven by your personal grit, your fellow climbers, and the beauty and challenges in front of you. We climbed for ourselves, we climbed for each other, but most importantly we climbed for the community being served by Life Science Cares. It was a bond we will never lose." — Dave Melville, founder and CEO, The Bowdoin Group
It was amazing to see leaders across our biotech industry come together to raise funds to help bridge the unfortunately real gap between the medicines we develop, and the patients and communities who need access to them." – Vineeta Agarwala, general partner, Andreesen Horowitz