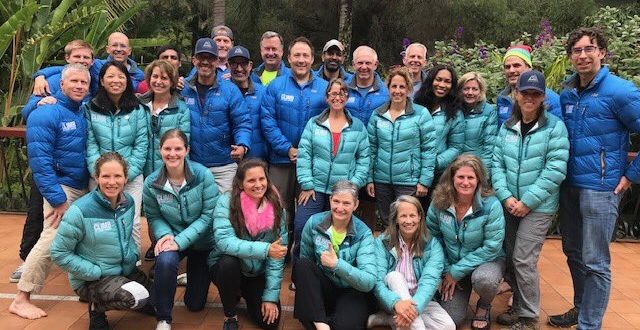 An Unforgettable Experience: The Kilimanjaro Climb to Fight Cancer Yearbook
The Kilimanjaro Climb to Fight Cancer was a marvelous experience. In every way.
Weeks later, I'm still absorbing what it means to scientists at Fred Hutch, and to the biotech community.
To start, consider the numbers:
Our team of 27 climbers raised $1,587,475 for cancer research
More than 2,200 donors contributed from around the country
33 sponsors supported the cause
All 27 teammates reached the summit of Kilimanjaro, and returned home safely. Some had to overcome significant symptoms of altitude sickness
Equally important, if not moreso, were the things you can't quantify.
The relationships formed on this climb were meaningful. They will last a lifetime.
As you can see in the KOMO-TV report below, and hear in the satellite-phone audio reports below, this team was imbued with a spirit of kindness and generosity. There was joy and good humor. The Tanzanian crew that supported this trip touched us all deeply.
As Bob More of Alta Partners, one of the climbers, said on summit day: "I often tell my children that life is about three things. It's about relationships, experiences, and being part of something bigger than yourself. This trip has all three."
Now at home, many of the climbers are trying to apply some of the spirit from this trip to their everyday lives. They are organizing mini-reunions on their own. I don't know how you measure the impact of such a thing, but I'm excited to see where this leads.
Count on me to continue climbing mountains to support the cancer research cause. A big part of my task will be mobilizing the biotech community to give back.
To all who supported this Climb to Fight Cancer campaign — thank you from the bottom of my heart.
— Luke Timmerman
"Seattle Scientist Summits Mt. Kilimanjaro to Fight Cancer, Raise Money"
KOMO News, Aug. 16, 2019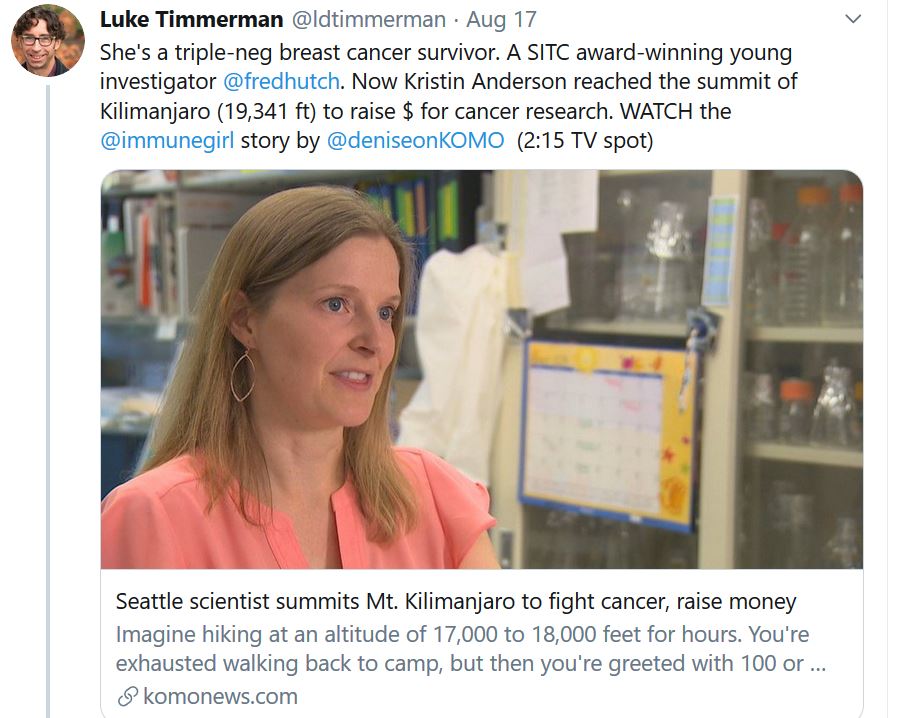 Day 1 Cybercast. July 20, 2019
Eric Murphy, lead guide: Ladies and Gentlemen. Friends. Family and loved ones. It's your favorite team — Climb to Fight Cancer!
We're giving a shout from our first camp at Machame on Kilimanjaro. It's July 20th.
We were fortunate enough to make our way from Arusha, at the hotel, to the mountain. It's our first day of walking. We went from 6,300 feet, and walked our way up to 9,900 feet at the Machame camp, at the edge of the heather and forested moorland zone. We had a bit of late start, rolling in right about dark with a little song and dance.
We are a team of 29 individuals. A good-sized group. We have approximately 115 Tanzanian staff.
We are all doing fantastic. Very happy to be here.
Luke Timmerman: Hi, this is Luke Timmerman, team captain of the Kilimanjaro Climb to Fight Cancer. Here at our first camp, 9,900 feet of elevation on Kilimanjaro.
I want to say Thank You to all the donors out there who made this campaign a huge success. We've raised $1.5 million for cancer research at the Fred Hutchinson Cancer Research Center.
And we're not done.
I have a little tidbit of breaking news. One of our climbers, Dan Bradbury, tells me he just got a donation from Goldman Sachs for $5,000. He found out about it via text message when he landed here in Tanzania.
So, for those of you who have heard about this expedition, and still would like to contribute, all of our climber pages – all 27 of us – still have active fundraising pages.
Go to fredhutch.org/climb.
Now, as for this expedition itself — we are having a wonderful time. The conversations people are having — on the trail, in the hotel, around camp – it's something special. We are enjoying the Tanzanian culture. The food, the hospitality, the service. It's exceptional. The people are wonderful.
It was a little bit emotional for me to see all of this come together. We're making something special happen. I really appreciate all of you out there who have helped make this possible.
Thank you very much.
Day 2 Cybercast. July 21, 2019
Eric Murphy, lead guide: Hey everybody, it's your favorite team: Climb to Fight!
[Cheers]
It's the 21st of July. We are now located at 12,500 feet. On the broad expanse of the Shira Plateau. We are doing fantastic. We had about 5.5 to 6 hours of climbing today. Everybody did wonderful. We had great weather. Lots of sunshine. Good food.
We just celebrated Luke's birthday with a cake.
[Cheers]
Everyone is doing fantastic. We thank all of you for following along.
Nina Kjellson: Hi, this is Nina Kjellson, one of the climbers on the team.
Today we had some minor rock scrambling. It was a beautiful, beautiful day.
Tomorrow gets a little more real. It will be 8-9 hours, going from our current 12,500 feet, up to over 15,000 feet, then back down to 13,000 and change. So we prepped today for altitude sickness. What to look for, and what we'll do about it. There were definitely a lot of questions, and some butterflies.
Climb high, sleep low – and slow, slow – are our mantras.
We have each others' backs.
As Eric said, we had a marvelous celebration of Luke's birthday, including a great hot meal. And fabulous cake.
My reflections on this trip so far are that it has exceeded every expectation. Luke and a couple of us had a strong commitment to making this a gender balanced team, which we did. We are 13 women and 14 men. Beyond that, we also span in age from the early 30s to the early 60s. We represent a broad span of backgrounds, geographies, and current biopharma gigs. We are definitely common in purpose and curiosity. And definitely common in our nerdiness.
Our conversations have spanned from T-cell biology and the microbiome to business strategy and culture and leadership, as you might expect. But we've also discussed music, hobbies, travel, literature, family life, practical jokes, and of course, the potty humor that comes with bodily changes at altitude and eating different foods.
We're having a lot of fun, and truly connecting.
For all of you out there sponsoring us, supporting us, and wishing us well — Asante Sana!
That's Swahili for Thank You Very Much.
Day 3 Cybercast. July 22, 2019
Eric Murphy, lead guide: Friends, family, loved ones, sponsors. It's Team Climb to Fight!
[Cheers]
It's the 22nd of July.
We're coming to you live at 8:15 pm Tanzania time. From 12,900 feet here at Barranco Camp. At the due Southwest corner of the mountain. Beneath, the mighty, beautiful Breach Wall.
We are tired.
But we're happy. We had a wonderful day. From Shira, we went up to Lava Tower, our high point at just over 15,000 feet. Some of the team opted to do the scramble to the top of Lava Tower, where we got some additional fun photos and views.
Then we made our way down into the beautiful Barranco Valley.
We are located at THE most beautiful camp on the mountain.
It was a long day. 9-10 hours for us. High altitude. We are tired. We are looking forward to some horizontal time, having been fed well and treated lovely by our amazing Tanzanian crew.
[Cheers]
Katrine Bosley: Thanks, Eric. This is Katrine Bosley.
I want to try to share with you a little bit of what it's like being up here.
You think about a climb like this, and you tend to first think of what you see.
The amazing views.
The red flame of the gladiolus flowers by the trail.
The pink and the gold rays of the sunset as they touch the peak of Kilimanjaro, just before it dips below the horizon.
But you sense this mountain with all five senses.
There are smells of the wild mint. It looks like thyme. The leaves are really full. But the smell is a little minty, a little tangy. It's different.
Today we were hiking in much dustier conditions. Taste for me – we've had wonderful food, but on the trail, I was tasting the dust all day long [laughs].
Then there's what you hear. You hear the cawing of the ravens. They're swirling above us. On Lava Tower they were swirling below us, which was amazing.
You also hear the gentle reminders from our guides, to go "Pole, Pole." It means "slowly, slowly."
And there's touch.
At lunch today, we were in a beautiful, sunny, rocky place. And the warmth of the sun had made the rocks warm. You could lay down and feel it soothing your aching muscles.
Then there's touch in the morning when you put on your backpack and it settles onto your shoulders, and you clip the hip straps and feel it settle onto your hips.
Then when you're climbing and you feel your toes in your boots finding their right grip.
And I'll tell you right now, there's a particular feeling I'm looking forward to. It's lying in the sleeping bag, when you feel your body warming up the space and make a toasty little cocoon. Think of us all in our toasty little cocoons, lined up on the shoulder of Kilimanjaro with the stars of the Southern Hemisphere above us. That arc of the Milky Way is splayed out above us.
That's where we're heading in about 32 seconds.
So,
Usiku mwema, Lala salama
That's Swahili for "Good night, and sleep well."
Day 4 Cybercast. July 23, 2019
Eric Murphy, lead guide: Hi friends, it's Climb to Fight!
[Cheers]
It's the 23rd of July. We're coming to you live from Karanga Camp. On the southern slopes of Kilimanjaro. 13,300 feet above sea level.
It's about 8:30 pm Tanzania time.
We are well fed and getting ready for bed.
A couple of our teammates, Ken and Spencer, would like to tell you guys about camp life.
Ken Brunt: Thanks, Eric. I want to give you a little overview of camp life, more specifically, tent life.
What happens in tents, stays in tents. Until now.
Our rules are: No spilling pee bottles. No farting. And by all means, do not bring in collapsible pee bottles and misplace the lid after filling it. Spencer…
Another tactic we employ in our tent is tent setup and breakdown. It's really easy when you follow Spencer's strategy.
Act like you're struggling until a porter sees you and offers to help [laughs]. Or just patiently wait it out.
You'll get the help, eventually.
Anything you'd like to add about camp life?
Spencer Guthrie: Yeah, I'd like to add that tent placement is especially important. We like to have our tent close to the bathroom, because the smell puts us to sleep quickly.
It's also important to have a good tentmate, that you let get in there to organize all of his things – and maybe some of your things – before you even get in there. Being lazy pays off a little.
It's really nice being here with so many smart people. And then me and Ken.
We're been nominated for potty humor for that very reason.
I'd also like to say we are extremely grateful to the Tanzanian crew. They are amazing.
We came here for the mountain and the charity, which are amazing, but it's been great to spend time with the Tanzanian people.
Now I want to hand it back to Ken.
Ken Brunt: I want to give a quick overview of what the day entailed.
It was an early start. About an hour earlier than our normal days. We were trying to get ahead of the pack. We had a steep climb out of camp, up the Barranco Wall. It was short, but there was lots of rock scrambling. The scrambling was fun, and the group did awesome. We have a few rock stars around here. It was a lot of fun. A great day. A short day. We got lots of naps in. A little bit of card play for some of us.
I want to close with a shout out to friends and family, the Veracyte family. Your support means the world. We have about 300 employees, and we have about 75 percent participation in support of this climb. It's pretty awesome.
[Cheers]
Eric Murphy: Thanks to all. Tune in tomorrow as we head up to High Camp, and get ready to head to the top.
Day 5 Cybercast. July 24, 2019
Eric Murphy, lead guide: Friends, family, loved ones, sponsors. It's Climb to Fight!
[Cheers]
We are at high camp on Kilimanjaro. 15,800 feet above sea level. It's July 24th. Just before 4 pm.
We are all here, and we are all doing well. We are all in our final preparations of getting ready to go up to the summit of Kilimanjaro. Starting at midnight tonight.
Kristin Anderson: In preparation for our summit, we thought it would be a nice opportunity to highlight some parallels between a cancer journey and the journey of summiting a mountain.
My name is Kristin.
My story, very briefly, is that I'm a cancer survivor. I was diagnosed with aggressive, triple-negative breast cancer when I was 28. I went through a really intense chemotherapy and surgery and reconstruction. It took about a year. I know that every cancer journey is incredibly unique.
I also know that because it is unique for every individual, it can be incredibly isolating.
It's physically, mentally, and emotionally draining. [sniffs]
In my experience, at my low points, from faith, to an unexpected card or email, or a meal prepared by a friend – all these things reminded me that I was not alone.
On this mountain, when I've had low points, or struggles, a shared snack, a word of support, or reaching camp to a chorus of guides and porters singing really enthusiastically – it's been a real morale booster. It's been impossible to convey just how valuable the small gestures really are.
No. 2. On my cancer journey, there were many long, exhausting stretches that were punctuated by really short breaks. Really short reprieves.
A visit from a friend.
A day where I finally felt like myself again.
Or good news from a doctor. They were all short breaks that made a huge difference in my mental health on that journey.
On the mountain, we push hard. Consistently, and slowly. Each push is punctuated by a short break. A delicious snack. Some information about a 100-year-old plant that only flowers on this mountain, or in this part of the world.
Or maybe you see a beautiful view that you only get from the ceiling of Africa.
These are the brief breaks we get on this trip that help keep us going.
Finally, parallel number 3 is the fear of the unknown. Every cancer journey, because it is unique, is also unpredictable. Our journey up the mountain is similar. It's unpredictable. We have incredible guides who are experienced. They can give us lots of information about what may happen.
Just like how a doctor can set expectations for a patient. But nothing is ever certain.
It's moments like this that I feel the impact of our mission. Raising money to research cures to provide hope, and lessen the fear of the unknown, for all the patients out there.
So thank you, friends, family, loved ones, and cancer haters everywhere for all of your support.
We'll see you on the other side.
Day 6 Cybercast. July 25th, 2019
Eric Murphy, lead guide: Friends, family, loved ones, sponsors, the world.
It's your favorite team here on Kilimanjaro. Climb to Fight!
[Cheers]
Bob More: Hello folks, this is Bob More of Alta Partners. Reporting from Millennium Camp at 12,200 feet, with just incredible news.
We went 27 out of 27 on people summiting today on Mt. Kilimanjaro.
[Cheers]
It's probably honestly something that none of us really expected.
It's a tribute to everybody on the team. It's a tribute to Luke. And it's a tribute especially to Alpine Ascents International for helping us get to the top of the mountain.
We had an incredible day. We had perfect weather.
We woke up at 11 pm, which is a bit early for a wake-up call. We began the ascent and arrived at around sunrise. So it was timed perfectly.
From the top of Kilimanjaro, you could see the curvature of the Earth.
You could see the shadow cast from Kilimanjaro over Mt. Meru.
It was just an incredible scene. I'm so proud of everybody, and so proud to be part of this. Again, this is for the Fred Hutchinson Cancer Research Center. We're all part of a team. One team, one dream. We're all really excited to have made it to the top today.
I often tell my children that life is about three things.
It's about relationships, experiences, and being part of something bigger than yourself. This trip has all three of those.
Now I'll turn it over to my son, Alec.
Alec More: I'm the son and unfortunate tentmate of Bob More.
It was a great day. We went 27 for 27. We owe that to our wonderful team leaders.
As far as the trip, it's kind of coming to a close.
We head back to Arusha tomorrow. Reflecting back, the team was amazing. Amazingly positive, amazingly supportive. Whenever anyone needed something, the rest of the team rallied around.
Getting to the summit a little after 6 am today, and seeing the sunrise, proved that Eric knew what he was doing. He got us there right around the right time. It's been an amazing week. I'm so thankful to be a part of it. I'm thankful to Luke for bringing us all out here.
Bob More: Making hard things look easy is very difficult. It's a credit to everybody here. Everyone on the team pulled their weight and more. We're very excited for a successful climb.
I hope this is one of many in the future.
Thanks everybody for listening.
Eric Murphy: We'll try to give you guys one more shout from Arusha after we're showered and cleaned and fed. We'll also be getting some pictures out on the Cybercast. Stay tuned.
Day 7 Cybercast. July 26, 2019
Eric Murphy, lead guide: Hey everyone, it's Climb to Fight!
[Cheers]
We're giving one last shout to our friends, and our families, and donors, from Arusha, Tanzania.
We are here celebrating in the city, after making our way off Kilimanjaro back to the hotel for showers and here for our celebration dinner.
[Cheers]
Nancy Miller-Rich: Hello everyone, my name is Nancy Miller-Rich. I wanted to give you some facts about what it was like to summit.
We had a great day. All 27 of us summited.
But I'll say, there was some of us who had some – I'd just say — up-and-down experiences. I was one of those people. My husband made me promise not to make any headlines.
I think I was pretty close to making some headlines. [laughs]
It was really an amazing day, and an amazing family of people we have met here.
My issues came when we started hitting 15,000 feet, and I realized I was really having altitude sickness. After we hit 15,000 feet, we went down, and slept, and then as we got up at 11 pm the next evening, and started our trek up Mt. Kilimanjaro, at about 3 am, many of us on the 4th or 5th push started getting sick.
But everyone else picked themselves up. I didn't seem to have the ability to do that.
What was amazing to me, was a young Tanzanian fellow came by and asked, "Do you want to go up, or go down? Let me carry your bag." This young person just took me by the side and was my guardian.
He took me up the trail. It was amazing. When we reached the top, about 6:30 or 7 am, I was looking over the views of Kilimanjaro – which are absolutely breathtaking – I also looked at this young man who helped us, and helped me, and Alpine Ascents. I knew I could never have done it without him. He said 'Congratulations, you summited.' I said 'No, no, we summited.' That's the way it felt. We were a team and we were in it together.
Interestingly enough, it wasn't just a difficult summit, but as you went down, it was difficult going down. But everyone was there for each other.
It was an amazing experience.
My closing insight is that not only is Kilimanjaro amazing, but the people of Tanzania are incredible in their caring, their compassion, and their strength.
I know, I, for one, met some incredible people in this industry that I didn't know before.
I am so thankful to Alpine Ascents. I'm thankful to you, Luke, for setting this up. Our guides were unbelievable.
Eric Murphy: Thanks Nancy. From the bottom of our hearts, we thank you all for following along. That's all.
A Green Eggs and Ham-Inspired Reflection on Kili. July 26, 2019
By Sandy Zweifach
Would you climb Kili one day
Not at all is what I did say
Not with Peter, Simba or Uciane
I would not climb Kili on any given day
What about with Zoe and her Instashots?
Or Praveen with his boom box on the way to the top?
No. And not with Nancy Rich or Leslie or Bill
Even though no matter how sick — these ladies will crush the hill
With about with Bob and his smallest pack?
And his son Alec on his back?
Or Dan the man (who I hear did throw up)
Not with Spencer, who will never grow up
How about with Katrine and Julia — two women CEOs?
Katrine shakes her booty like no one would know
Not with Adam, Ken or Oren each six feet long
Nor with little engine, Nancy Hong
Not with Kirsten, or Kristen — come that's too much!
Or even with Kelly, leader from the Hutch
Please stop. Don't suggest I would go with Heather
I know at the top is freezing weather
Senthil or Heidi, to them I would say
Let's go to St Bart's and have a warm day!
I will not climb Kili is what I did say
But I didn't know Luke would lead us this way
To Eric and Lakpa whose wisdom and skills would blow me away
So finally I did say Yes to the climb
With my amazing wife Nina whom I was dragging behind
I sure am glad I made it this way
And together we will fight cancer every day