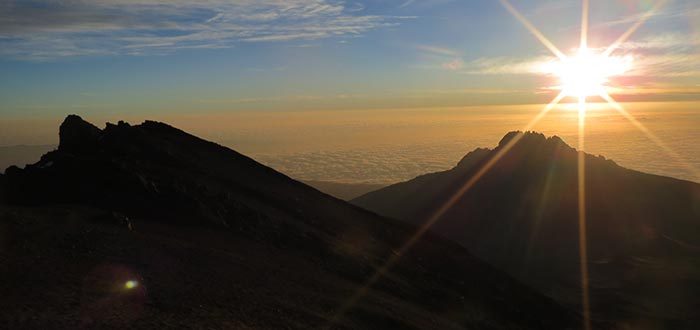 Meet the Kilimanjaro Climb to Fight Cancer Team
The Kilimanjaro Climb to Fight Cancer team is ready to go.
We have a full group of 28 biotech executives and investors – 14 women and 14 men – committed to climbing the highest peak in Africa this July. Working together, we're raising $1 million for cancer research at Fred Hutch.
With five months to go, we are about one-fourth of the way toward our goal. It's happening.
This is a special group. I'd like to introduce you to the full team. Please consider supporting someone you know on this mission to support lifesaving cancer research.
Kristin Anderson
, Kristin is a postdoc in Phil Greenberg's lab at Fred Hutch. The lab boss is a co-founder of Juno Therapeutics, and a world leader in CAR-T and TCR cell therapy. Anderson is a cancer survivor (triple-negative breast cancer diagnosis at age 28), and she's also a rising scientific star. This fall, she won a Presidential Award winner for young investigators from the Society for Immunotherapy of Cancer (SITC). She says she enjoys hiking in the Cascades, but doesn't get out as much as she'd like. Wonder why? (
Donate to Kristin's Climb to Fight Cancer campaign
).
Kirsten Axelsen, vice president for strategy and new business assessment, Pfizer Innovative Health. Kirsten leads the team that crafts strategy for the Pfizer Innovative Health business, and the company's patient-focused vision. Through nearly two decades at Pfizer, Axelsen has made her name as someone "uniquely savvy about the complex commercial and political landscape into which today's drugs are developed and launched," said Nina Kjellson, a general partner with Canaan Partners. Kjellson adds that Axelsen is a mother to twins, a marathon runner and "all-around bad-ass." (Donate to Kirsten's Climb to Fight Cancer campaign).
Zoe Barry, CEO, Boston-based ZappRx. Zoe is an up-and-coming entrepreneur offering software solutions to streamline the prescription management of specialty medicines. She's also a runner, having participated in the "Reach the Beach" run organized by Bruce Booth of Atlas Venture. (Donate to Zoe's Climb to Fight Cancer campaign).
Heather Behanna, biotech investment professional. Heather is showing a true spirit of adventure. As she puts it: "So far in my career, I have had the opportunity to take a swing at cancer from arm's length – this feels like an opportunity to make a more direct hit." (Donate to Heather's Climb to Fight Cancer campaign).
Katrine Bosley, biotech entrepreneur. Katrine Bosley is a veteran biotech entrepreneur in Boston. She is stepping down as CEO of Editas Medicine, the genome editing company, on Mar. 1. Katrine is a recent addition to the Kilimanjaro expedition. She is someone who thinks deeply about biotech's connection to society. I very much look forward to hearing her thoughts on the trail and around the dining tent in Tanzania. (Donate to Katrine's Climb to Fight Cancer campaign).
Daniel Bradbury, chairman and CEO, Equillium. Dan is an experienced biotech executive and investor based in San Diego. He has a simple 3-point explanation for why he's joined the Kilimanjaro expedition. 1. Cancer sucks and has taken many great friends and almost took my mother 2. Fred Hutch has and is developing ground breaking therapies to cure cancer. 3. Climbing Kilimanjaro is one of my top life bucket list items. (Donate to Dan's Climb to Fight Cancer campaign).
Ken Brunt, VP of customer operations, Veracyte. Ken is an ultramarathon runner. He's run around Mont Blanc three times. But a summit of Kilimanjaro is a different thing. He writes: "I am taking on this challenge because I hate cancer and love mama nature! Getting outside in nature is healing and motivating…my philosophy is to do things that scare me and being at 19,341 above sea level scares me." (Donate to Ken's Climb to Fight Cancer campaign).
Peter Faroni, co-founder and partner, Madryn Asset Management. Peter contributes to the industry in his day job as an investor. But like everyone on the trip, he has interests outside work. One is the outdoors. Another is a desire to make different kinds of impact – direct impact – for patients. The Kilimanjaro expedition is right up his alley. (Donate to Peter's Climb to Fight Cancer campaign).
Simba Gill, CEO, Evelo Biosciences; venture partner, Flagship Pioneering. Evelo is based on new insights into the interactions of the microbiome and the immune system in the tumor microenvironment. Evelo is a member of the Biotech IPO Class of 2018. Born in Tanzania, Simba's mother summited Kilimanjaro when she was pregnant with him. Dang. (Donate to Simba's Climb to Fight Cancer campaign).
Adam Gridley, president and CEO, Histogenics. Adam runs a cell therapy company in Boston. He skis. And he's had family members affected by cancer. (Donate to Adam's Climb to Fight Cancer campaign).
Spencer Guthrie, VP, global TTR strategy, Akcea Therapeutics. Spencer has a history of work in cancer drug discovery, and in collaboration with Fred Hutch. He's thinking about what kind of impact we can all make for future generations. "I am a new father, and I don't want my daughter to grow up in a world where cancer has such a big impact on her life. I know that the key is more research," he writes. (Donate to Spencer's Climb to Fight Cancer campaign)
Heidi Hagen, co-founder, chief strategy officer, Vineti. Heidi is working to build a venture-backed software company to help cell and gene therapy companies manage specialized supply chains. She gained a wealth of experience in this tricky area at Dendreon. Heidi, in a past life, was twice named to the All-Pac10 team as a middle-distance runner at the University of Washington. (Donate to Heidi's Climb to Fight Cancer campaign).
Nancy Hong, managing director, RiverVest Venture Partners. Nancy is an avid hiker, and Kilimanjaro has been a longtime dream. But a combination of things inspired her to go to work on this fundraising campaign. "We are truly in a golden age of molecular medicine where research dollars are translating more and more directly to clinical impact in oncology," Hong writes. "The Hutch has been a leader in this arena, and it is a privilege to help their efforts. And joining fellow biotech folks on this trip is icing on the cake!" (Donate to Nancy's Climb to Fight Cancer campaign).
Nina Kjellson, general partner, Canaan Partners. Nina is one of the most respected biotech VCs in the business. One of her current portfolio companies is Vineti, (see above) the software company striving to advance the cell and gene therapy revolution. (Donate to Nina's Climb to Fight Cancer campaign).
Garry Menzel, CEO, Cambridge, Mass.-based TCR2 Therapeutics. Garry is not only running an aspiring leader in the field of engineered T-cell receptor therapies for cancer, he's an accomplished mountaineer. Notable ascent: Manaslu in Nepal. It's the eighth-highest mountain in the world. (Donate to Garry's Climb to Fight Cancer campaign.)
Alec More, student. Alec is an impressive young man who I'm just starting to get to know. He raised $8,000 for cancer research in his first week on this campaign. He's learning early in life that what matters most is what you do for other people. I can't wait to see what he does when this campaign is all said and done. (Donate to Alec's Climb to Fight Cancer campaign).
Bob More. Bob is a veteran biotech venture capitalist, now serving as a partner with Alta Partners and as an advisor to the Bill & Melinda Gates Foundation. He's a skier, and two-time climber of Kilimanjaro. Bob is functioning as campaign co-chair, providing me with valuable support and advice. (Donate to Bob's Climb to Fight Cancer campaign.)
Bill Newell, CEO, South San Francisco-based Sutro Biopharma. Bill's company is developing antibody-drug conjugates for cancer. The key twist is that Sutro makes its large molecules in a cell-free platform, aiming to sidestep the cost and complexity of classical biologics manufacturing in eukaryotic cell lines. Sutro has a number of well-known partners, and was a member of the Biotech IPO class of 2018. (Donate to Bill's Climb to Fight Cancer campaign).
Kelly O'Brien, vice president of philanthropy, Seattle-based Fred Hutch. Kelly O'Brien was the key decision-maker at Fred Hutch who bet on the Everest campaign before success was assured – both on the mountain, and in the fundraising department. Kelly is also an experienced climber. She has summited Kilimanjaro, and trekked to Everest Base Camp, elevation 17,500. (Donate to Kelly's Climb to Fight Cancer campaign).
Julia Owens, CEO, Millendo Therapeutics. One great thing about biotech is how many people are willing to push the boundaries – professional and personal – for a good cause. Julia Owens is a good example. Both of her patients got cancer, and her Dad died of cancer when she was a teenager. She's pushing herself on this campaign to help others. "While I enjoy the outdoors and lead an active lifestyle, camping and certainly mountain climbing are way outside my comfort zone. I haven't slept in a tent in over 15 years!" Owens writes. (Donate to Julia's Climb to Fight Cancer campaign).
Nancy Miller-Rich, CEO, Miller-Rich Associates. Before starting her own consulting firm in September 2017, Nancy was a senior vice president at Merck. She oversaw global human health business development and licensing, strategy and commercial operations. That gave her direct profit-and-loss involvement in a $38 billion business. At Merck, she closed 300 deals, involving $10 billion in value creation. Nancy has also dreamed of climbing Kilimanjaro for years. (Donate to Nancy's Climb to Fight Cancer campaign).
Uciane Scarlett, associate, Atlas Venture. Before joining Atlas in 2018, Uciane (pronounced "You-sha-knee") was a director of business development and strategy at Compass Therapeutics. Compass is a private company working on treatments for autoimmunity and cancer. Uciane got her PhD in cancer immunology from Dartmouth College. (Donate to Uciane's Climb to Fight Cancer campaign).
Deaidra Smith, director of portfolio communications, Alexion Pharmaceuticals. Dee Smith is an experienced hiker, having completed the full Appalachian Trail. She has jumped into the Kilimanjaro campaign with both feet, however, because of her sister's brush with a rare and deadly hereditary form of cancer. She's thankful her sister survived, and now she wants to give back to researchers that are making progress in revealing cancer's secrets. (Donate to Dee's Climb to Fight Cancer campaign).
Lesley Stolz, head, JLABS Bay Area. Lesley is a veteran of biotech business development. For those unfamiliar, JLABS is part of Johnson & Johnson. JLABS sets up quality lab space for entrepreneurs to help them hit the ground running with experiments that are essential for little companies to grow up and win the next round of funding from venture capitalists. (Donate to Lesley's Climb to Fight Cancer campaign).
Senthil Sundaram, chief financial officer, Nightstar Therapeutics. Senthil has traveled the world and done some spectacular hikes. Now he sees an opportunity to combine his passion for the outdoors with a cause that has struck many people in biotech. (Donate to Senthil's Climb to Fight Cancer campaign).
Luke Timmerman, founder & editor, Timmerman Report. I've been writing and speaking about biotech since 2001. (Donate to Luke's Climb to Fight Cancer campaign).
Praveen Tipirneni, CEO, Waltham, Mass.-based Morphic Therapeutic. Praveen is running a company that has used a combination of proprietary crystallography images, high-powered computational simulations, and small-molecule chemistry to sprint ahead with new drug candidates against integrin targets. Last fall, AbbVie wrote a $100 million upfront check help advance this work. Praveen also happens to be a runner. We once shared a van ride on the 24-hour road race called "Reach the Beach" in New Hampshire. Apparently, that sweaty van ride didn't dissuade him from accepting this invitation. (Donate to Praveen's Climb to Fight Cancer campaign).
Sandy Zweifach, founder and CEO, South San Francisco-based Nuvelution Pharma. Sandy has a diverse set of experiences in business development, investment banking and venture capital over the past 25 years. Nuvelution, backed by Clarus Ventures and Novo A/S, seeks to increase R&D output through risk-sharing collaborations. As a climber, he attempted Pico de Orizaba, one of the famous Mexican volcanoes, years ago. (Donate to Sandy's Climb to Fight Cancer campaign).