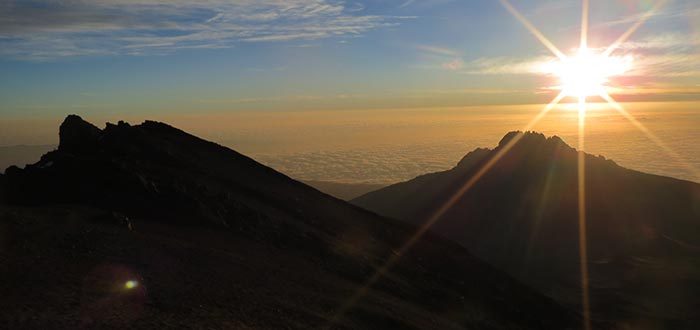 The Kilimanjaro Climb to Fight Cancer Is Back
I'm taking another biotech team to the highest peak in Africa.
Four years after the first team expedition, the Kilimanjaro Climb to Fight Cancer is back with a new crew of 28 biotech executives and investors. Together, we're going to push ourselves physically, and raise more than $1 million for research at the Fred Hutch Cancer Center.
The expedition is set for Feb. 9-20, 2023.
Most people on the team don't know each other, and don't know what it's like to hike in the thin air of 19,000 feet. A couple are veterans of previous expeditions. Everyone is training to get ready.
They love nature. They love science. They dislike cancer. They are making a big commitment to others in need, raising at least $50,000 apiece.
Here's who is coming together for this challenging and memorable adventure:
Luke Timmerman, founder & editor, Timmerman Report
Nathan Trinklein, co-founder and CSO, Rondo Therapeutics
Bharatt Chowrira, president, Puretech Health
Jens Eckstein, managing partner, Apollo Health Ventures
Mark Mendel, venture partner, Sozo Ventures
Wendy Nelson, president and founder, Boston Biotech Forum; corporate development Danforth Advisors
Brian Gallagher Jr., biotech investor and entrepreneur
Soufiane Aboulhouda, PhD candidate, Church Lab, Wyss Institute, Harvard University, co-founder and president, Nucleate
Melinda Richter, global head of Johnson & Johnson Innovation JLABS
Paul Biondi, president, Pioneering Medicines at Flagship Pioneering
Ben Vollrath, COO, Amprion
Ramani Varanasi, managing director, ReVive Advisors
Ram Aiyar, CEO, Korro Bio
Greg Verdine, co-founder and CEO, LifeMine Therapeutics
Kamal Puri, CSO, OncoResponse
Nerissa Kreher, chief medical officer, Entrada Therapeutics
Saul Fink, SVP, pharmaceutical & nonclinical development, Normunity
Alex Federation, co-founder and CEO, Talus Bio
Amber Kaplan, consultant, Amber Lab LLC, MBA candidate USC Marshall School of Business
Laurie Halloran, founder and CEO, Halloran Consulting Group
Joanne Smith-Farrell, CEO, Be Biopharma
Jeff Leek, vice president, chief data officer, professor; Fred Hutch Cancer Center
Ginger Cooper, associate vice president, Agilent Technologies
Jung Choi, chief business and strategy officer, Global Blood Therapeutics
Joe Budman, vice president of biology, Vicinitas Therapeutics
The first Kilimanjaro trip in 2019 was a huge success, raising more than $1.5 million for cancer research at Fred Hutch. People on that trip formed lifelong friendships. They open doors for each other.
One of the people from that team summed up the experience:
"The proposition: join Luke and equal numbers of men & women in our industry to raise money for cancer research at the Fred Hutch and climb Mt. Kilimanjaro. This was the experience of a lifetime. Breathtaking scenery – yes. Challenging physically – yes. Outstanding guides & support personnel – yes. Life-long bonding experiences – yes!" — Bill Newell, CEO, Sutro Biopharma
You can do a couple things to help.
First, go to the Kilimanjaro 2023 team fundraising page on FredHutch.org and find a member of the team you want to support. You can click on their name to open their personal fundraising page, and donate. That will help them hit their $50,000 goal. They'll appreciate it!
Second, if your company is interested in raising awareness of your support for cancer research, ask us about team sponsorship opportunities. See me at luke@timmermanreport.com and Elizabeth 'Za' Martin at eamartin@fredhutch.org.
The biotech community has tremendous capacity for scientific genius and human generosity. When we exercise these muscles, we get stronger.
I'm eager to see what this next Kilimanjaro team, with your help, will do to propel science and improve the lives of cancer patients.
The Kilimanjaro 2023 team