The Seattle Scientific Community, Mobilized
"When I was a boy and I would see scary things in the news, my mother would say to me, 'Look for the helpers. You will always find people who are helping.'" – Fred Rogers
The Seattle scientific community has always been tight-knit and collaborative, but we have mobilized like never before to respond to the threat of COVID-19. My friend and fellow Climb to Fight teammate, Bob More (@Bobmorevc), recently wrote an excellent piece recognizing a number of Unsung Heroes in this battle.
My hope is to share just a few stories of people working behind the scenes which you may not have heard yet. From the scientists who led the charge to make testing widely available, to the community members who have stepped up to support all of their efforts – we see you. And we are grateful.
Here are just a few stories to highlight how our Seattle community has come together to support each other.
Dr. Helen Chu (@HelenChuMD) is an infectious disease expert and the lead scientist for the Seattle Flu Study (@seattleflustudy). In short, the project asks volunteers in the community with flu-like symptoms to send in nasal swabs. Her team of scientists studies those samples to learn more about the flu.
In January, when the outbreak in Wuhan, China was in the news, Dr. Chu hypothesized that the coronavirus was already in the United States and being transmitted through the community, not just by people who had recently traveled to the US from China. She asked Washington state, the Centers for Disease Control and Prevention, and the Food and Drug Administration for permission to test the Flu Study samples for the novel coronavirus. The samples and all the infrastructure to study them were already in place. The study was up and running, collecting samples. It wouldn't take much to shift gears to look at those same samples for the new virus. But Dr. Chu was firmly denied. That wasn't part of what participants had signed up for. A new consent form, potentially taking weeks or months, would normally be required to move ahead on such a major amendment to study protocol.
Dr. Chu considered the ethics of the situation. This was a fast-moving and deadly pathogen. She discussed it with colleagues. Ultimately, she decided to test for the novel coronavirus anyway. They couldn't wait any longer. Her results, from samples tested Feb. 25, are the reason we know the virus was spreading undetected through the community in Washington state. Her results are the reason that public health experts began sounding the alarm about the virus in the United States. Her results are also the reason we now have the Seattle Coronavirus Assessment Network (SCAN) program, the first coronavirus surveillance program in the country, which can begin to assess the basics of how many asymptomatic spreaders we have in the community, and where they are, so they can be isolated. Like the Seattle Flu Study, SCAN utilizes simple nasal swabs that community members can perform at home. Dr. Chu's decision to persevere has been instrumental in our fight against this virus.
Equally important in the early stages was the work of Dr. Keith Jerome and Dr. Alex Greninger, experts in virology at the University of Washington (@UWVirology) and Fred Hutchinson Cancer Research Center (@FredHutch). Shortly after the new coronavirus was being discussed in the news, they realized the country needed a diagnostic test for the virus and decided to divert some of their lab resources to develop one. When the Centers for Disease Control and Prevention's tests did not work, these UW / Fred Hutch scientists applied to have their lab, and the test they developed there, certified by the Food and Drug Administration. That way, they could perform diagnostic tests for healthcare providers across the country. Their decision to develop a test using their own resources, even if it had not ever been needed, is saving lives every day.
This is not the norm for a research lab to turn itself, virtually overnight, into an industrial-scale high-volume diagnostic testing facility. Normally, they'd focus entirely on research questions, such as incubation times for a new virus, viral shedding rates, or various modes of transmissibility. They put their horsepower into doing an industrial task for patients in need in our community because somebody had to do it.
Once their clinical lab was approved to run patient samples, their small team started running diagnostic tests as fast as humanly possible. But even at peak speed they could only run about 200 samples per day. Knowing they needed to ramp up their throughput, they purchased machines to automate some of the process, but there were some steps that still needed to be done by hand. UW Virology put out a call for help. The Seattle science community answered. Volunteers from a variety of scientific disciplines, many of whom are young graduate students and post-doctoral fellows, set aside their own research to learn molecular virology techniques so they could process patient samples and open up the bottleneck. These volunteers are currently working in shifts around the clock and have helped increased the lab's throughput to a maximum of more than 3,000 patient samples per day.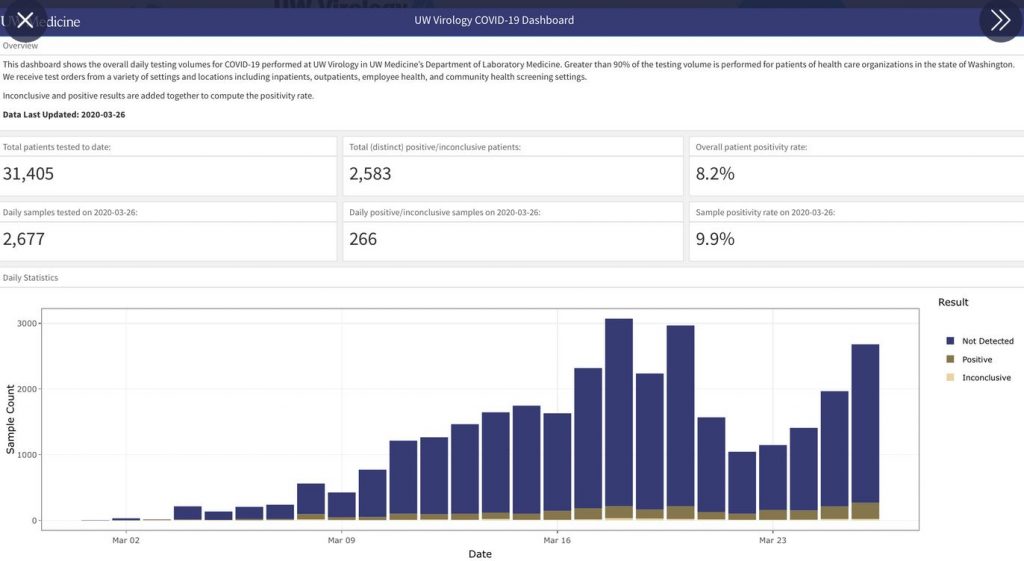 Processing thousands of samples is a massive undertaking. Administrators from multiple departments at the University of Washington quickly began volunteering their time providing logistical support. Almost immediately, the lab realized they were short on a critical lab supply: pipette tips. They again sent out a blast for help, this time on social media. Within 24 hours, local research labs and Roche (@Roche) delivered thousands of tips.
In response to the request, members of the community also reached out asking what they could contribute. One generous volunteer made hundreds of bags of healthy snacks for the researchers to "grab and go" between processing samples. Portage Bay Café (@portagebaycafe) donated breakfast, Starbucks (@Starbucks) donated coffee, and Pagliacci Pizza and Taste of India donated dinner for all the volunteers. Ellen Kuwana (@EllenKuwana) organized a Facebook Fundraiser and to date has raised over $15,000 to provide meals for the lab volunteers and healthcare workers while simultaneously supporting local restaurants.
Once the clinical lab received the first sample containing coronavirus, bioinformatician Dr. Pavitra Roychoudhury (@pavitrarc) led UW Virology's effort to analyze the complete viral genome in each of the local samples. Their goal is to develop a better understanding of transmission dynamics and viral genetic diversity. To do that, they plan to sequence every positive sample run in the clinical UW Virology lab. So far, they have deposited over 230 sequences to the Global Initiative on Sharing All Influenza Data (@GISAID) database. With sequences from this database, Dr. Trevor Bedford (@trvrb) and the team at Nextstrain (@nextstrain) construct a map of global transmission dynamics and viral evolution. These sequences are now open to the international scientific community to study, and to help other locations get a jump on the virus that's likely headed their way.
Importantly, sequencing, assembling, annotating, and depositing sequences in these databases is no small feat. To speed up this data sharing, UW Virology again put out a call for support. Within 24 hours, they had dozens of offers from people with computational expertise volunteering their time. This collaborative effort to make data available as quickly as possible is a sea change in how scientific findings and data are often shared. Science and knowledge are being made freely available, and in real-time. There's no waiting around for six months to get your manuscript published. It is inspiring.
The timing of this massive open science movement seems particularly appropriate. In an age when misinformation is so widely available on the internet, many people have been turning to scientists for answers. Community members are offering appreciation and virtual support through social media to scientists who they might otherwise not meet, or might not understand well in normal times. Parents are sharing that their kids want to be scientists. People are raiding their homes for supplies to donate, like masks, hand sanitizer and disinfectant wipes, which are desperately needed by caregivers in local clinics and hospitals. For people in the lab or the clinic, working long days and putting their own health at risk, gestures like this provide an immeasurable morale boost.
We are all contributing to something monumental that will likely be the defining events of our lifetimes. I could not be prouder of my friends, colleagues, and community. #WeGotThisSeattle #WeGotThisWA