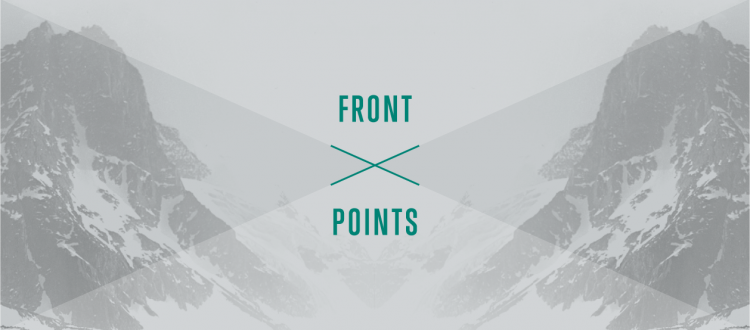 The Exponential Curves Re-Emerge
The curves are telling the story.
They were flat for a while. Now they're heading up the exponential slope again.
Texas, Arizona, Florida – and even California, which did so well for so long – are among the couple dozen states that are beginning to look up at those scary curves of new COVID-19 cases.
We still have no idea where this is truly going. The CDC said yesterday that there are probably 10 times more cases in the US than have been officially counted.
Even with pandemic math this grim, nearly four months into the outbreak, we still don't have enough people wearing masks. Not enough people are respecting social distancing guidelines.
Too many are wallowing in cynicism. Too many are stuck in denial. Too many are blinded by ideology or hatred of the other.
We are reaping what we've sown – too much pollution in the information age. The conservative New York Times columnist Ross Douthat would say that's part of a decadent society.
Responsible public officials who came of age before the infodemic seem befuddled sometimes when people don't listen.
"We have to realize that we're a large country that has outbreaks in different regions, different states, different cities, that have different dynamics, and different phases in which they are in," Tony Fauci, the nation's top infectious disease official, said as far back as Apr. 23.
After a long plateau of cases in late May and June, we are recording about 38,000 cases a day, according to the CDC (see chart below). The growth trajectory of cases the past two weeks threatens to overrun hospitals in multiple states.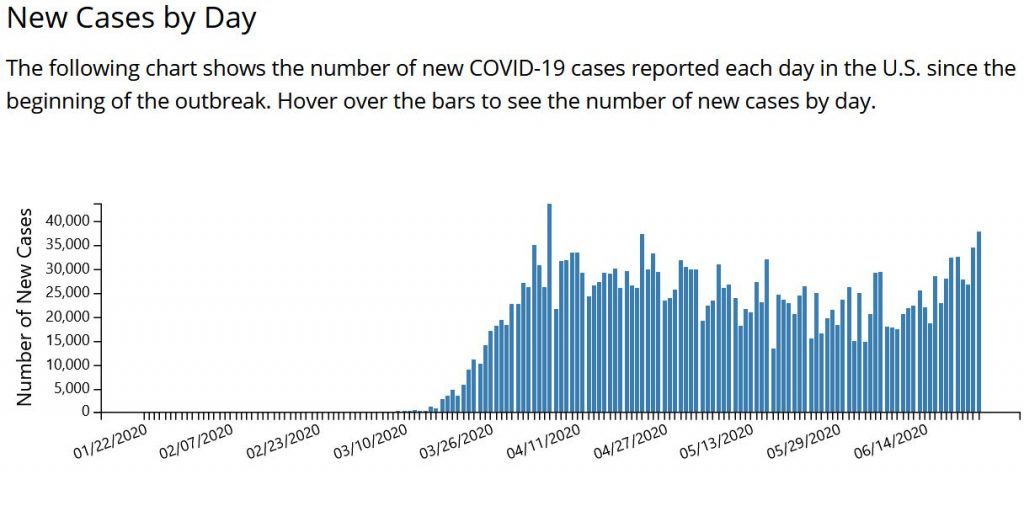 This new surge in the South and West is happening when the US has already recorded 122,000 dead. About 30.6 million people were receiving unemployment checks in the first week of June – about one-fifth of the US workforce. An estimated 28 million renter households are at risk of eviction in the pandemic, according to a May report by Amherst, an investment research firm. Black people in the US, of course, face a disproportionate risk of being evicted.
People are weary of the virus. People are scared about their economic future. Many don't know how much longer they'll have a roof over their heads.
Given this state of affairs, it's sometimes hard to imagine a focused, intelligent, disciplined, collective problem-solving effort to wrestle this virus to the ground and get the economy back on track. The angriest, loudest, most provocative and dishonest voices suck up most of the oxygen on the Internet, drowning out the voices rooted in facts and reason. For now, we don't seem capable of having grown-up conversations.
Those of us who care about science have to stay steady and focused.
We can be part of the solution.
The protests in the wake of the killings of George Floyd, Armaud Arbery and Breonna Taylor have shown us that people are willing and able to march in the streets. We can demand change, and get it.
We need to keep holding elected officials' feet to the fire to create a more humane and just and healthier world. It starts with us expecting better, of not just shrugging in resigned acceptance of cynicism and corruption.
This industry is doing its part in the fight against COVID-19. Compiling this column every week fills me with hope and wonder. Read to the bottom and you'll see why. Every week, it's a joy to consolidate knowledge and see the remarkably fast progress on drugs, vaccines and diagnostic tests. The money flowing into this industry is breathtaking. The sheer brilliance and energy represented by the partnerships completed each week is inspiring.
I'd like to see this renewed mission-driven industry spirit spill over into other aspects of the way this business operates. The industry can get better in how it hires, develops, and treats every human being that comes to work. We can encourage everyone to vote, and remove obstacles that get in the way of people exercising that right.
We can demand elected officials to reverse disastrous anti-immigrant policies. Instead of going all-in to block changes to the way we pay for drugs, the industry can get to work on a new system that rewards drugs for the value created for patients and the healthcare system.
A lot is happening every day, and much is positive. Let's keep the conversation going about beating COVID-19 in the near term, about strengthening our public health defenses for the long term, and about creating a more equitable and decent world for our kids forever.
Science
Science Features
Policy & Politics
Public Health
Epidemiology
Humanity
Communication
Treatments
South San Francisco-based Theravance Biopharma said it dosed the first patient in a Phase II study of its lung-selective nebulized delivery form of a JAK inhibitor for hospitalized patients with COVID-19. The study, in the UK, will look at whether the drug can tamp down cytokine storms that can progress to lung damage, and ultimately help patients avoid Acute Respiratory Distress Syndrome (ARDS).
Miami-based Ridgeback Biotherapeutics said it's starting up a pair of Phase II trials with its novel antiviral ribonucleoside analog against SARS-CoV-2. The studies will enroll adults ages 18 and older who are PCR-positive for COVID-19 but non-hospitalized, or newly hospitalized.
Gilead said it's gotten clearance from the FDA to move ahead with clinical development plans for an inhalable formulation of remdesivir for COVID-19, instead of just the usual intravenous form. The inhalable could be given via nebulizer outside the hospital, and at earlier stages of disease, targeted to the lungs. First patient enrollment is scheduled for August.
Cambridge, Mass.-based Evelo Biosciences said its orally available, microbiome-based therapy EDP1815 is being prepared for a randomized 469-patient Phase II/III clinical trial in the UK. The Evelo drug candidate has been tested already in psoriasis, and has shown an ability to suppress multiple inflammatory cytokines implicated in cytokine storms that have been implicated in so much suffering and death in COVID-19 patients.
Vaccines
Cambridge, Mass.-based Moderna said it formed a deal with Catalent to provide fill & finish work on its COVID-19 vaccine candidate. Catalent will be staffing up to do the fill & finish work needed for 100 million doses for the US market starting in the third quarter of 2020 (before Sept. 30). Work will be done at Catalent's facility in Bloomington, Indiana, and the companies are looking for capacity to make hundreds of millions of more doses.
Data That Mattered
Somerville, Mass.-based Finch Therapeutics said it passed a randomized 206-patient clinical trial with a microbiome-based therapy for C. difficile infections. The company said it met the Phase II study's main goal, delivering a cure for 74.5 percent of recurrent C. diff patients after eight weeks, compared with 61.5 percent who did that well on the standard antibiotic treatment. Finch said it's the first time an oral microbiome therapy has passed a pivotal trial. It's something of a boon to the field of microbiome therapeutics, which has been perceptually dragged down by the failure of Seres Therapeutics in its first pivotal study a few years ago.
Merck said its experimental 15-valent conjugate pneumococcal vaccine passed a pair of Phase III studies looking at safety and immunogenicity in adults age 50 and older, and in adults age 18 and older living with HIV.
Cambridge, Mass.-based Acceleron Pharma said it passed a 106-patient Phase II, randomized, placebo-controlled study of sotatercept as a treatment for pulmonary arterial hypertension. The drug was tested at a low and high dose, and given by subcutaneous injection every 21 days to patients already on stable background therapy. Acceleron said it was able to reduce pulmonary vascular resistance, the primary endpoint of the study, by 33.9 percent on the high dose, and 20.5 percent on the low dose. The placebo group saw a 2.1 percent reduction.
Financings
Deals
Lexington, Mass.-based Translate Bio, the developer of mRNA therapies and vaccines, expanded its 2018 collaboration with Sanofi to encompass vaccine work across broader swaths of infectious disease. Sanofi is getting exclusive worldwide rights to vaccines for infectious disease built on the Translate technology. In return, Translate is getting $425 million upfront, with $300 million in cash, and the rest in the form of a stock purchase. The companies are working on a COVID-19 mRNA vaccine candidate in preclinical development, but the collaboration also includes influenza and a couple of undisclosed viral and bacterial pathogens. Just after the deal, Translate announced plans to raise $125 million in a stock offering. (For background, listen to Translate CEO Ron Renaud on The Long Run podcast, December 2018).
Gilead Sciences, seeking to continue building out its cancer portfolio, agreed to acquire a 49.9 percent ownership stake in South San Francisco-based Pionyr Immunotherapeutics for $275 million. Gilead has an option to acquire the whole company for another $315 million, and could end up paying the Pionyr shareholders $1.15 billion more in milestones if certain goals are met. Pionyr is developing preclinical technology intended to help patients who don't currently respond to checkpoint inhibitor therapy. (CEO Steve James was a featured speaker at the San Francisco Cancer Summit that I organized last year as a fundraiser for the Fred Hutch Climb to Fight Cancer.)
Lexington, Mass. and Amsterdam-based UniQure pulled in $450 million upfront from CSL Behring as part of a deal to commercialize its gene therapy for hemophilia B.
San Francisco-based Invitae, a genetic testing company, agreed to acquire ArcherDx. The combined company will have strengths in germline testing, somatic testing, liquid biopsy, and tissue genomic profiling for cancer. ArcherDx shareholders are getting 30 million shares in Invitae, plus $325 million in upfront. Another 27 million shares could go to ArcherDx if certain goals are met, bringing the total deal value to $1.4 billion.
Tokyo-based Sosei Heptares formed an agreement with AbbVie to co-develop small molecule drugs against G-protein coupled receptors (GPCRs) implicated in inflammatory and autoimmune diseases. Sosei Heptares is eligible to collect $32 million in upfront and near-term milestones.
Cambridge, Mass.-based Yumanity Therapeutics formed a strategic alliance with Merck, in which the big drugmaker will get access to work on two pipeline programs Yumanity has for amyotrophic lateral sclerosis and frontotemporal lobar dementia. Yumanity is getting an undisclosed upfront payment and is eligible to receive milestone payments worth as much as $500 million.
Cambridge, Mass.-based Codiak Biosciences, the developer of exosome therapeutics, agreed to work with Sarepta Therapeutics on five neuromuscular targets. Codiak stands to collect $72.5 million in upfront and near-term milestone payments. (See TR coverage, June 22, 2020).
Ann Arbor, Mich.-based Esperion Therapeutics amended its collaboration in Europe with Daiichi Sankyo. Esperion will collect its $150 million milestone payment once the companies applications for its cardiovascular drugs are cleared for marketing in Europe, not when the first commercial sale occurs, as was the case in the original deal.
Morristown, NJ.-based Melinta Therapeutics, an antibiotic developer, called off its merger agreement with Tetraphase Pharmaceuticals.
New York-based Schrodinger, the computational drug discovery company, announced a couple deals. One combines the company's physics-based software with vivid structural imaging from cryo-EM technology from Thermo Fisher Scientific. Schrodinger also said it's now working on antiviral therapeutic discovery against COVID-19, which could be sped up thanks to a donation of significant cloud computing power from Google Cloud.
Philadelphia-based Century Therapeutics, the developer of induced pluripotent stem cell-derived allogeneic cell therapies, agreed to acquire Empirica Therapeutics – a company with a multi-omics based approach to treating glioblastoma. Financial terms weren't disclosed. Janelle Anderson, chief strategy officer of Century, was credited with shepherding the deal. (Listen to Janelle describe Century Therapeutics' strategy on The Long Run podcast, August 2019).
Evotec and Samsara Capital and KCK, a family office, teamed up to invest in seed company projects in a new entity called Autobahn Labs. It has an initial collaboration with UCLA. Plans are to invest as much as $5 million per company.
Personnel File
Terri Young was hired as executive vice president, chief commercial and strategy officer, at Cambridge, Mass.-based Seres Therapeutics. She was previously vice president of global commercial strategy at Sage Therapeutics.
Brent Saunders, Randy Scott and Andrew Lo joined the board of directors at Palo Alto, Calif.-based BridgeBio Pharma, a developer of treatments for genetic diseases.
Brisbane, Calif.-based Sangamo Therapeutics said Adrian Woolfson, the executive vice president of R&D, is leaving the company. Sangamo is splitting research and development into separate functions that will both report in to CEO Sandy Macrae. Jason Fontenot will be interim head of research. The company said it's looking for a head of development.
Regulatory Action
Cambridge, Mass.-based Epizyme, a cancer drug developer, secured accelerated approval from the FDA to start marketing tazemetostat (Tazverik). It's for patients with EZH2-mutation positive tumors, getting third-line treatment for relapsed / refractory follicular lymphoma.
Boston-based Akili Interactive secured a CE Mark to allow marketing in the European Union for its video game-based approach to treatment of attention-deficit hyperactivity disorder (ADHD). The European clearance came just days after Akili secured clearance for its first-in-class digital therapeutic from the FDA.
Newton, Mass.-based Karyopharm Therapeutics won FDA clearance to market selinexor (Xpovio) as an oral therapy for third-line treatment of relapsed or refractory diffuse large B-cell lymphoma. It's a second indication for the drug, which was previously cleared for multiple myeloma.