Before diving into a big week in biotech, let's pause to think about the life of a tremendous human being we can learn from.

RIP
Bill Gates Sr. died at age 94. He had Alzheimer's.
The father of one of the world's richest men was a prominent lawyer, and deeply engaged civic-minded figure in my hometown of Seattle.
The older Bill loomed large over young Bill. (In more ways than one — Bill Sr. was tall).
I didn't personally get to know Bill Sr. But as a kid reporter at The Seattle Times, I covered some of his public activities. One memory is of Bill Sr.'s determined, but quixotic, effort to fix the regressive and unstable Washington state tax system. We have no income tax, and rely heavily on sales tax, which tends to drop in recessions.
During the early 2000s, Bill Sr. chaired a citizen commission that investigated alternatives. The committee concluded the state needed more stable financing mechanisms, like an income tax, to support things like K-12 and university education and social services. He was for it, even though that meant increasing taxes on wealthy people like him and his son.
That was news. But what I didn't fully appreciate was that the position reflected Bill Sr.'s appreciation for the balance between individuals and communities.
To test people's assumptions about wealth, he liked to ask a rhetorical question.
"What if my son had been born in Bangladesh?"
The answer, for those willing to stop and think, is that William H. Gates III never would have had a chance to start anything like Microsoft, usher in the computer age, or create the world's richest philanthropy to advance global health, development and education.
Bill Sr. knew that his determined and brilliant son achieved such things because of a constellation of factors way beyond any individual.
For starters, young Bill grew up in Seattle. It was, and still is, a safe and beautiful community filled with smart, imaginative and entrepreneurial people. Young Bill had the advantage of growing up in a loving family, with accomplished parents that expected a lot. For a while, the family sent him to an excellent public school (View Ridge Elementary). The family later sent the boy to an excellent private school, Lakeside.
All around young Bill there were dedicated and caring teachers. All around, there were smart and caring parents of other kids watching out for everyone.
During adolescence, there was the fateful opportunity to meet a bright and nerdy young classmate named Paul Allen. And crucially, in a part of the story many people forget or never hear at all, there was a treasure of a public university down the street – the University of Washington.
This outstanding public university had the resources to acquire some of the early mainframe computers long before teenage Bill's imagination started firing about what to do with such things. The rebellious youngster and his friend Paul snuck in there and cadged some computer time when the grad students and professors weren't paying much attention. The plucky youngsters were thrilled with possibilities.
The point is this. The environment we choose to create for each other, and for future generations, is crucial to our success. Bill Gates Sr. understood this, and reminded his son of this unavoidable fact, especially when the son may have been leaned toward self-centered arrogance. William H. Gates III became unimaginably wealthy, through a combination of talent, good timing, and luck. But above all, it was because this kind of success was possible in the United States.
We would be better off as a country if we could set aside the popular myth of the rugged individual and self-made man. With a little more humility and empathy, we could begin again to unify and do more to uplift everyone else around us.
That would be a fine way to honor the legacy of William Gates Sr.
Vaccine Transparency
Moderna and Pfizer – the two front-runners in the COVID-19 mRNA vaccine quest – responded to the pressure from academia and industry observers by opening up their Phase III clinical trial protocol. Moderna went first with its 135-page protocol, putting pressure on everyone else. Within hours, it was followed by Pfizer. Here we can see some of the best-case scenarios for early stopping of trials that could lead to the fastest answer, in more context.
Eric Topol, a cardiologist at The Scripps Research Institute who has pushed for greater clinical trial transparency, applauded the move. Then he highlighted some key aspects of their design.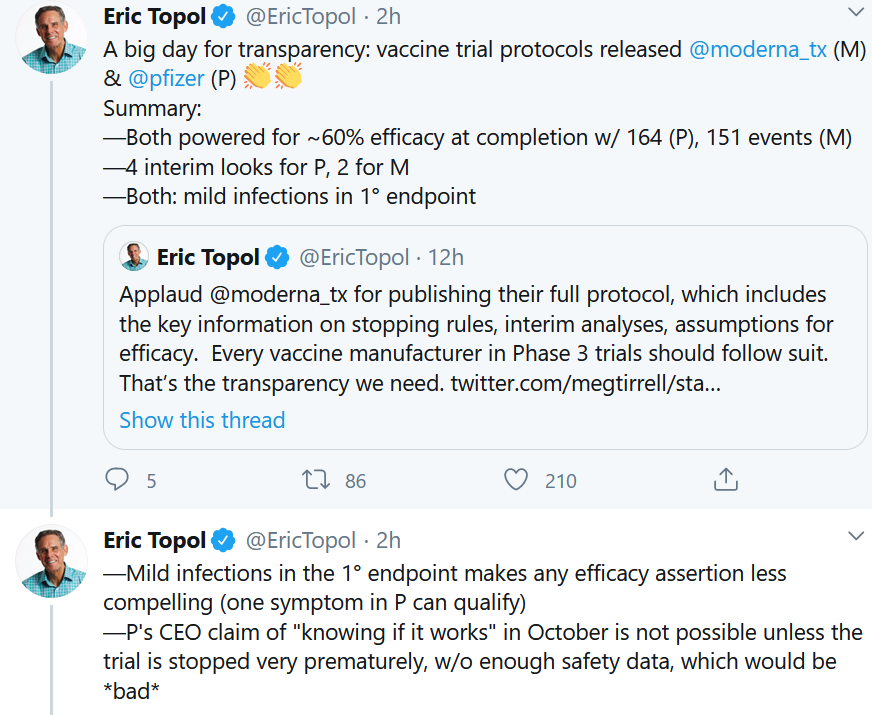 In sum, even though these are large randomized trials, the absolute numbers of infections in each arm of the study could be quite small. We knew that already, but now we can see the actual numbers. As biotech investor Brad Loncar said, referring to the first interim analysis on the Pfizer protocol, which allows for early stopping based on compelling efficacy based on 32 infections (6 in the vaccine group, and 26 in the placebo group):

A reasonable person might say 'Hey, maybe we should enroll some more people and gather just a little more longer-term safety data.' That's open to debate.
While we wait for clarity, it helps to be as open as possible.
AstraZeneca, by contrast, has fumbled its chance to build trust at this crucial moment. First, CEO Pascal Soriot divulged key details about the adverse event that halted its trial to a private audience of investors convened by JP Morgan, as reported by STAT. That was a terrible mistake, feeding the most critical perceptions of the pharma industry. Then, when pressed by reporters to elaborate on the adverse event and whether it might be vaccine-related or not, the answer remained elusive.
When CNN reported on an internal AZ safety report, AZ responded by saying the report "contains inaccuracies," and is "based on preliminary findings" but didn't point to any specific inaccuracies, and then declined further comment. That's weak.
Is it fair for outsiders to jump to quick conclusions about the fate of a vaccine and entire trial based on a single patient? No. But crawling into a business-as-usual "trust us" defensive crouch won't cut it in this environment.
While we're at it, why has your trial resumed enrollment in the UK, but not in the US?
AZ, do better.
Crisis at the CDC
The director of the CDC, Robert Redfield, has failed to rise to the occasion in this pandemic, as STAT's Helen Branswell reported the morning of Sept. 16. But that day, Redfield told the truth in front of a Congressional committee. Redfield said that a mask is a more valuable tool against the pandemic than a vaccine at the moment. He also had to be the bearer of bad news, saying it will take until later in 2021 to widely distribute COVID-19 vaccines across America.
Quickly, Redfield got a scolding phone call from the President.
The President corrected his own CDC director, saying that Redfield was spreading "incorrect information."
No, he wasn't. Redfield said something true about masks to Congress, under oath. Then he was forced to walk it back and apologize because it contradicted what the boss is saying on the campaign trail.
A day later, we find out, thanks to the New York Times, that the terribly irresponsible guidance from CDC last month, which said asymptomatic people who have been exposed to COVID-19 don't need to bother getting tested posted on the CDC website, but written by higher-ups at the White House coronavirus task force and Health and Human Services. Scientists at the CDC strongly objected, but were overruled.
This revelation comes after we learned that political operators have been interfering with the CDC's ability to communicate to scientists through its trusted Morbidity and Mortality Weekly Report (MMWR).
Meanwhile, what are schools and universities and businesses supposed to do?
Why can't we get unvarnished science-based advice from the CDC?
We have to do better.
Therapeutics
Eli Lilly reported some good news from a randomized, placebo-controlled, 452-patient Phase II study of its therapeutic neutralizing antibody for COVID-19. The drug was developed in collaboration with Abcellera and with testing help from the National Institute for Allergy and Infectious Diseases Vaccine Research Center. Newly diagnosed patients ended up in the hospital 1.7 percent of the time after getting the antibody drug, compared with 6 percent in the placebo group – a 72 percent reduction in relative risk. No serious adverse events were reported on the drug. The drug was tested at three dose levels, and only the middle dose – a whopping 2,800 milligrams – met the pre-specified primary endpoint of reduction in viral load from baseline to Day 11. The dose is very high, so that creates an extra manufacturing burden to serve large numbers of patients, but still, this is a demonstration of what can be achieved clinically by hitting the spike protein with a neutralizing antibody. (These Lilly results, by the way, were much better than with its JAK inhibitor baricitinib for reducing cytokine storms, which shaved off a median of 1 day off recovery time.)
Science
Epidemiology
Perspectives
Building Trust
Eroding Trust
Drug Pricing
Confronting Racial Inequities
An Exceptional Country, But With Failed Leadership
Deals
Gilead Sciences agreed to pay $21 billion, or $88 a share, to acquire Immunomedics, the developer of a recently FDA approved antibody drug conjugate against Trop-2, and indicated for triple-negative breast cancer. The price was more than double what Immunomedics was trading at prior to the proposed acquisition.
Elsewhere in the world of antibody-drug conjugates, Merck and Seattle Genetics agreed to a big deal. Merck agreed to co-develop SeaGen's ladiratuzumab vedotin, an ADC targeting LIV-1, currently in Phase II clinical trials for breast cancer and other solid tumors. Merck is paying $600 million upfront in cash and is making a $1 billion equity investment by buying 5 million SeaGen shares at $200 apiece. In a separate deal, SeaGen provided Merck a license to sell the HER-2 directed small molecule drug tucatinib (Tukysa) in Asia, the Middle East, Latin America and other regions outside the US, Canada and Europe. SeaGen pocketed $125 million upfront for that license.
Moderna and Vertex agreed to work together on using mRNA and lipid nanoparticle delivery technologies to make gene-edited therapies in lung cells for cystic fibrosis. Moderna is getting $75 million upfront.
San Diego-based Illumina spun out Grail to use next-gen sequencing for early cancer detection, and apparently is now looking into acquiring the company, which has filed paperwork to go public. Bloomberg News reported on the rumored transaction. Valuation for Grail could reportedly exceed the $6 billion – which prompted a selloff of Illumina shares.
Germany-based Boehringer Ingelheim and New York-based Click Therapeutics agreed to work on a prescription digital therapeutic for schizophrenia. The upfront to Click wasn't disclosed, but total deal value with milestones is $500 million.
Irvine, Calif.-based Novus Therapeutics completed a reverse merger, acquiring privately held Anelixis Therapeutics, the developer of an anti-CD40L directed antibody to tamp down excessive immune reactions in organ transplant settings, autoimmunity, and for neurodegeneration. In connection with the merger, investors led by BVF Partners, and including Cormorant Asset Management, Ecor1 Capital, Logos Capital, Fidelity Management and Research Company, put in $108 million. DA Gros will be the CEO of the newly combined company.
Cambridge, Mass.-based Obsidian Therapeutics said its partner, Bristol-Myers Squibb, opted in to develop a cell therapy designed to provide controlled expression of CD40L. It's the first opt-in since the partnership was announced in 2019.
Financings
Waltham, Mass.-based Dyne Therapeutics, the developer of treatments for muscle diseases, raised $233 million in an IPO priced at $19 a share.
Seattle-based Athira Pharma, an Alzheimer's drug developer, raised $204 million in an IPO at $17 a share.
Menlo Park, Calif.-based Synthekine raised $82 million in a Series A financing co-led by Canaan Partners, Samsara BioCapital and The Column Group. The company is seeking to fine-tune cytokine therapies for cancer and autoimmunity.
Somerville, Mass.-based Finch Therapeutics, the developer of oral microbiome-based therapies, raised $90 million in a Series D financing.
Questa Capital Management, a venture growth equity firm, closed on a $348 million fund to invest in healthcare services, technology and medical devices.
San Francisco-based Graphite Bio raised $45 million in a Series A financing from Versant Ventures and Samsara BioCapital. The company is seeking to develop a more efficient gene editing platform, starting with sickle cell disease. (See TR coverage, Sept. 16).
San Diego-based Escient Pharmaceuticals raised $77.5 million in a Series B financing to develop Mas-related G-Protein Coupled Receptor targeting drugs. Sanofi Ventures and Cowen Healthcare Investments co-led.
Germany-based BioNTech received a 375 million Euro grant from the German government to develop vaccines against SARS-CoV-2.
South San Francisco-based Attralus raised a $25 million Series A round led by venBio. The company is developing technology to better diagnose and treat various forms of amyloidosis. (See TR coverage)
New York and Amsterdam-based Neogene Therapeutics raised $110 million in a Series A financing to develop neoantigen-based cell therapies against solid tumors. EcoR1 Capital, Jeito Capital and Syncona led the financing.
Biogen said it plans to invest $250 million over the next 20 years to eliminate its use of fossil fuels, and to support research at Harvard and MIT on reducing air pollution. As a guy who's been literally cooped up in the house nonstop since Sept. 10 because of Seattle's horrific smoky air – AQI scores consistently between 200-300 – I'm hoping other companies follow this lead. For the sake of the planet.
Data That Mattered
Pasadena, Calif.-based Arrowhead Pharmaceuticals reported positive interim results from a Phase II study that showed its RNAi treatment for liver disease associated with alpha-1 antitrypsin deficiency (AATD). Patients on the treatment saw significant reductions in a mutant protein, and reduced circulating enzymes that are a sign of liver damage.
Radnor, Penn.-based Marinus Pharmaceuticals said it passed a Phase III clinical trial for CDKL5 deficiency, a rare genetic form of epilepsy. Patients who got the company's experimental drug, ganaxolone, showed a significant 32.2 percent median reduction in 28-day major motor seizure frequency, compared to a 4.0 percent reduction for those receiving the placebo. The company said it plans to seek FDA approval in mid-2021. Separately, Marinus announced it won a $21 million BARDA contract to develop IV ganaxolone for Status Epilepticus caused by nerve agent exposure.
Cambridge, Mass.-based Voyager Therapeutics and San Diego-based Neurocrine Biosciences presented three-year follow-up data on a single-shot gene therapy for Parkinson's that showed sustained benefits in motor function. The treatment showed improvement for 14 of 15 patients at the 3-year analysis.
Regulatory Action
Roche won FDA approval for a more sensitive cytology test to detect high-risk forms of human papillomavirus. This will help prevent cervical cancer.
Manufacturing in the 21st Century
Takeda Pharmaceuticals opened a 24,000 square foot cell therapy manufacturing center at its R&D headquarters in Boston.
Personnel File