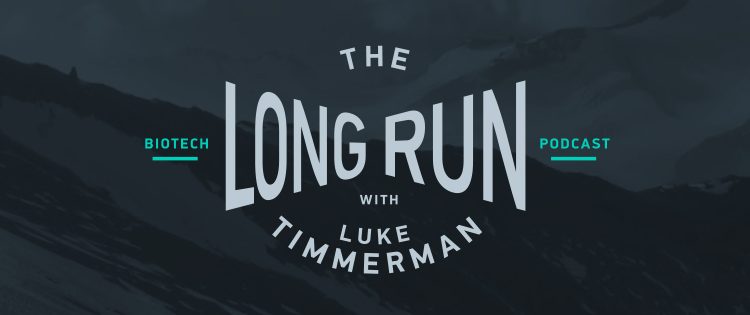 George Yancopoulos on Threading the Price Needle, and Building a Biotech to Last
George Yancopoulos, the president and chief scientific officer, started his biotech career in 1989 at Regeneron Pharmaceuticals. He's been there ever since, and has pretty much seen it all.
It was a pleasure to have him as the guest for Episode 3 of The Long Run podcast.
Yancopoulos, in this recording at Regeneron offices in Tarrytown, NY, talks about how he and CEO Len Schleifer built the company together.
These two recall the lean years when investors wondered if they were running a science project, or building a real drug company. But Regeneron has broken out as one of biotech's big successes. The company has developed 6 FDA-approved drugs so far. It's the third-best performing stock in the S&P 500 over the past decade. Now Regeneron is attempting to the lay the foundation for many more drugs by investing in an ambitious genomics-based discovery center.
Yancopoulos is a forceful personality. You'll hear his passion for science come through clearly in this conversation.
Before you take a listen, a couple quick plugs. If you like this show, you'll love my subscription newsletter, Timmerman Report. You can go to timmermanreport.com to subscribe, either as an individual, or with a group discount for your company or university.
If you are interested in sponsorship opportunities for this podcast, this will be a great way to get your company's name in front of a high-value audience of biotech executives and investors. Send me an email. luke@timmermanreport.com.
The next episode of The Long Run will feature a conversation with Richard Pops, the CEO of Alkermes, about his company's anti-addiction drug, and the role it can play in combating the opioid painkiller epidemic.
This was a serious conversation, and an uncomfortable one at times. Some in industry have been irresponsible in overmarketing opioid painkillers. There is no silver bullet for this scourge. This will take a long-term push from multiple players – doctors, public health authorities, law enforcement, and the pharmaceutical industry. You won't want to miss that upcoming conversation with Richard Pops.
Now, join me for The Long Run. Thanks for listening.