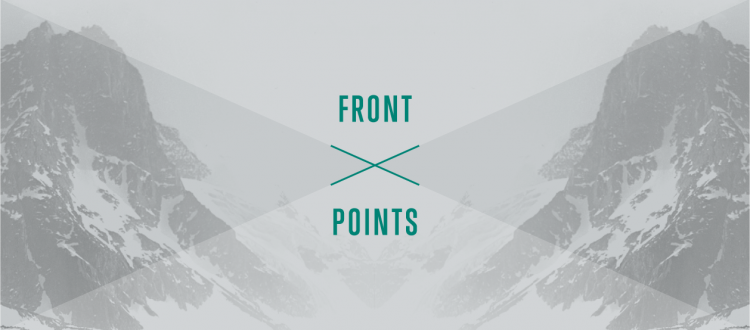 FDA and CDC Credibility Tarnished; Pfizer Sprints Ahead With COVID19 Vaccine
Credibility takes years to build. It can crumble in seconds. Repairs can take a lifetime.
The FDA and the CDC are two of the American public health agencies that became global models of excellence after World War II. We should remember that, and perhaps the FDA and CDC should plaster it up on their walls as a reminder.
Both agencies have tarnished their credibility in this crisis. The FDA was slow at first with clearing RT-PCR diagnostic tests, then too fast with serology tests that had little or no actual data. Again, with no real evidence, it granted an Emergency Use Authorization for hydroxychloroquine against COVID-19, then had to withdraw it, tail between legs, when the hotly promoted drug flunked rigorous clinical trials.
Worse, FDA commissioner Stephen Hahn exaggerated the evidence for convalescent plasma in late August, on nothing but a single uncontrolled observational study. He utterly failed to explain the difference between absolute and relative risk, leaving the public with the false impression that convalescent plasma was some kind of panacea.
The CDC has done even worse. For a quick review, see Mike Pellini's latest article in TR. Incomprehensibly, we still have no national testing/tracing/isolation program to contain community transmission. Schools are flying blind this fall, without clear guidance from the agency best equipped to deliver the epidemiological goods.
This is seven months into a pandemic that has killed 190,000 Americans and continues to kill 1,000 per day.
The agency, with no credible public leader who can step to the mic, can't get people to wear masks, can't get people to believe in vaccines, and can't defend itself from an Up-is-Down disinformation campaign seeking to make Americans believe our national leaders have done a fine job. Move along now, nothing to see here.
Former NIH director and Nobel laureate Harold Varmus, a man who knows many talented public servants, surely was pained to write: "It Has Come to This. Ignore the CDC."
None of this would have happened if the scientists on the national level were in position to guide policy.
The climax of this story is coming with COVID-19 vaccines. We could get several. An FDA advisory committee is scheduled to review the data on safety and efficacy, Oct. 22. This will be the most high-profile adcomm in FDA history. The pressure to approve something for wide-scale distribution – anything, really – will be of the diamond-crushing variety.
The CDC is appropriately seeking to prepare state and local health authorities in case of success with one or two vaccines by Nov. 1. But even in a best-case scenario, care will have to be taken with equitable distribution of the first doses. The decisions will need to be communicated with transparency by trustworthy voices. (Governors, please?)
The FDA and the CDC have done many things to build up public trust. We have a thriving biopharma sector in the US today. We take it for granted, but one of the main reasons for that is our strong, independent, scientifically rigorous FDA. It gives investors the confidence to invest, and doctors the confidence to prescribe.
Our country led the way on eradicating smallpox from the planet, in large part because of our CDC.
These are just a couple of the achievements of our public sector agencies. They deserve our acclaim and gratitude.
Of course, government agencies are populated by humans, and humans make mistakes. All organizations do – public and private. What's important is what the organization does to make things right when it screws up.
There's a bargain in here for us. Those public agencies are accountable to us as citizens, as taxpayers. We need to be active, participating citizens to keep our taxpayer-funded agencies on their toes, to keep them focused on the mission. The media has a role to play here, and so do you.
Scrutiny is healthy. Battery acid is corrosive. The cynical attitude that says, "the government can do nothing right," is a big part of our problem.
It's natural to feel exhausted. It's understandable to throw up our hands in despair. I feel it sometimes, too.
But previous generations invested the time and talent and treasure to build these institutions for the public interest. Giving in to apathy about the cultural decay around us isn't going to fix anything.
We have to defend science when it's under attack.
We have to press our scientific institutions to do better.
We have to follow the science so we can rebuild.
It will require hard work.
It will take time.
It won't get fixed in a Tweet.
Epidemiology
Tony Fauci warned that seven Midwestern states are at particular risk of seeing a surge in COVID-19 cases, heading into the Labor Day holiday weekend. Cases increased the last two times we had holiday weekends this summer – Memorial Day and Fourth of July. Come on, people. America is racking up 20x more deaths on a weekly basis than a comparable section of the European Union, as Otello Stampacchia pointed out in these pages this week.
How many more deaths are we willing to tolerate?
What will it take for us to start doing what works (social distancing, avoiding crowds, wearing masks). What we are doing now clearly isn't working. (See chart from Worldometers)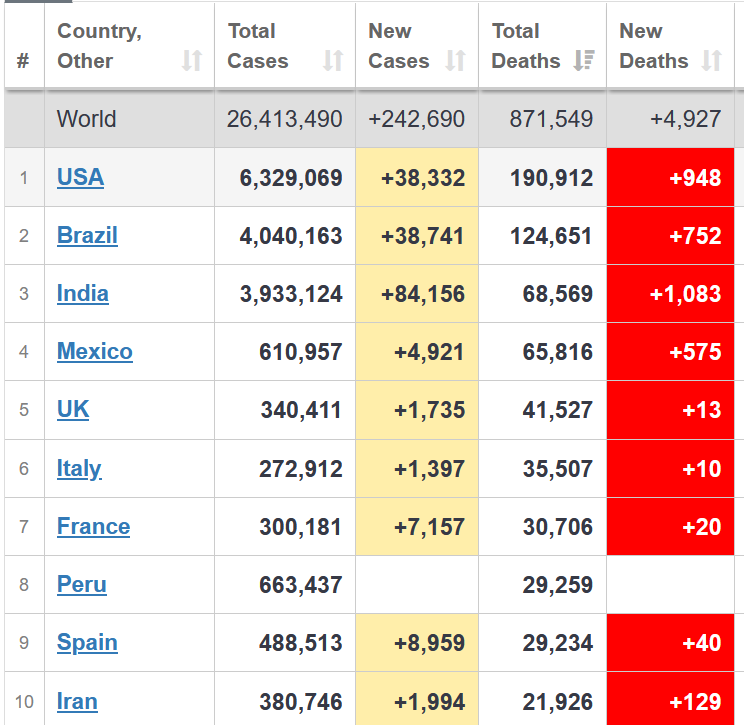 Vaccines
Pfizer appears to be in the lead, having enrolled 23,000 subjects on its BioNTech-developed mRNA vaccine candidate since late July. The trial is designed to evaluate safety and efficacy in 30,000 people. Some are now getting their second of two planned doses. Based on the lightning-quick enrollment pattern, CEO Albert Bourla is projecting an initial readout on efficacy by "the end of October." Long-term safety data, by definition, will not be available until long-term follow-up can be completed. Later yesterday, Moncef Slaoui of the federal government's Operation Warp Speed said there is a "very, very low chance" that the existing trials could yield data by the end of October. But he did also say we could have 20-25 million doses ready by year-end — a serious testament to the urgency of this mission.
Moderna has said it expects to complete enrollment of its 30,000-person Phase III mRNA vaccine trial in September. These are the two candidates furthest along in development. The CDC has told state and local authorities that limited doses of vaccine could be available by late October or November. Others, with different mechanisms for stimulating immunity to SARS-CoV-2, are queuing up fast. AstraZeneca, on Aug. 31, said it began enrolling the first of 30,000 subjects in the US expansion cohort of its Phase III clinical trial for the COVID-19 vaccine candidate developed with the University of Oxford. Sanofi and GSK are a bit behind, announcing Sept. 3 they're initiating a Phase I/II trial with 400 subjects on their recombinant protein & adjuvant vaccine candidate.
Science
Science Features
Policy
Credibility
Our Shared Humanity
Manufacturing and Access
Regeneron and Roche agreed to work together to scale up to meet global demand for REGN-COV2, the two-antibody cocktail developed by Regeneron to treat COVID-19 infections, and provide short-term prophylaxis. Regeneron said the arrangement will boost manufacturing capacity by 3.5x. Regeneron will distribute in the US; Roche will distribute to the rest of the world, and each company will bear its own expenses in its territories. Regeneron is getting Roche to help foot the bills for an ongoing Phase III prevention study, and a Phase I healthy volunteer study, plus more studies to come.
Financings
Watertown, Mass.-based Kymera Therapeutics raised $199.8 million in an IPO priced at $20 a share on Aug. 25. The company, the developer of targeted protein degrading drugs, has traded between $27 and $37 a share in the early days since the IPO.
Plymouth Meeting, Penn.-based Harmony Biosciences raised $147.6 million in an IPO priced at $24 a share on Aug. 21. The company is developing drugs for rare neurological diseases. The stock has climbed as high as $43 a share.
San Diego-based Inhibrx, the developer of biologic drugs for cancer and rare diseases, pulled in $136.9 million in an IPO at $17 a share on Aug. 21.
Germany-based CureVac, the developer of mRNA based therapies and vaccines, raised $245 million in an IPO at $16 a share on Aug. 18. The stock tripled on Aug. 20 after CureVac reported it is in "advanced discussions" with the European Commission to supply more than 400 million doses of an mRNA vaccine candidate for COVID-19. Elon Musk also bestowed some praise on the company, driving action in the stock. CureVac traded over $56 a share yesterday.
CM Life Sciences, sponsored by affiliates of Casdin Capital Management and Corvex Management, pulled in $385 million in an IPO. The company, led by CEO Eli Casdin and chairman Keith Meister, said it will seek business combinations that bring together "three separate areas of the life sciences industry that are often fragmented – life sciences tools, synthetic biology and diagnostics."
Seattle-based Lumen Bioscience raised $16 million in a Series B financing to advance clinical programs for C. difficile infections, norovirus and traveler's diarrhea.
Redwood City, Calif.-based Synthego, a genome engineering company, raised $100 million in a Series D financing led by Wellington Management.
South San Francisco-based Freenome raised $270 million in a Series C financing to advance the company's blood test for colorectal cancer. Bain Capital Life Sciences, a new investor, co-led with existing investor Perceptive Advisors.
San Mateo, Calif.-based Kronos Bio raised $155 million in a private financing to advance its cancer drug development. Perceptive Advisors led.
Lyra Health raised $110 million in a Series D financing to advance its digital tools to support mental health.
Newark, Calif.-based Rain Therapeutics, a developer of targeted cancer drugs, closed a $63 million Series B round. Boxer Capital led, and was joined by Cormorant Asset Management, Samsara Capital and others. The company licensed a small molecule, oral MDM2 inhibitor from Daiichi Sankyo.
New York-based Immunovant, a developer of treatments for autoimmunity, raised $173.9 million in a public offering at $33 a share.
San Diego-based Erasca extended its Series B financing to $236 million. Partner Fund Management and OrbiMed joined the syndicate.
Vancouver, BC-based Chinook Therapeutics, a developer of drugs for kidney diseases, raised $106 million in a private placement. EcoR1 Capital and OrbiMed were among the new investors. Chinook is merging with publicly-traded Aduro Biotech.
Regulatory Action
Abbott Laboratories won FDA clearance for its $5 antigen test to detect COVID-19. The test can be run in 15 minutes by qualified labs. It's not as accurate as the RT-PCR tests, but it does deliver a reported sensitivity of 97.1% and specificity of 98.5%, which is pretty good for a $5 test that can be run in minutes.
The FDA cleared Roche's HIV-1/HIV-2 test for the cobas 6800/8800 platforms. The test is PCR based, automated, and able to distinguish between the two types of HIV.
The FDA cleared Novartis to start selling ofatumumab (Kesimpta) for patients with relapsing multiple sclerosis. The drug is an anti-CD20 antibody, designed to deplete B-cells, and has been approved since 2009 for chronic lymphocytic leukemia. The new drug is made into a self-injectable, once-monthly form that's more convenient for patients with relapsing MS, and that doesn't require the added expense of going to the hospital to get a typical infusion-based antibody.
The FDA issued a pair of notable Complete Response Letters in August. One was for Biomarin's gene therapy for hemophilia A, saying it needs to see long-term follow-up data to be assured that the treatment effect persists. The other was for Gilead Sciences' filgotinib for moderate to severe rheumatoid arthritis.
Deals
Brisbane, Calif.-based Aimmune agreed to be acquired by Nestle Health Science for $2.6 billion. Aimmune developed an FDA-approved treatment for peanut allergies.
Sanofi agreed to acquire South San Francisco-based Principia Biopharma for $100 a share, or $3.68 billion. Sanofi emphasized how the deal will strengthen its work on BTK inhibitors.
Carlsbad, Calif.-based Ionis Pharmaceuticals agreed to acquire the remaining 24 percent of shares in Akcea Therapeutics that it didn't already own. Ionis agreed to pay $18.15 a share, for a transaction worth about $500 million.
Cambridge, Mass.-based Jounce Therapeutics secured an $85 million upfront payment, plus a $35 million equity investment, from Gilead Sciences. In return, Gilead received an exclusive license to develop JTX-1811, an antibody aimed at CCR8, a target found on T-regulatory cells that infiltrate tumors and suppress the action of other immune cells that can attack the tumor.
Johnson & Johnson agreed to acquire Momenta Pharmaceuticals, the developer of nipocalimab for autoimmune disease, for $6.5 billion in cash.
Gilead Sciences agreed to expand its collaboration with Cambridge, Mass.-based Tango Therapeutics, the developer of synthetic lethal cancer drugs. Gilead is paying $125 million in upfront cash, making a $20 million equity investment, and agreeing to pay as much as $410 million in milestone payments for each program it chooses to opt-in to develop, on programs against up to 15 targets. (For background, listen to Tango CEO Barbara Weber on The Long Run podcast, from November 2018).
Data That Mattered
Cambridge, Mass.-based Amylyx Pharmaceuticals said it hit the primary endpoint of a 137-patient pivotal trial, called Centaur, for patients with amyotrophic lateral sclerosis (ALS), the neurodegenerative disease also known as Lou Gehrig's disease. Patients on the drug for 24 weeks scored 2.32 points higher than those on placebo, when answering questions about activities of daily living on a 48-point questionnaire. The drug candidate is a combination of sodium phenylbutyrate and taurursodiol. Results were published in the New England Journal of Medicine.
Cambridge, Mass.-based Akebia Therapeutics said it missed the primary endpoint for safety in the second of two Phase III PRO2TECT trials. The drug, vadadustat, is an oral hypoxia-inducible factor prolyl hydroxylase inhibitor for anemia in chronic kidney disease patients. The Akebia drug fell short versus darbepoetin alfa in "time to first occurrence of major adverse cardiovascular events (MACE), which is the composite of all-cause mortality, non-fatal myocardial infarction, and non-fatal stroke across both PRO2TECT studies," the company said. Akebia said it still plans to file a New Drug Application to the FDA based on the totality of data from its Phase III program.
UK-based AstraZeneca reported that dapagliflozin, its oral SGLT2 inhibitor approved for Type 2 diabetes, passed a Phase III clinical trial, DAPA-CKD, for patients with chronic kidney disease. The drug was shown to reduce the risk of renal function worsening or risk of death from cardiovascular or renal causes by 39 percent, compared with placebo. The company said the results were consistent in patients with and without Type 2 diabetes.
Legal Corner
Amarin lost its appeal to the US Court of Appeals for the Federal District, in which it sought to overturn a lower court ruling in favor of a couple generic companies that challenged the Amarin patent to its fish oil compound marketed as Vascepa.
Personnel File
New York-based Intercept Pharmaceuticals said it is laying off 170 workers, or 25 percent of its workforce. The move comes after the FDA rejected its application to start marketing its drug candidate for non-alcoholic steatohepatitis.
Watertown, Mass.-based Kymera Therapeutics, the developer of targeted protein degrading drugs, hired Richard Chesworth as chief scientific officer. He was previously with Third Rock Ventures.
San Francisco-based VIR Biotechnology named Janet Napolitano to its board of directors. She is the former chancellor of the University of California system, former Secretary of Homeland Security under President Barack Obama, and former Governor of Arizona.
San Diego-based Erasca named Mike Varney as chairman of R&D, and a member of its Scientific Advisory Board. He formerly led Genentech Research and Early Development (gRED).
Cambridge, Mass.-based Nimbus Therapeutics hired Scott Edmondson as senior vice president and head of chemistry. He comes from AstraZeneca.
Cambridge, Mass.-based Blueprint Medicines hired Fouad Namouni as president of R&D. He comes from Bristol-Myers Squibb.
Cambridge, Mass.-based eGenesis hired Michael Curtis as president of R&D. The company is working on xenotransplantation, by engineering pigs that produce organs that can be transplanted effectively into humans.
Cambridge, Mass.-based Magenta Therapeutics hired Lisa Olson as chief scientific officer and Kevin Johnson as SVP, head of regulatory and quality. Jason Ryan is leaving his position as chief operating and financial officer.
Cambridge, Mass.-based ROME Therapeutics hired Dennis Zaller as chief scientific officer. He comes from Bristol-Myers Squibb.
Novato, Calif.-based Ultragenyx Pharmaceutical said Mardi Dier will start as chief financial officer on Nov. 2. She will replace Shalini Sharp.
Seattle-based Sana Biotechnology, the developer of allogeneic T-cell therapies, said it hired Ed Rebar as chief technology officer and Terry Fry as SVP, head of T-cell therapeutics.
Cambridge, Mass.-based Obsidian Therapeutics named Rob Ross to its board of directors. He's the chief medical officer at Surface Oncology.