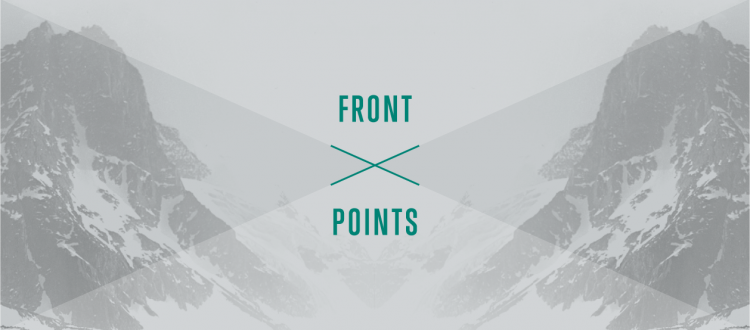 Pfizer/BioNTech Ace Real-World Test, J&J Faces FDA Scrutiny, & Merck Pays Up
Vaccine news keeps getting better by the day. The number of new people being diagnosed with COVID-19 has been plummeting for weeks.
That's the good news. Read on and synthesize the most important financings, deals, and scientific developments of the week in biotech.
Vaccines
Let's start with the best news of the week. Researchers from Israel reported on the Pfizer / BioNtech vaccination campaign in the real world – a potentially chaotic and messy situation under the best of circumstances. Even so, they found that the vaccine's performance delivered more than 90 percent protection against severe disease after two doses. That's no small feat, as it's on par with what was seen in well-controlled clinical trials. New England Journal of Medicine. Feb. 24. (Ran Balicer, Ben Reis, Marc Lipsitch and colleagues).
The second-best news of the week was for the Pfizer / BioNTech vaccine among 23,000 healthcare workers in the UK. See The Lancet Preprint, Feb. 22, by Victoria Jane Hall. Sek Kathiresan, a recent guest on The Long Run podcast, succinctly summarized a key finding about the vaccine's ability to curtail asymptomatic spread of the virus.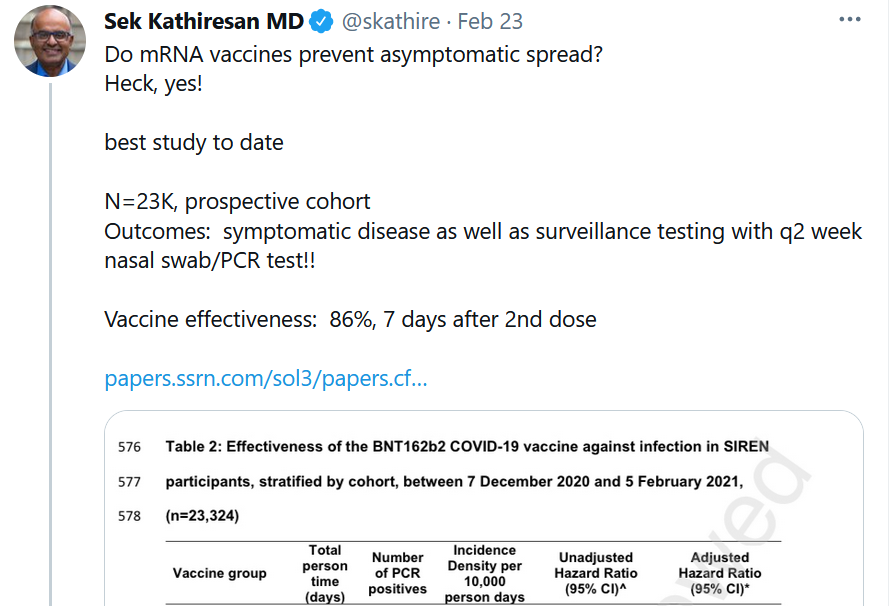 Some of the most vulnerable people to COVID-19 are elderly people in nursing homes. They were among the first to get vaccinated, and now we can start to see the results. Deaths in this group are coming way down. (See NYT graphic).
Cambridge, Mass.-based Moderna said in its quarterly and year-end financial report that it has advance purchase agreements worth $18.4 billion in sales for its COVID-19 vaccine in 2021.
That windfall will surely cue up critics howling about profiteering. It is a lot of money, and it's legitimate to ask questions in good faith about what the fair price ought to be. The companies, if they are smart and thinking about the long-term, will exercise restraint on this point, as advised by John LaMattina in Forbes. Some of the insider stock sales from executives at the companies last year were ham-fisted and regrettable, and some of the corporate communications were premature and undermined public confidence.
Then again, they — Moderna and Pfizer/BioNTech — are moving heaven and Earth to scale up production (140 million extra doses for the US in 5 weeks) beyond anything previously conceivable with the new mRNA and lipid nanoparticle delivery vehicles. They have done, and are doing, herculean work everyone thought impossible a year ago. The value to the world from this vaccine vastly exceeds what we're paying. The total, cumulative cost of COVID-19 is estimated at $16 trillion in the US by Harvard University economists David Cutler and Larry Summers. We should remember to reward and incentivize achievements of this magnitude. Our willingness to pay today supports capital investments and further incentivizes future work against SARS-CoV-2 variants and other threats like flu.
Today (Feb. 26) is the long-awaited day when the FDA advisory committee reviews the safety and efficacy profile of J&J's adenoviral vaccine candidate for COVID-19. Reasonable people can debate the merits of the evidence, but the full protection against severe disease and death, conducted in more than 40,000 subjects around the world under fast-changing conditions against tough new viral variants – I think J&J has a compelling new tool to offer the world. Add up the practicalities of a single-shot, refrigeration-only, low-cost, scalable-to-manufacture vaccine, and you have an essential new intervention to help vaccinate a world with more than 7 billion people. (FDA briefing document). See also Derek Lowe's positive review at In The Pipeline.
Speaking of what it will take to crush COVID-19, let's not forget about Novavax. The little company from Gaithersburg, Maryland, left for dead not long ago, has risen from the ashes in the most spectacular "only in biotech" way. Its protein-and-adjuvant vaccine has shown 90 percent efficacy in a study of 15,000 subjects in the UK, and its 30,000-subject study has now completed enrollment in the US and Mexico. While we wait for those results with bated breath, partnerships are in place for Novavax to scale up and deliver more than 1 billion doses of its vaccine to the world. Read this inspiring WSJ story about a remarkable comeback.
Diagnostics
Seattle-based Adaptive Biotechnologies, the company that sequences B and T cells of the adaptive immune system to develop diagnostics and treatments, said this week it has started offering the first T-cell based test to tell people if they've had COVID-19 recently or in the further past. Adaptive is offering the test with its partner, LabCorp, which has 2,000 sites where it can take the necessary blood draw. Adaptive is seeking an Emergency Use Authorization from the FDA for the test, but is able to market its test in the meantime as a CLIA-certified lab, a company spokeswoman said.
Treatments
The WHO Solidarity Trial, a massive study of 11,000 randomized participants conducted in the frenzied early days of the pandemic, looked at a lot of different repurposed antiviral therapies. The outcomes were not good. The latest NEJM paper is withering. "These remdesivir, hydroxychloroquine, lopinavir, and interferon regimens had little or no effect on hospitalized patients with Covid-19, as indicated by overall mortality, initiation of ventilation, and duration of hospital stay," the authors wrote.
Science of SARS-CoV-2
The new tools of biology allow for incredible precision and speed. See this paper based on single-cell sorting technology used to identify the most potent neutralizing antibodies from COVID-19 survivors. "Extremely potent human monoclonal antibodies from COVID-19 convalescent patients." Cell. Feb. 23. (Emanuele Andreano et al colleagues in Italy and London)
A couple of new variants are circulating. This time they are not being associated with some faraway place – it's a place like many others in the US with long-festering, uncontained community transmission. "A Novel SARS-CoV-2 Variant of Concern, B.1.526, Identified in New York." MedRxiv. Feb. 23. (Medini Annavajhala et al Columbia University). See also the latest on the CAL.20C variant, now known as B.1.427/B.1.429 and described by Carl Zimmer in the NYT.
How does the B.1.351 variant – aka the South Africa variant – appear to escape from neutralizing antibodies? An Oxford University team that did structure-function analysis on antibodies from convalescent sera and vaccine-induced antibodies found that receptor binding domain mutations provide tighter binding to ACE2. Cell. Feb. 17. (Daming Zhou et al Oxford University).
From China, researchers looked at the 501.Y.V2 variant and found no higher rate of infectivity, but they also saw a higher rate of escape from neutralizing antibodies. Again, they pointed to mutations affecting the receptor binding domain. Cell. Feb. 18. (Qianqian Li et al)
What is AI good for in the pandemic? Apparently, it's being put to work hoovering up adverse event reports from people getting the COVID-19 vaccine to help researchers understand the real-world/real-time safety profile and put things in context. MedRxiv. Feb. 23. (Reid McMurry et al nFerence Labs)
The National Institutes of Health announced a call for scientific applications to tear into the many unknowns around Long COVID. In December, Congress allocated $1.15 billion over four years to help scientists explore what's going on with the brain fog, fatigue, shortness of breath and other symptoms that so many people are suffering from. The scope and severity of this condition are only beginning to come into focus. Researchers at the University of Washington led by Helen Chu – who were remarkably well-positioned to respond to COVID-19 because of pre-existing infrastructure from the Gates Foundation-funded Seattle Flu Study – reported this week in JAMA on what they've learned about Long COVID since they pivoted in that direction in early 2020. According to 234 COVID-19 survivors who answered a research questionnaire, a full one-third (32.4 percent) reported at least one persistent symptom of COVID between 3 and 9 months after the original infection. If those numbers are a close approximation of the national incidence of Long COVID, then we are looking at an enormous toll of long-term chronic disease with perhaps 30 million cases of Long COVID (using a conservative estimate of 100 million infections).
Deals
Cambridge, Mass.-based Beam Therapeutics, the company developing base-edited gene therapies, used the leverage from its sky-high market capitalization (more than $5 billion) to acquire a little company to help with delivery. Beam agreed to pay $120 million upfront with its stock, plus another $320 million in milestones to acquire Guide Therapeutics. Guide is focused on nonviral delivery mechanisms of gene therapy, specifically with screening technology to identify lipid nanoparticles that can be delivered in vivo with "novel biodistribution and high selectivity for target cells," the company said in a statement. Biomatics Capital, GreatPoint Ventures, and GV were the early backers of GuideTx.
Merck agreed to pay up to acquire another small company with a sky-high valuation – Watertown, Mass.-based Pandion Therapeutics. The price was $1.85 billion, or $60 a share. That's more than double the previous day's closing share price of $25.63. Pandion secured a $58 million Series A financing in January 2018 co-led by Polaris Partners, Versant Ventures and Roche Venture Fund. SR One and BioInnovation Capital also participated. See Timmerman Report coverage of the Series A about its approach to flip some of the learnings from immuno-oncology toward the treatment of autoimmune disease. Three years later, the company's named lead candidate is an engineered IL-2 mutein fused to a protein backbone that's supposed to selectively activate and expand regulatory T cells (Tregs) to tamp down overactive immune responses. Ulcerative colitis is the lead indication. Pandion also has PD-1 agonists in development for autoimmunity – obviously an area of interest at Merck, the maker of the market-leading PD-1 inhibitor for cancer.
South San Francisco-based Day One Biopharmaceuticals has told me on two occasions (the Series A financing and its recent $130 million Series B financing) that it planned to in-license another program to develop as a cancer drug specifically for kids. This week, it followed through. Day One worked with Merck KGaA to in-license pimasertib and another oral, highly-selective small molecule allosteric inhibitor of MEK 1/2, a key enzyme in the MAPK signaling pathway. Pimasertib has been through 10 clinical trials in about 900 patients with different tumor types. Day One said it believes there's a scientific rationale to combine the MEK inhibitors with its existing pan-RAF inhibitor.
Somerset, NJ-based Catalent agreed to acquire Belgium-based Delphi Genetics, a plasmid DNA cell and gene therapy contract development and manufacturing organization. Financial terms weren't disclosed.
Menlo Park, Calif.-based Grail agreed to work with Quest Diagnostics to collect the blood samples necessary for its Galleri product for blood-based early detection of cancer. Grail plans to start marketing in the second quarter. Quest has a network of 2,200 blood collection sites.
Financings
Waltham, Mass.-based Xilio Therapeutics, the developer of tumor-selective cancer therapies, raised $95 million in a Series C financing. Rock Springs Capital led. A tumor-selective version of IL-2, and a tumor-selective anti-CTLA-4, are being teed up to enter clinical trials in 2021.
San Diego-based Truvian Sciences raised $105 million in a Series C financing to push through to FDA approval for its benchtop blood diagnostic instrument that's supposed to rival the capabilities central labs have for routine blood work. (TR coverage).
Cambridge, Mass.-based Orna Therapeutics raised $80 million in a Series A financing to advance work on circular RNA therapies, as opposed to the traditional linear kind. It's based on research from the MIT lab of Dan Anderson, and was seeded and incubated by MPM Capital. (TR coverage).
Cambridge, Mass.-based Cellarity said it raised $123 million in a Series B financing to advance work on computational modeling of cell behavior for drug discovery. Flagship Pioneering founded the company, and was joined in the new round by BlackRock, The Baupost Group, Banque Pictet among others.
San Diego-based Vividion Therapeutics, the developer of precision medicines against previously undruggable targets for cancer and immune disorders, raised $135 million in a Series C financing. Logos Capital and Boxer Capital of Tavistock Group co-led.
San Francisco-based Miroculus completed a $45 million Series B round to develop lab automation tools. Cota Capital and Section32 joined the round.
San Diego-based Halozyme, the company that turns IV biologics into subcutaneous formulations, said it agreed to borrow $700 million in a convertible note offering due in 2027. The debt converts to equity if Halozyme stock reaches $77.17 a share. It's at $47.17 now.
Beijing-based YishengBio, the developer of cancer and infectious disease therapies, raised $130 million in a Series B financing. Oceanpine and OrbiMed co-led.
Shanghai-based WuXi Diagnostics secured a $150 million Series B financing. Thermo Fisher joined the round. WuXi Diagnostics said in a statement that it is "the first platform company in China focusing on integrated diagnostics."
FDA Leadership
Who will be the next FDA commissioner, and what will it mean for industry? The former president of R&D at Pfizer and a board member at Puretech Health looks at the contrasts between candidates Janet Woodcock and Joshua Sharfstein. Forbes. Feb. 24. (John LaMattina)
Our Shared Humanity
Too many Americans don't learn our country's history, and don't want to grapple with the long-term consequences. It's important for people to know that things like the infamous Tuskegee experiment happened. It harmed African Americans. It left an understandable legacy of mistrust.
Even those who are aware sometimes take home the wrong lesson. Tuskegee can sometimes unwittingly be used for blame-shifting onto African Americans. We would do better by acknowledging there are reasons why so many people are mistrustful of the healthcare system in the urgent now, and that racism in healthcare isn't a thing of the past.
We would do better by asking ourselves: Are there things our healthcare systems can do to foster more trust in vaccines?
As USC social work professor Karen Lincoln put it in an interview with San Francisco public radio KQED:
If you continue to use it as a way of explaining why many African Americans are hesitant, it almost absolves you of having to learn more, do more, involve other people – admit that racism is actually a thing today.
Why might some people still be mistrustful of those urging use of the vaccine? Sadly, we have to listen to reports like this from NPR about San Francisco-based One Medical, which has allowed its well-to-do concierge medicine clients to skip ahead in the vaccine line. It's more healthcare inequity in real-time.
Racial inequity is not a thing of the past. It's not someone else's problem. It will not resolve itself with time. We all pay a price for failing to fix this. Biopharma has a part to play, and some companies are busy doing the work. It will require vigilance.
Science
"Muscarinic Cholinergic Receptor Agonist and Peripheral Antagonist for Schizophrenia." NEJM. Feb. 25. (Stephen K. Brannan, Sharon Sawchak, Andrew C. Miller, Jeffrey A. Lieberman, Steven M. Paul, and Alan Breier) For the backstory on xanomeline-trospium, being developed as KarXT by Boston-based Karuna Therapeutics, listen to Karuna CEO Steve Paul on The Long Run podcast.
"Phage-assisted evolution of botulinum neurotoxin proteases with reprogrammed specificity." Science. Feb. 19. (David Liu et al Broad Institute and Harvard University). (See TR coverage of the latest spinout from Liu's lab, Exo Therapeutics, December 2020).
"Idecabtagene Vicleucel in Relapsed and Refractory Multiple Myeloma." This is the paper describing the BMS-Bluebird cell therapy directed at the BCMA antigen. The companies are seeking FDA approval. NEJM. Feb. 25. (Nikhil Munshi et al)
"Risdiplam in Type 1 Spinal Muscular Atrophy." Genentech's risdiplam (Evrysdi) helped 19 of 21 infants with spinal muscular atrophy Type 1 survive without permanent ventilation. One-third of the infants, 7 out of 21, were able to sit without support for at least five seconds – not normal in the natural course of disease. NEJM. Feb. 24. (Giovanni Baranello et al FIREFISH Working Group)
Book Review
The Genome Odyssey. From Code to Clinic. WSJ. Feb. 24. (David Shaywitz)
Personnel File
Cynthia Pussinen joined Philadelphia-based Spark Therapeutics, the Roche gene therapy unit, as chief technical officer.
Heidi Hagen was named interim CEO of Boston-based Ziopharm Oncology, a cancer immunotherapy company. She replaces Laurence Cooper effective immediately. James Huang was named executive chairman. Hagen, a cell therapy expert and co-founder of Vineti, was the lead independent director at Ziopharm.
Jerry Cacia joined South San Francisco-based Graphite Bio, a gene editing company, as chief technical officer. (TR coverage, Sept. 2020)
New York-based Intercept Pharma, the NASH drug developer, said Jason Campagna, the chief medical officer is resigning effective Mar. 5.
Waltham, Mass.-based Tscan Therapeutics hired Brian Silver as chief financial officer. He will step down from the board of directors to take the operating job. He's a former investment banker, so you can probably set you can set the over/under date for when this company goes public.
Regulatory Action
The FDA placed two Bluebird Bio clinical trials for sickle cell disease on clinical hold. It was a formality, after the Cambridge, Mass.-based company already voluntarily paused the studies after learning of two cases of patients on its treatment who developed cancer. The investigation is ongoing into what caused the cases of cancer, and whether it's related at all to the treatment. The world of gene therapy is watching.
AbbVie won another FDA label expansion for the aging franchise of adalimumab (Humira). This one is for pediatric patients with moderate to severe ulcerative colitis.
Restoring Honest Public Discourse
While we are busy trying to crush the pandemic, we have to stitch back together the fabric of a society ripped apart by 24/7 information war.
There is such a thing as honest inquiry and debate that doesn't devolve into ad hominem attacks and bottomless nihilism for fun and profit.
Carl Bergstrom, a University of Washington professor and co-author of "Calling Bullshit" offers a glimpse of how to dig ourselves out of this ditch. It's OK for people to disagree. It's OK to change one's mind based on new data. There isn't *always* some sinister hidden agenda or dishonest subterfuge going on with people we disagree with on one issue or another.
That's true for COVID-19, for drug pricing, and for a thousand other issues we need to be able to think about and discuss like intelligent adults.
There has to be a way forward to discuss issues without constant thermonuclear infowarfare. I've seen some encouraging signs. I hope to see more. Otherwise, the infowar will never end, and no one will win.