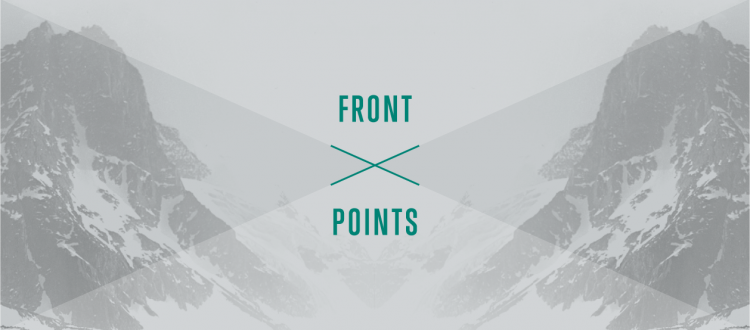 A Glimpse Into a Price-Controlled Future
Imagine if H.R. 3 — the drug price-control bill that has significant support in the House of Representatives — were to become law.
What would it look like if some of the bill's provisions, like indexing US prices to 120 percent of prices in Europe, were enacted?
How would entrepreneurs adapt? What types of drug discovery programs might be prioritized, and which ones cast aside as impractical? How would management teams have to adjust their strategy, and pitches, to successfully attract investors? How would certain patient groups be affected? What would it mean for the sector?
There are many questions. It's fascinating, when you dig in, to think through the implications of this thought experiment.
Students at the University of Texas Southwestern Medical Center were challenged to think along these lines through a business plan competition on Mar. 20. Small teams of postdocs, grad students and MBAs were asked to think of a product profile, a relevant disease indication, and — assuming success in clinical development and regulatory approval — a price that could withstand the hard calculations of Incremental Cost-Effectiveness Ratios (ICER) and Quality-Adjusted Life Years (QALY).
The goal was to come out with an investment pitch that investors might buy into.
RA Capital Management, the Office for Technology Development at UTSW, Biotech+ Hub at Pegasus Park and McKinsey supported the competition. RA Capital managing partner Peter Kolchinsky served as a judge with Jeb Keiper, CEO of Nimbus Therapeutics, and Sara Nayeem, partner at Avoro Ventures. I observed.
The students clearly did their homework.
The results were eye-opening.
One group imagined it had an antibody-drug conjugate for lung cancer that delivered an 85 percent Complete Response rate, few side effects, and an average improvement in life expectancy of 10-11 years. Such a drug could be administered for about two years on average, and priced at $210,000 a year in Europe and $250,000 a year in the US, they figured. At that price, the fictional company would beat existing PD-1 inhibitors from Merck and Bristol Myers Squibb on a QALY-based comparison.
Kolchinsky shook his head. Sure, payers would pay for that. But there is no such drug on the market, or in R&D.
"We never see this kind of efficacy," Kolchinsky told the students. Turning to his fellow judges, he said: "What they are asking us to do is stop investing in plausible, realistic science and start investing in fantasy."
Another group sized up a new treatment for irritable bowel syndrome with constipation or diarrhea, and imagined generating three times as much sales volume in Europe to make up for an anticipated shortfall in the US.
Next came a team with an mRNA vaccine for HIV that elicits broadly neutralizing antibodies. The students thought the vaccine could be given to everyone in the US. They considered a low price for a national population and a higher price for a subpopulation deemed to be "high risk."
The team concluded that it didn't make sense to develop such a product as a low-volume/high-priced ($9,000) product for the high risk population. Forget about it.
A few days later, I asked the judges to reflect. How were students forced to adapt to the new environment? What did it tell us?
Kolchinsky wrote:
"The participants made an admirable effort, but every single team was forced to make unrealistic assumptions to try to make their business pitches seem fundable despite the limitations of price controls.
"A lot of the submissions were based on actual drugs in development by real companies. But the actual programs are funded because those companies and investors have an expectation that, if successful, those drugs will get reimbursed at prices close to those drugs we have on the market now, which are all higher than prices that HR-3 would allow. And when these teams tried to win funding for these programs but asked investors to accept a much lower price, they couldn't. Some teams resorted to asking the judges to imagine that these drugs were better than they actually were, had a higher chance of succeeding that they actually have, or would treat more patients than could possibly be true. Bottom line, price controls killed investment in the R&D that is actually possible and forced teams to resort to making promises they couldn't keep…"
If health economists who run conventional cost-effectiveness are put in charge of setting price, innovators probably won't be able to win funding from any knowledgeable investors. There may some investors who fall for a pitch claiming a high probability of success and larger market than is real, but in time they will lose enough money to realize the price controls set rewards too low for the risks involved in making new medicines."
Jeb Keiper of Nimbus said the pressures would cause entrepreneurs to overpromise. "Like snake oil salesmen, [they] promise a cure in every bottle," he said. "The constraints forced business plan competitors' strategies to subvert price-control legislation by promising miracles."
That was one survival strategy. The winning team had a different plan. It pitched a reformulation of a proven drug. But in a hostile pricing environment, the students said they would need to accept a lower valuation in the next funding round — crushing the ownership stakes of earlier investors.
Keiper ruefully asked the team who was the CEO. That person would likely be fired.
"The implications are chilling," Keiper wrote. "Existing biotech investors (including large scale mutual funds and pensions which many Americans have their savings in) get gutted, new medicines stop being developed for patients that need them, and the public only gets incremental improvements that industry watchdogs rightly hound against."
Pain would be spread among entrepreneurs, investors, and patients. The patients most likely to bear the brunt, though, would be ones with the greatest needs.
Sara Nayeem of Avoro Ventures wrote:
"Drug development for diseases where there have been many historic failures would be especially hard to fund. For instance, pancreatic cancer is a devastating diagnosis for which we need breakthrough drugs; but because the historical probability of success is much lower than in other areas of oncology (per BIO, a drug for pancreatic cancer entering Phase 1 trials has only a 1.1% chance of approval), investors would need to know that a drug that shows needle-moving efficacy would be reimbursed at a higher price than the average cancer drug…groups like ICER don't take into account the low success rates in certain diseases; nor do they quantify the value to society into perpetuity of branded drugs going generic."
Some readers might think this boils down to the same old industry talking points about price controls causing investment to dry up.
But the students weren't trying to score political points. They were imagining a future drug pricing environment, and trying to prepare.
It was a useful and humbling exercise. Lawmakers would be wise to think a few steps ahead, like this, when considering big changes to a complex market like this with so much at stake.
That's not to say we should slavishly stick with the status quo. Biotech as an industry is creative and resilient under pressure. Management teams were forced to cut expenses and operate in more lean ways in the Great Recession years of 2008-2012. People in Congress warned the Affordable Care Act would crush incentives for innovation. That didn't happen.
Instead, a crop of battle-tested, productive companies emerged. We have reaped the harvest of those innovations from the early 2010s. Year by year, the FDA approvals tell the story.
Markets have their vicissitudes. But the secular trend in biomedicine is upward. There's a lot here in academia, government and industry that's worth preserving and building upon.
Our elected leaders ought to guide regulations and set guardrails that keep companies honest, with an eye toward preserving a dynamic environment where startups can come along and knock off incumbents.
Kolchinsky, in his book "The Great American Drug Deal," advocates for contractual genericization as one way to provide balance to pharmaceutical markets that are too often dominated by companies with incentives to primarily protect aging franchises. Many of these aging franchises should have gone generic years ago. Too many drugs, because of patenting games or other perverse incentives that involve middlemen, command sky-high prices that can't be justified. All of these shenanigans end up wasting money, harming patients and discouraging entrepreneurs.
This publication believes in standing up for the proverbial little guy. Policymakers, health economists, and industry leaders should take action to rein in the excesses of the big guys, without forgetting that little guy (or gal) with a startup dream. That person should have an incentive, and a chance. That person shouldn't become collateral damage.
If we want to create an environment where scientific entrepreneurs can flourish, we can do it. With scalpels, not sledgehammers.
Damaged Public Trust
If you missed Tuesday's Frontpoints, it predicted this week's AstraZeneca vaccine debacle. The NIH statement of Mar. 23 pointed out the company's press release claiming 79 percent efficacy was based on outdated data. The NYT and Washington Post got ahold of a seething letter from the Data Safety Monitoring Board. AZ tried to do some damage control in a revised press release on Mar. 25, which dragged efficacy down to 76 percent. Given the company's recent pattern of bad behavior and incompetence, I plan to read every line of the FDA briefing documents, and listen to every minute of the FDA advisory committee hearing for this vaccine candidate.
This is a test. Regulators, doing their jobs, will go over everything with a fine-toothed comb and review the application with full transparency. Then we can make informed decisions.
A lot of leeway has been granted to companies in this emergency, born from necessity and a generous spirit of "we're all in this together." Some standards about not doing science by press release, and not accepting company statements at face value, have gone out the window in the name of expediency. We put a lot of trust in companies and they have mostly delivered the past year.
But when a company abuses trust repeatedly, the credibility of science and industry itself gets called into question. AstraZeneca needs to make things right. This isn't one of those cases where PR window dressing or a carpet-bombing of advertisements will make controversy go away. They need to fix things.
This Week in Drug Pricing
Are you a biopharma executive who breathed a sigh of relief about how the drug pricing pit bulls snarling at the industry have been neutered during the glory days of vaccine development?
Not so fast. Public opinion can be fickle.
The AZ imbroglio (see above) feeds into the confirmation bias of the industry's harshest critics. While a majority are grateful for the vaccines, we still have perverse incentives in our health insurance system, healthcare profiteering, millions of our most vulnerable are being left in the cold, and we still have an information commons that downgrades fact-based discourse and amplifies conspiracy mongering.
Without systemic fixes to how we pay for healthcare — and how we provide fair access to healthcare for everyone — we could easily fall back into the brain-dead rhetorical rut about sticking it to those evil price-gouging drugmakers.
See this NYT op-ed, headlined "Taxpayers Fund Research and Drug Companies Make a Fortune" in which a patient advocate imagines a day when COVID-19 vaccines might cost money (the horror!).
I agree individuals shouldn't be paying out of pocket for this most valuable preventive medicine. We should be paying for it with our tax dollars. We should be grateful about it because we're getting an amazing bargain from vaccines that will get the global economy moving again and bring tremendous peace of mind.
Science Policy

President Biden is showing vision and guts. Who says we can't solve problems, so why bother trying? Biden isn't buying that nihilistic garbage. He's acting like a young man in a hurry. Let's ask serious questions that citizens in a serious participatory democracy ought to ask. Like whether we invest enough in science as a country. What more could we be doing to advance cures, fight climate change, and create meaningful career opportunities for younger generations?
A big investment like the one suggested below inspire a new generation to be drawn to science, and to value science.

Science Features
Pandemic whistle-blower: we need a non-political way to track viruses. Interview with Rick Bright. Nature. Mar. 19. (Amy Maxmen)
What scientists do and don't know about the Oxford–AstraZeneca COVID vaccine. Nature. Mar. 24. (Smriti Mallapaty and Ewen Callaway)
Unlocking the COVID Code. NYT Magazine. Mar. 25. (Jon Gertner)
Science of SARS-CoV-2
Dynamics of SARS-CoV-2 neutralising antibody responses and duration of immunity: a longitudinal study. The Lancet Microbe. Mar. 23. (Wan Chia et al Duke-NUS Medical School, Singapore)
Early Evidence of the Effect of SARS-CoV-2 Vaccine at One Medical Center. NEJM. Mar. 23. (William Daniel et al UT Southwestern)
Data That Mattered
Bristol Myers Squibb said it met the primary endpoint – progression free survival — in a Phase III clinical trial with its LAG-3 targeting antibody, relatlimab, in combination with nivolumab (Opdivo), the PD-1 directed antibody. The study looked at patients newly diagnosed with metastatic or unresectable melanoma. Overall survival data aren't yet available. It's the first time a checkpoint inhibitor for LAG-3 has passed a pivotal study.
Financings
Eric Schmidt, the former Google CEO, donated $150 million to establish a new center at the Broad Institute to support machine learning analysis of emerging biological datasets, including next-generation DNA sequencing, single-cell genomics, and advanced medical imaging. The Schmidt Center will be co-directed by Caroline Uhler, Associate Professor of Electrical Engineering and Computer Science and the Institute for Data, Systems, and Society at MIT and an associate member of the Broad Institute; and Anthony Philippakis, Broad's chief data officer.
Rivervest Venture Partners, with offices in St. Louis and San Diego, said it raised $275 million for Fund V to invest in early stage biopharma and medical device companies.
Seattle-based Eliem Therapeutics raised $80 million in a Series A financing led by RA Capital Management to develop treatments for chronic pain and depression. (TR coverage).
Emeryville, Calif.-based Zymergen, an industrial biotech company, filed an IPO prospectus to raise up to $100 million.
Cambridge, Mass.-based Apnimed raised $25 million in a Series B financing to develop a once-daily oral pill for obstructive sleep apnea. Morningside Ventures led.
San Francisco-based Ginger said it raised $100 million in a Series E financing led by Blackstone to improve mental healthcare offerings for employers, health plans, and strategic partners. (TR Frontpoints column on mental health, Mar. 4, 2021)
Cambridge, Mass.-based 1910 Genetics said it raised $26 million to advance its technology to design small molecules and protein drugs with AI and automated tools. M12 – Microsoft's Venture Fund and Playground Global co-led.
Personnel File
Moncef Slaoui, the former head of R&D at GSK and leader of the Operation Warp Speed program for COVID-19 vaccines, was fired from the board of a GSK / Verily entity (Galvani Bioelectronics), and stepped down immediately from a new job as chief scientific officer of Centessa Pharmaceuticals, after GSK said it had learned of sexual harassment allegations and an outside law firm investigated the claim.
Amy Abernethy, the principal deputy commissioner of the FDA, will step down from her position next month. She has overseen a push to modernize the agency's data practices.
Novartis said it's closing down a factory in Colorado where it was planning to manufacture Zolgensma, the gene therapy for spinal muscular atrophy type 1. The company plans to shut down the plant in July, and lay off 400 workers. It apparently overestimated demand for the therapy, which it obtained through the acquisition of AveXis for $8.7 billion. (FiercePharma coverage).
Atul Dandekar joined South San Francisco-based Maze Therapeutics, a precision medicine company, as chief strategy officer. (TR coverage of Maze, Feb. 2019)
Josh Makower was named the new director of the Stanford Byers Center for Biodesign. He replaces the legendary founder of the center, Paul Yock, a medical device innovator. Makower will retain a relationship with NEA, in keeping with the center's longstanding focus on academic-industry partnerships.
Merck promoted Caroline Litchfield from treasurer to CFO. She replaces Robert Davis, who is being promoted to president on Apr. 1 as part of a succession plan for him to take over from Ken Frazier as CEO on July 1.
Regulatory Action
Takeda Pharmaceuticals said its submitted an application for its dengue vaccine to regulators in Europe, and in dengue-endemic countries.
Our Shared Humanity
Bruce Booth of Atlas Venture wrote an unusually personal piece on his LifeSciVC blog Mar. 16. I let some time pass before asking him about the feedback from this article about divorce.
It was a rare example of a powerful business leader showing vulnerability.
If you missed it, this is a message that bears repeating. We should all try to be a little more empathetic to friends and colleagues at work who may be stressed by personal issues just beneath the surface. By listening a little more, and extending some understanding and grace, we do ourselves a favor and everyone around us.
I was really happy to hear Booth tell me yesterday that the feedback has been "uniformly positive."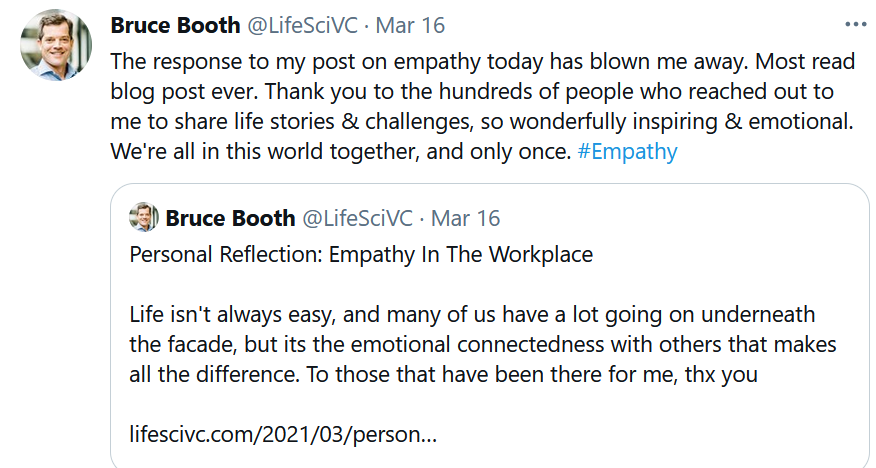 Hundreds of emails poured in. These weren't the usual "Hey, nice article" notes that writers sometimes get.
Many of these correspondents got specific and personal, Booth said.
"They went on for paragraphs about a sick kid, a sick spouse, feeling unable to talk about it at work. There were other people who went through divorces, and talked about making it through. They were just sharing their stories. I got very emotional reading all the responses. It was really powerful."
It took courage to write the article.
We men are taught to be brave from an early age, in a gladiatorial, competitive sense. Never let 'em see you sweat. Bullies on the playground will bury you at the slightest hint of "weakness." But at some point in life, we realize that "putting on your game face" at work, as Booth put it, isn't always a show of strength.
Showing some vulnerability, and allowing people to be human beings with each other in your midst, can be a source of leadership strength.
The positive reaction to Booth's article lifts my spirits. It reminds me that people in this industry are capable of many good things, in science and beyond.