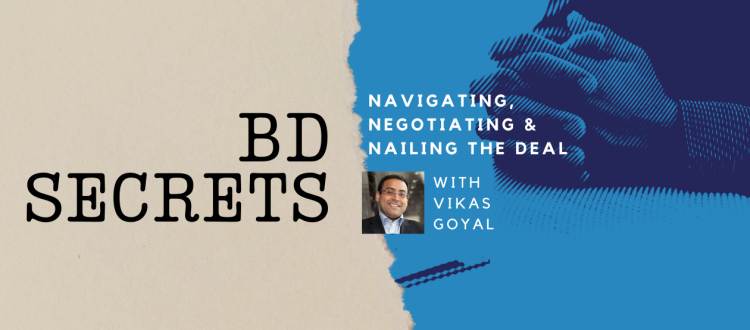 Brad Prosek on Getting to Know an Unconventional Acquirer
[Editor's Note: this is the first in a monthly series with business development executives about some of the surprises, subtleties, and human aspects of biotech dealmaking.]
Cambridge, Mass.-based Constellation Pharmaceuticals lived through the ups and downs of the epigenetic drug discovery field for a decade, before it exited on a high note last year. The company was acquired by Germany-based Morphosys for $1.7 billion, or $34 a share, in June 2021.
The deal gave Morphosys access to Constellation's two lead product candidates, pelabresib (CPI-0610), a BET inhibitor, and CPI-0209, a second-generation EZH2 inhibitor. At the time of the signing, pelabresib was in Phase III clinical development for myelofibrosis and the EZH2 inhibitor was in Phase II development for hematological and solid tumors. For some of the background on the lead program and the company journey, listen to CEO Jigar Raythatha on The Long Run podcast from December 2019.
One interesting wrinkle in this deal came in the form of a $1.4 billion upfront payment from Royalty Pharma to Morphosys.
I spoke with Brad Prosek, the chief business officer of Constellation at the time, about how this deal came to be.
Why did the deal make sense for the two parties?
Morphosys has a long history of developing antibody and biologics products. They have close to 50 collaborations in their 30+ year history, several of which have started to pay off in terms of approved products, bringing royalties and profit shares back to Morphosys. So under the leadership of their CEO Jean-Paul Kress, they have started to turn the page from that platform basis to a product-oriented company.
I had originally reached out to them (as documented in the transaction's 14D-9) around July 2020, though my initial outreach was not about partnering Constellation's lead program. I had seen Morphosys print a deal with Incyte that put them on my map as a fellow traveler in the heme-onc space with money to invest in partnerships. Constellation was considering collaborations around our next generation EZH2 program. We felt our EZH2 inhibitor could be a best-in-class program and we wanted to build a data wall around the program – and we felt that with a partner we could deliver a bigger program faster than we could on our own.
As Morphosys got to know the company, I think we started to check a lot of boxes for them with respect to their growth strategy. They wanted to grow into small molecules to complement their monoclonal antibody base. They wanted to build a Boston research site. And they were looking for additional assets in the hematology and oncology spaces more broadly. So the more they looked, they liked a lot more than just what I had initially reached out to them to talk about.
How did you balance their desire to learn about Constellation more broadly vs. keeping them focused on the EZH2 program, which was your more immediate-term partnering goal?
As you're going to do in any initial BD discussions, we did present the EZH2 program in some context – we showed our pipeline slide and maybe a strategy slide. But to focus on our objective, we did step off of that very quickly onto what I wanted to talk about. At least that was my initial approach.
Ultimately, in the subsequent discussions Morphosys asked us about pelabresib. [Pelabresib, an inhibitor of BET, was Constellation's lead program and was in a Phase 3 clinical trial for myelofibrosis at the time of the acquisition]. They had seen some of the data we had presented publicly. We had made a few comments here and there about how excited we were in advancing the program. But I tried really hard not to get distracted by that.
I wanted to avoid the trap of getting onto the slippery slope of even discussing structures of interest. When the topic of pelabresib first came up, I had been pretty clear with them that Constellation was not interested to partner, for example, US rights for pelabresib. I tried to head that off at the pass pretty quickly.
Of course, sometimes the more you say no to someone, the more they want something. As Constellation was a public company, Morphosys had the ability to change the dialogue at any time by throwing in an unsolicited proposal. Which is what they did in October 2020. Morphosys must have done additional work on their side to get comfortable that this does check the boxes for something bigger.
How did you build your relationships within Morphosys?
In my view, you have to build multiplex conviction on the other side and use the relationships you build carefully over time to make sure things work. I got introduced to Barbara Krebs-Pohl [SVP and Head of BD&L and Alliance Management at Morphosys] through Mary Martin Roberts, a dear friend and former colleague at Biogen who had gone on to join Morphosys' market access organization. Barbara had me talk to some of her team to begin the relationship, including Monika Bӓhner and other folks in Morphosys' search and evaluation function.
As you know, if the technical team doesn't have conviction, it doesn't matter how hard you bang on the senior business leaders to make your case. Given the type of deal that I was focused on with our EZH2 program, it was OK for me to let those senior relationships recede into the background as we focused on technical discussions.
As things evolved, having had a good open relationship with Barbara from the beginning was important as we advanced through the later discussions.
How did you balance your ongoing Morphosys relationship-building with Constellation's desire to get to the right kind of deal?
That is a constant and regular dialogue with your full management team, and sometimes on a more frequent basis with a subset of the management team.
We had what I liked to call our "Gang of Four" – our CEO Jigar Raythatha, our CFO Emma Reeve, our General Counsel Karen Valentine, and myself – that would get together sometimes a couple of times a week to share how we were thinking about things, what we were seeing, and to calibrate what made the most sense. We also regularly updated a strategy subcommittee of the Board, as well as our broader Board of Directors.
It's good to be clear as a management team and aligned with your Board as to what your goals are for the company. Then you can use what you're learning from the market to figure out what's going to get you closer to your goals. Partnerships and straight financings are just two different strategic options in pursuit of your company goals.
At the end of the day, I believe in having as many options as I can on both the financing and BD fronts running in parallel as much as possible. You can't always program that. But if you can keep things running in parallel, even if some of those options are not the right situations to pursue, it gives you the ability to really think about trade-offs. You can't do stuff by remote control or through management consulting decks, sometimes you have to have specific opportunities with tangible trade-offs to really think about your path forward. And oftentimes it can be a bit like Goldilocks to get to the path that is just right.
What was the business situation at Constellation and why did you feel this was the right time to work with Morphosys?
It's important to note that we had a good cash position at the time when Morphosys approached us. We had not gone out seeking an M&A. And the magic here was we had the ability in this period of time to be incredibly selective due to several other options on the table as part of our work towards 2021 goals. That allowed us to not feel like our back was against the wall to any option. So Morphosys' proposal to us was sort of an epi-phenomenon on top of what we were already trying to execute.
Our goal was to build Constellation into a biotech company where the research engine could keep sustainably delivering even as the lead programs shifted to commercialization. We were building real conviction around pelabresib's data and clinical opportunity. We also had a great asset in our EZH2 inhibitor and wanted to go fast with that. But wanting to move our EZH2 program fast could also create resource conflicts with the Phase 3 and additional development work on pelabresib.
As we looked at the plan to get to and through early commercialization, we had some really great options to move Constellation forward and manage our cash raises in a thoughtful way. But ultimately we were going to have to finance the company at some point. And there would be additional risk, particularly technical risk, and dilution.
So when we walked into the Board Meeting where Morphosys' ultimate Spring 2021 M&A proposal was on the agenda, that certainty for shareholders that emerges out of an M&A process was an important consideration.
Why was Morphosys the right partner for Constellation?
Importantly, Morphosys' proposal valued the full Constellation portfolio. We had worked to build a really exciting company with a broad drug portfolio. What Morphosys was emphatic about and has been very public about since the deal is that they came for more than just pelabresib.
Agreeing to a company sale is a multifactorial analysis, but we're all in this business to get new therapeutic options to patients as fast as possible with as much data as possible. If that's your lodestar and where your compass points, then the analysis of any option crystalizes around whether it helps with your goal and is it fair to shareholders. And that's where we got comfortable with Morphosys.
Paraphrasing Jigar's commentary, we had this vision of being a fully integrated commercial-stage company acting on a global scale with an ability to work in parallel across our portfolio. Partnering with Morphosys accelerated that vision.
Was there any dataset in particular that drove Morphosys' interest to acquire you?
At ASH 2019, we revealed data showing proof of concept with pelabresib in front-line, JAK-naive, myelofibrosis patients. We had previously shared data in second line patients, but this first-line activity was the watershed dataset.
We knew the first-line efficacy was going to be a key dataset and we wanted the data to speak for itself. That's part of why we did the PIPE in October 2019. The PIPE followed by the data enabled our December 2019 follow-on offering that enabled us to be choosy about where to go next.
Given you were publicly traded, how did you get comfortable that the Morphosys proposal would be attractive to your investors?
We spent a fair amount of time over the years that led up to this making sure we knew what sentiment was around all of our programs, including our lead program. So we weren't starting from square one when Morphosys sent in their initial proposal.
There is this constant tension between looking at your company plans, the cash needs to fund that plan, the options available to raise that cash, and what taking any of those options might mean for your shareholders. Our bankers at Centerview were particularly helpful at boiling that analysis down to the potential risk versus the reward.
As a CBO, you're not doing your job unless you have these pieces ready at hand. When the game changes as the CBO, you need to be able to confidently sit down with your CEO and your Board and say, "Here's how we can think about this."
How did the deal process go with Morphosys?
Every deal has lots of near-death moments. Part of what being in this CBO chair is about is thinking about and trying to anticipate what you can, having the ability to react fluidly in real-time, and always having back-ups to the back-ups to your back-up plans.
Again, you never want to end up against a wall.
One thing with respect to this deal is Morphosys had a very creative and transformational financing that they had to pull together to make this deal happen. When we started the journey with Morphosys' first proposal in October 2020, from just looking at their financial statements, it was not clear where Morphosys would get the cash to pull off the acquisition.
This ended up becoming effectively a three-party deal with Royalty Pharma coming in with significant funding to Morphosys.
A two-handed deal is already hard to close, and a three-handed deal is very hard to pull off. This was really Morphosys' problem and not ours, and we didn't really see any of this come together until the very end, but a lot of this was evolving in parallel on Morphosys' side. At the end, Jigar and Jean-Paul were communicating regularly so we did know what we needed to.
One thing I felt confident about on the BD side was that whoever Morphosys was going to talk to about their financing needs, we had probably also talked to them. Again, to keep our options open, I wanted the royalty funding groups to have a perspective on Constellation and our programs.
Deal competition also helps to signal that things are moving along, but we didn't use that card until necessary.
When and why did you bring in Centerview?
Long before anything got hot and before anything like the deal we did with Morphosys was even apparent, I prioritized introducing Eric Tokat [a Partner at Centerview] to Jigar and the Board. An important thing to realize is that bankers like Eric and his team are not just in it for the immediate deal that you might be able to transact right now. Good bankers would far rather help you think about what your options are, would prefer you generate the best return for shareholders over the broad horizon, and ultimately may help you be acquired for more money later on instead of a deal that may be on the table today.
The Centerview team is tremendous. Eric had a long relationship with Jean-Paul Kress, which no doubt helped during the deal process. But having a good banking partner around the table will help a young company. Nobody has a monopoly on relationships, and different folks bring different perspectives and specialize in different types of deals.
You've done many transactions over your career – was there anything about this one that was just different?
Feedback can be a gift. I had done a lot of buy-side deals over my career, and one of my goals when joining Constellation was to do more sell-side. One of my learnings was to be incredibly diligent about asking for feedback from counter-parties, seeking clarifications, and really understanding what is happening on their side. We got a ton of free consulting from these discussions. And there is always your vision for the asset versus what is in the eye of the beholder.
And it's important for any sell-side process to integrate the feedback you're getting. This helped us understand what partners might have considered as warts in our programs, think of plans to maximize the value of each of our assets, and know when to come back to re-engage and update counter-parties. I really believe that this super-diligent approach to getting and integrating feedback from partners led to us having the multiple options that we did.