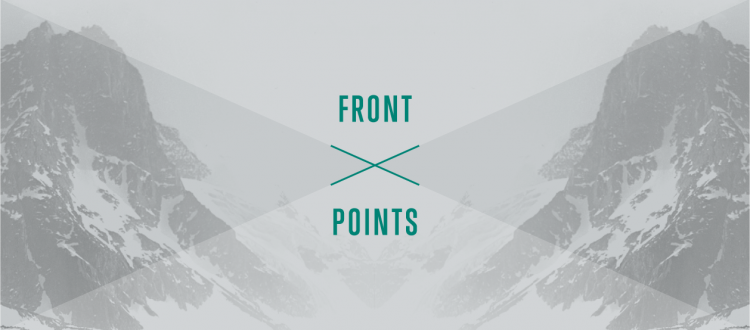 The Coronavirus Tsunami, Lyell's $492M Megaround & Some Deals You Missed
When a story moves with exponential speed and deadly force, it's hard for a human being to keep up.
Hard for you, and hard for me.
My approach these past few weeks has been to work with purpose and passion on this story that touches all of humanity. The plan has been to seek out diverse voices with fresh perspectives on the pandemic, recruit them to write for TR, and aggressively edit and publish their work in addition to mine. All of the pandemic coverage is being made completely free (no ads, no subscription required), so you can share this quality coverage with family, friends, and colleagues. I am grateful to see so many of you appreciate it.
Human life is on the line. People need quality information to make the best decisions in their daily lives. Journalism always has a public service duty, but it's never more important than times like now. That's why everything on Timmerman Report related to the pandemic is being made free, so you can share it with your loved ones, friends, and colleagues who need quality news and information, as opposed to the propaganda and entertainment that tends to drive too much public discourse.
My hope is that in the weeks ahead, you can count on TR to keep things in perspective, while you do what you have to do to keep your families safe and your companies operating under stress. Expect a mix of informative, data-rich voices, and fresh perspectives that can help guide us all through the crisis. Knowing the emotional strain the pandemic puts on people, expect these pages to also shine a light on writers who tap into the human dimension which is too often overlooked in the business world. You may even get a dose of humor once in a while, like yesterday's piece by Lisa Suennen.
As a Timmerman Report subscriber, I want you know my inbox is open to you. I'm listening.
If you have suggestions of people and ideas that I should consider, let me know. luke@timmermanreport.com.
Now on to your regularly weekly Frontpoints.
The Table That Has Me Most Worried
The US healthcare system apparently relies on threadbare-thin just-in-time inventory stocking for essentials, like personal protective equipment, to a far greater extent than most of us imagined. The shortages of PPE this early in the pandemic response, along with woefully inadequate diagnostic testing in too many parts of the country, are deeply troubling at this late date of Mar. 26. Why in the world didn't we scale up manufacturing starting Feb. 1, when the alarm bells were clear from China. Or how about Mar. 1, when it was abundantly clear we had uncontained community transmission in the Seattle area for the preceding six weeks? The federal government's denial, incompetence, short-term thinking, and outright dangerous lies — it's a nightmare beyond even my darkest fears from the past few years.
I've spoken with doctors and nurses. The fear in their voices is palpable. They know this virus is highly contagious. They know it sends about 15-20 percent of people who get it to the hospital. Many patients need ventilators which we don't have. Where in the world are all these patients going to go to get the adequate first-world care they need to survive?
How far do we have to go to catch up? Forgive the crude table below, which includes data compiled by OECD on hospital beds per 1000 people, through 2017. You have to scroll a long way down to find the United States.
The United States ranks No. 32 in the world, with fewer than 3 hospital beds per 1,000 people (below countries like Italy and Spain, which have been overwhelmed).
Beds are something of a proxy for hospital capacity. Now, you might say, beds can be obtained and rolled out in surge hospitals like the Javits Center in New York. Sure. But even if beds are installed, who will tend to the patients? Anyone familiar with unionization drives for nurses over the past 10 years knows that they are being run ragged and overscheduled, even in normal times. We don't have a deep bench of reserves to call up. If these frontline workers start getting sick, we simply won't have enough skilled people to provide care. (See table below from Kaiser Family Foundation, based on OECD data).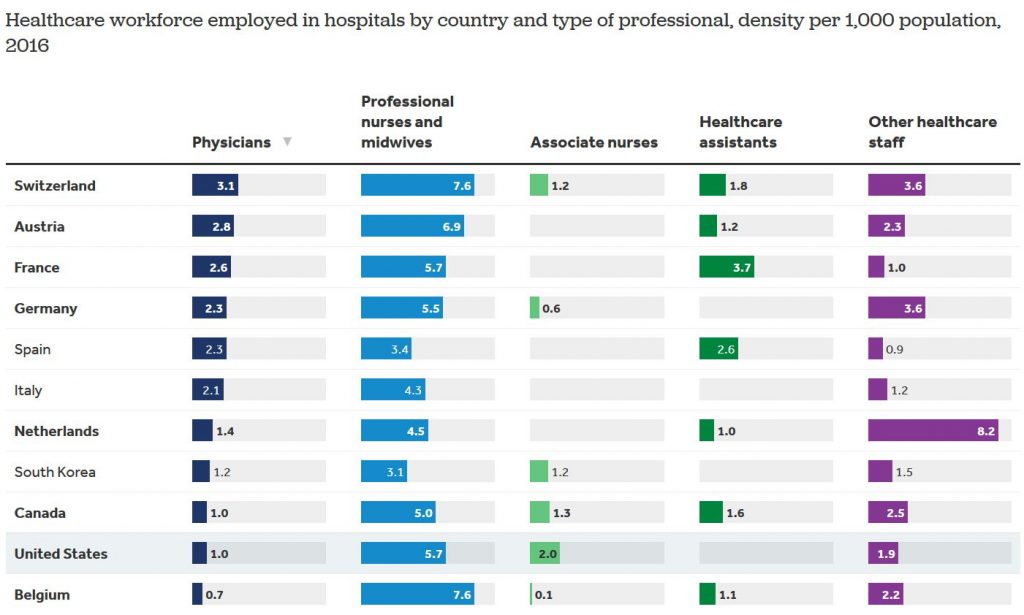 Dashboards to Help You Keep Up (Which You Probably Already Have)
The New York Times has a nice visualization of the US map, along with new cases, and deaths, reported on a daily basis. (NYT Latest Map and Case Count). The NYT, given its resources, should lead the US media. It has been simply superb in its overall team coverage.
Johns Hopkins University is a go-to source for worldwide case counts, and deaths, updated in real-time. Sadly, you can see the US moving up to the top of the list, surpassing China as of Mar. 26, in terms of total number of confirmed cases. (Johns Hopkins dashboard).
Covidactnow.org is an excellent resource that provides colorful state-by-state projections of what various scenarios look like, with aggressive community mitigation and without. (H/t to TR subscriber Steve Dickman of CBT Advisors for sharing).
Covidly.com. A simple display. US is now No. 1 in the world in terms of confirmed cases.
Sad, but Predictable Fallout
Eli Lilly announced something that should have been pretty easy to anticipate a couple weeks ago. Clinical trial activity is being curtailed during the COVID19 pandemic. New trials in the queue aren't being started. Enrollment of new patients in existing trials, are being paused. Existing patients in trials who need to stay on protocol as part of their care plan, will maintain continuity on study. I'd watch for more shoes like this to drop in coming weeks.
Silver-lining Department
Scientists, doctors and nurses will be the new heroes in our society in the 2020s and beyond.
A few highlights from the world of science:
Seattle is a few weeks ahead of the rest of country in the coronavirus outbreak. The Seattle Flu Study, which was set up as a $20 million project to gather samples from people suffering flu-like symptoms in the community to better understand that virus, has been nimbly, and heroically, repurposed to evaluate the community spread of SARS-CoV-2. These scientists from the University of Washington and Fred Hutch have not only provided a crucial set of data-driven warnings to scientists around the US, they've turned virology labs into a high-volume testing center when the federal government failed to keep up with a virus that spreads with exponential speed. Read about the Seattle team's new research plan here.
A brute force team of scientists led by the famous drug hunter Kevan Shokat at UCSF published what you'd have to call a tour de force of a preprint on BioRxiv. They described their work probing for an Achilles heel in SARS-CoV-2. They found "332 high confidence SARS-CoV-2-human protein-protein interactions (PPIs). Among these, we identify 66 druggable human proteins or host factors targeted by 69 existing FDA-approved drugs, drugs in clinical trials and/or preclinical compounds, that we are currently evaluating for efficacy in live SARS-CoV-2 infection assays." Talk about working with purpose and passion. Who knows where this will lead, but holy mackerel. Read the preprint yourself here.
Scientists in China, alongside US peers, are looking at lightning speed for broadly neutralizing antibodies against SARS-CoV-2. Chinese scientists reported Mar. 25 on an almost incredible 206 broadly neutralizing antibodies against the receptor-binding domain on the virus. Antibodies can provide exquisite specificity to a target. The Chinese team reported surprisingly little cross-reactivity with SARS and MERS. But one challenge with antibodies is they are difficult to scale up for all-out mass production quickly. If these go anywhere, antibodies in beginning small batches could be an especially important tool for treatment of patients in severe distress, and potentially for prophylaxis of healthcare workers on the front line. That would be an interim step before we get a cheap, effective vaccine that can be given worldwide.
Disease modelers at Imperial College London rocked the world with their original report on Mar. 16 that as many as 2.2 million people in the US could die from COVID19 in a worst-case scenario. Some skeptics wondered if this was alarmism, given the thin gruel of actual hard testing data that the modelers had to work with in order to make their projections, including the crucially-important Case Fatality Rate. Data on hospitalization rates, similarly, is hard to pin down with sweeping, and accurate, testing data. Even so, a lot more data has come in worldwide in the last 10 days. Now the Imperial College London team is out with a new report on Mar. 26. The updated report expects 7 billion infections and 40 million deaths worldwide this year with no interventions. Mitigation strategies could cut the death toll in half, but would still result in overwhelmed healthcare systems. (Full Mar. 26 report here).
COVID-19 Reading from Around the Web
TR Coverage of the Pandemic (Free & shareable with friends, family & colleagues)
Tweetworthy
Craig Spencer is a physician in New York City. Healthcare workers there are in serious trouble. The wave of COVID19 patients is coming to parts of the US, too.
Read this tweet, which sums up this disastrous state of affairs, and boils with frustration.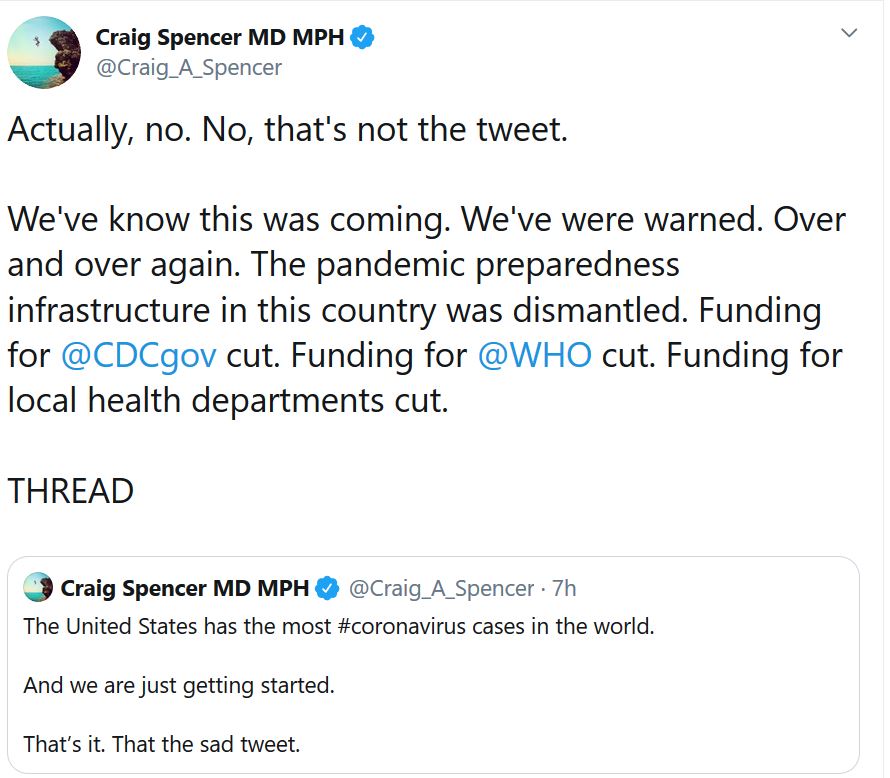 In Other News…
Deals
Redwood City, Calif.-based Codexis formed a partnership with Takeda to make novel enzyme sequences for use in gene therapy preclinical development. Terms not disclosed.
South San Francisco-based CytomX Therapeutics pocketed an $80 million upfront payment from Astellas to co-develop bispecific antibody treatments for cancer.
Pfizer partnered with Germany-based BioNTech to work on an mRNA-based Covid-19 vaccine. Plans to work out financing terms will get worked out later, given the urgent need. Cambridge, Mass.-based Moderna staked out a lead in the category, dosing the first patient in a healthy volunteers trial in Seattle, the epicenter of outbreak in the US.
Data That Mattered
Genentech and AbbVie reported that venetoclax (Venclexta) improved overall survival time, in combo with azacitadine, compared with the standard chemo, in a Phase III trial of patients with acute myeloid leukemia. Details coming at a future medical meeting (whenever they might be held again).
Financings
South San Francisco-based Lyell Immunopharma raised $492 million in a Series C equity financing that included 10 investors, according to a regulatory filing with the SEC. The company didn't issue a press release on the financing, but Bob Nelsen of Arch Venture Partners confirmed to me that Arch participated, and has plans to continue with three large financings in coming weeks, despite the pandemic. Lyell is led by CEO Rick Klausner, a former director of the National Cancer Institute and a co-founder of Juno Therapeutics.
South San Francisco-based CERo Therapeutics raised $40 million in a Series A financing. The company is working on engineered T cells for solid tumors. Arch Venture Partners participated. (See TR coverage on T cells for solid tumors, March 2020). CERo also said it struck a partnership with Lyell Immunopharma.
San Diego-based Design Therapeutics raised $45 million in a Series A financing led by SR One. The plan is to work on nucleotide repeat disorders, starting with Friedreich's ataxia.
Menlo Park, Calif.-based ReCode Therapeutics secured an $80 million Series A financing, co-led by OrbiMed Advisors and Colt Ventures. The company pools some assets for mRNA and tRNA therapeutic development for lung diseases, starting with primary ciliary dyskinesia and cystic fibrosis.
Emeryville, Calif.-based Eureka Therapeutics raised a $45 million Series E financing to advance its cancer treatment programs. Lyell Immunopharma led.